Food Champ Chili Contest Winners Announced!
Share:
Posted Apr 10, 2015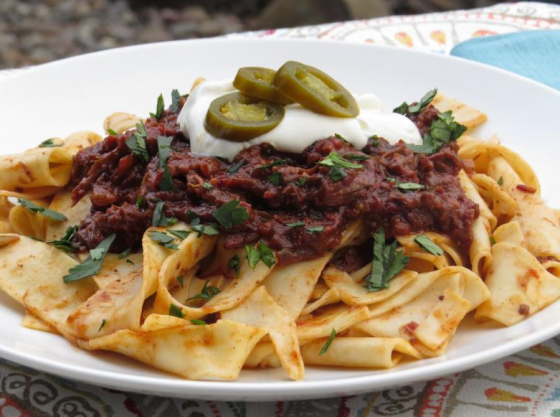 The weather is heating up and so are your kitchens! This month, food champs were challenged to create a unique chili recipe using Hormel® Chili No Beans. After much deliberation, the results are in and the winners are..... Drum roll please!
Smokey Short Rib Chili Over Pappardelle by Kim Banick! Congratulations Kim—You will receive a Golden Ticket for qualification to the 2015 World Open Chili Championship, as well as a waived registration fee and a travel stipend!
We would also like to congratulate the following entries as runners-up in the #FoodChamp online chili contest sponsored by Hormel®. The four runner-ups will receive a Golden Ticket (qualification) to the 2015 World Open Chili Championship in Kissimmee!
In no particular order, the four runner-ups are as follows:
Chorizo & Chili Stuffed Yams w/ Sweet & Spicy Pepper Jack Slaw by Adam Feinburg

Kung Pao Chili by Lori McLain

Chili Dog Pizza by Tina Cannon

Cuban Guajiro Chili w/ Smoked Cotija & Yellow Rice Con Achiote by Eric Harland
Thank you to everyone who entered this contest! A special thank you to Bill Donovan, Nate Smit and Jamie McDonald for serving as the judges for our #FoodChamp chili contest!
« Back to News