Return of the Bull Burger Battles!
Share:
Posted Apr 7, 2015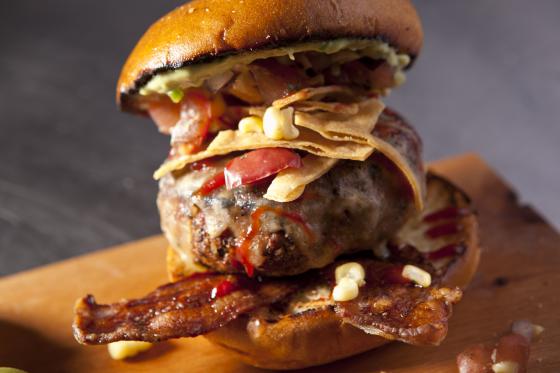 Hot off the grill! The World Food Championships and Bull Outdoor® Products announced today that the Bull Burger Battles will be firing up for a third season in 2015. Bull Burger Battles are a nationwide series of live-event burger cookoffs to find the best burger cooks and chefs across the country. The champions of this year's five Burger Battles will be invited to compete as part of Team Bull at the World Food Championships in Kissimmee, Fla.
The Bull Burger Battle series started in 2013, with battles taking place in San Diego, Baton Rouge, Chicago, Indianapolis and Oklahoma City. The battles were a tour-de-force of burger supremacy proving that championship burgers are created on Bull Outdoor grills. In fact, Team Bull has been an unstoppable force at the World Food Championships ever since, taking the burger title two years in a row.
"Bull Outdoor produces world class products, making them an ideal partner to the World Food Championships," said Mike McCloud, CEO of the World Food Championships. "Last year showed that once you win a Bull Burger Battle, the sky is the limit for how far you can go. Combined with great chefs and home cooks, the Bull grill always delivers phenomenal recipes and winning dishes at our event."
Wade Fortin, two-time World Burger Champion, originally qualified for the 2013 World Food Championships after winning the Bull Burger Battle competition in Illinois. Out of a field of 35 burger competitors, Team Bull was represented by three of its six members in the 2013 Top Ten round. Fortin would go on to finish third overall at the 2013 World Food Championships' Final Table. But Fortin didn't stop there. He went on to win the title of World Burger Champion again in 2014, after which, he finished second overall at the Final Table.
"Last year we saw an unbelievable turn out of talent, from food trucks to high-end restaurants to amateur home cooks, who built some amazing burger creations," said Mark Nureddine, owner of Bull Outdoor Products. "This innovative qualifier series for the World Food Championships provides an incredible spotlight for world class burgers and Bull Outdoor grills."
The 2015 World Food Championships will feature 500 of the world's best cooks and chefs, pitting joes and pros on an equal playing field to battle it out for hundreds of thousands of dollars and the coveted title of the World Food Champion. This year, the World Food Championships will feature nine categories, highlighting "FRESH" as the category theme for the World Recipe Championship. The 2015 World Food Championships will take place Nov. 3-10 in Kissimmee, Fla. To earn your way to the World Food Championships, sign up for one of the following 2015 Bull Burger Battles.
Baton Rouge, May 16, 2015 — Goodwood Hardware & Outdoors
Mahopac, NY June 6, 2015 — Best In Backyards
Chicago, July 25, 2015 — American Sale
San Marcos, Calif. August 8, 2015 — Carddine Spas
Indianapolis, Sept. 12, 2015 — Family Leisure
For more information on how to enter a Bull Burger Battle near you, visit www.bullburgerbattle.com
To stay in the World Food Championships chatter all yearlong, visit www.worldfoodchampionships.com, Facebook.com/WorldFoodChampionships and on Twitter (@WorldFooodChamp).
« Back to News