Team Bull tops the World Burger Championship again!
Share:
Posted Dec 12, 2014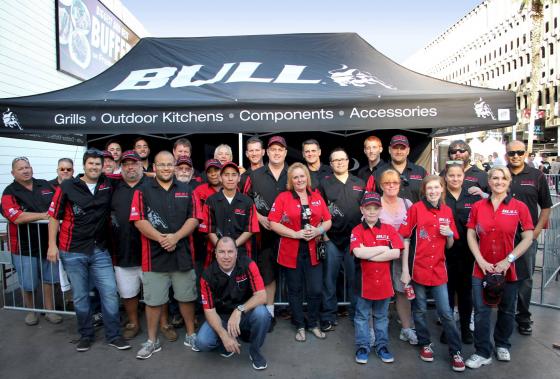 The World Burger Championship is arguably the toughest competition at the World Food Championships. And for the second year in a row, Team Bull has had an excellent showing amongst the best in the world.
"Burgers are iconic," said Jeff Morris, WFC Communication Director. "We have some of the best restaurant chefs, burger cooks and competition winners from all across the globe that bring their absolute best to this competition. It's serious business for these guys."
The recipe for a successful performance at the World Food Championships requires a healthy portion of practice, a heaping stack of culinary ability, fortitude and a dash of luck all mixed in. As the World Burger Championship is set-up in a tournament style format, competitors must wade their way through multiple rounds, or builds, before they can earn the coveted title of World Burger Champion.
In 2014, Team Bull members included, Rick Alva, from the Detour Grille in Indianapolis, Jeffery Boudreaux, a returning finalist from 2013 hailing from Denham Springs, La., Skip Day, a former deli owner from Wantaugh, NY., Owen Hohl, a chef from Hot Tails restaurant from Metarie, La., Kelly Lucas-Shippey, the only female member of Team Bull from Orange, Calif., Dennis McGrath, a returning finalist from 2013 from El Cajon, Calif., Ronald Thompson, a backyard enthusiast from Joliet, Ill., and the reigning World Burger Champion, Wade Fortin, a corporate chef from Chicago.
Each member of Team Bull either won a Bull Burger Battle in 2014 or finished in the Top Ten at the World Burger Championship in 2013.
Competitors in the World Burger Championship showcased their skills in a series of tournament-style rounds, comprised of a signature burger build, a structured build (featuring ingredients used in Red Robin kitchens) and lastly, the top 10 infused round where the required ingredient was honey.
After the two opening round turn-ins (signature and structured build), Wade was in second place overall with an 89.18 score, while Ron and Dennis had some ground to make-up with scores of 86.12 and 85.68 respectively.
Fortin, Thompson and McGrath would advance to the World Burger Championship finals round where the Top Ten competitors would receive the final challenge of infusing honey in their burgers and ultimately, facing off for the title of World Burger Champion.
For this round the defending champ would turn-in his "El Guapo." The El Guapo is a honey chipotle stuffed ribeye cheeseburger with honey glazed peppered bacon, spicy quick pickles, honey powder dusted fried onions, honey BBQ aioli, on a honey kissed Brioche bun.
According to Fortin, the idea behind this monster was to hit the judges with a ton of honey. "We realized that honey can be very challenging when you are trying to get it to stand out in a dish, so we looked to incorporate honey anywhere we could."
McGrath went with his "Bee & Brie Burger" a USDA Prime burger topped with a honey onion compote, brie cheese, and arugula with a honey vinaigrette.
The Thompsons opted for their "Honey Coleslaw Burger." The Honey Coleslaw Burger is a half pound burger topped with provolone cheese, honey coleslaw, honey candied bacon, and honey BBQ sauce on a toasted Kaiser roll.
"The burger is a nod to the backyard cooking style that our team uses to create great burgers with unique flavors," said Thompson.
Entries were made and the judges weighed in with their thoughts and scores. When the dust settled, Wade Fortin's 84.72 was enough to push him into the lead and his second straight World Burger Championship. McGrath would ultimately finish in 6th place, which Thompson would finish in 9th. Team Bull would get their second straight win in as many years.
"I think I was lucky this year. I dominated the first round and flopped the second round. Even though I came in second in the third round I was lucky the only team to score higher was a team from the bottom of the top ten. The beauty of this win is that I learn from my failures, and next year I will be even more determined to have a flawless cook. I know in my heart that Team Bull and my team will be very tough to beat. Someone is going to have to have the cook of their lives to overthrow me as champion!"
Congratulations to all of the competitors at the 2014 World Food Championships. To see the Final Scores of the World Burger Championship, visit: http://www.worldfoodchampionships.com/scores/competition/4
« Back to News