Events Edmonton to host Canadian Food Championships
Share:
Posted Dec 4, 2014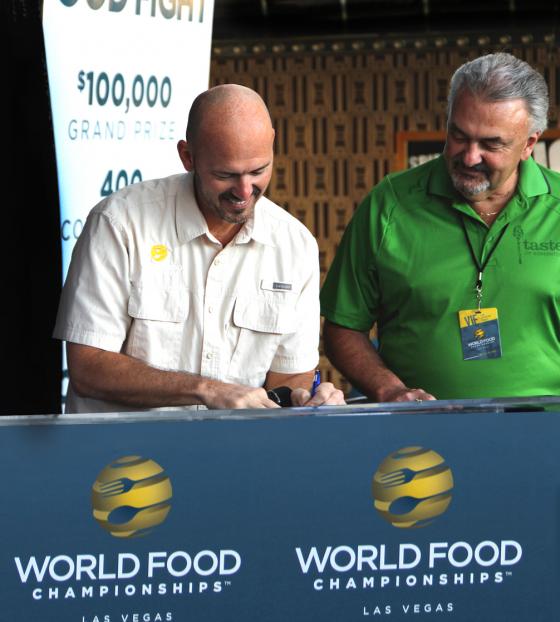 Events Edmonton has partnered with the World Food Championships (WFC) to host one exclusive qualifying event in 2015 for the entire country of Canada. The Canadian Food Championships will take place in downtown Edmonton in conjunction with Taste of Edmonton, which runs July 16-25, 2015. This exciting opportunity will allow Canadian chefs, home cooks and foodies of all backgrounds to compete for cash, glory, and an all-expenses-paid Golden Ticket to compete in the 4th Annual World Food Championships, which will be held in Florida in November of 2015.
"Expanding into Canada with our first International Qualifier is a wonderful and exciting step in our long-term plans," commented Mike McCloud, President and CEO of the World Food Championships. "Our event has had a lot of interest from Canadian cooks and chefs from day one. And now to have an official partner in Edmonton, who is willing to help find and fund such culinary talent into our main event, is simply amazing."
All Canadians are invited to participate in this national event to show off their cooking skills and recipes in one of the WFC food categories. The official 2015 categories will be announced in January, but will most likely include some of WFC's classic divisions like seafood, bacon, burger, BBQ, chili, dessert, pasta, and sandwich.
"Bringing the Canadian leg of the World Food Championships to Edmonton is the opportunity we - as the producers of Canada's largest food festival: Taste of Edmonton-have been searching for." Says Bob Winfield, President of the Board for Events Edmonton.
Events Edmonton will be putting a call out for competitors, judges, and volunteers in early 2015. Look for more updates in the coming weeks at www.eventsedmonton.ca.
« Back to News