Championship Food Drive A Success at WFC
Share:
Posted Dec 3, 2014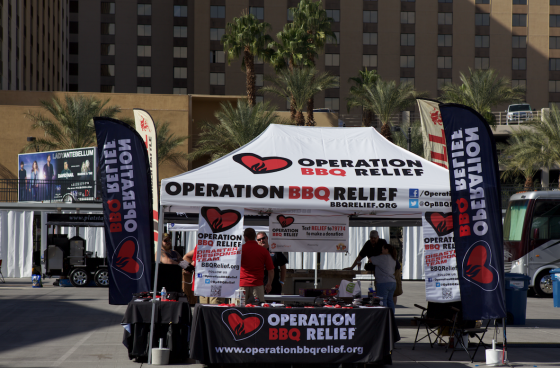 Organizers of the World Food Championships announced today that the event donated 4 tons of food in November to Three Square Food Bank, a southern Nevada organization dedicated to pursuing a hunger-free community by providing "wholesome food to hungry people." The 8,000 lbs. of food totaled approximately 25,000 meals that were distributed to needy families in Las Vegas and southern Nevada leading up to and across the holiday season.
"Each year, we make it a point to dedicate time, resources and effort toward a charity that can make a difference in the communities we touch," said Mike McCloud, president of the World Food Championships. "This year's contribution surpassed all expected donation amounts, and I am pleased and amazed at the generosity of our attendees, judges and competitors at the World Food Championships."
Organizers of the World Food Championships, which occurred in Downtown Las Vegas Nov. 12-18, coordinated contribution of prepared meals, produce and non-perishable goods as part of their donation to Three Square Food Bank. The prepared meals were barbecue proteins to align with the national 100,000 Meals Mission of the Kansas City Barbeque Society. Operation BBQ Relief helped prepare, organize, and collect the meats, which were distributed to area food kitchens by Three Square and given as meals to people who struggle to find adequate food on a daily basis.
Produce items were distributed to area food pantries. Darwin Bosen, Operations Support Specialist at Three Square, noted that produce is a commodity that is in limited availability and difficult to store, so pantry produce provides much needed healthy options to those in need. The additional non-perishable items and miscellaneous dry products were distributed throughout southern Nevada local food banks.
Nearly 15 percent of all households in the United States, or roughly 49 million people, struggle to put food on the table. More than 1 in 5 children in the United States live below the poverty line.
In addition to their food assistance efforts, the World Food Championships also partnered with Southern Wine and Spirits to host a special event benefitting the Cleveland Clinic Lou Ruvo Center for Brain Health on Nov. 17, called "Champions for a Cause."
"It's extremely important that we not-only celebrate championship cooks and chefs, but also make sure that we're focused on sharing the true spirit behind 'foodie' generosity," said McCloud.
The 2014 World Food Championships, which took place in Downtown Las Vegas Nov. 12-18, featured more than 400 competitors who cooked, baked, smoked and grilled for their portion of the $300,000 prize purse and bragging rights to last a year.
« Back to News