Category Champions Face-off at the Final Table
Share:
Posted Nov 19, 2014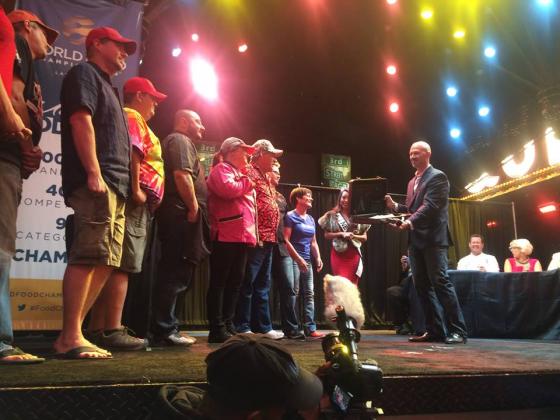 To even qualify for the Final Table, each competitor would best 400 other hopefuls with the dream of cooking for $100,000 and the title of World Food Champion.

Tuesday night's World Food Championships Final Table would finish with the following results:
World Food Champion and Bacon World Champion – Ricardo Heredia, San Diego, Calif.
Runner-up and World Burger Champion – Wade Fortin, Chicago, Ill.
3rd Place - World Barbecue Champion – Sweet Smoke Q (Jim Elser), Winter Haven, Fla.
4th Place - World Pasta Champion – Suzanne Clark, Phoenix, Ariz.
5th Place - World Seafood Champion – Terry Reinhardt, Red Bud, Ill.
6th Place - World Open Chili Champion – Ray Bogart, Boulder City, Nev.
7th Place - World Sandwich Champion – Kelli Cochran-Fairchild, Vallejo, Calif.
8th Place - World Dessert Champion – Laurie Figone, Petaluma, Calif.
9th Place - World Recipe Champion – Half Baked Hippies (David Grover), Murray, Utah
"I was impressed with every entry given at the Final Table," said Kari Karch, Kenmore® Brand's executive chef and WFC Final Table Judge. "The amount of time, energy, patience, precision and technique that goes into creating a dish worthy of this competition is staggering. Regardless of where they placed at the Final Table, each of these competitors are already champions."
Competitors will now look toward the year-long journey to the 2015 World Food Championships which will take place in Kissimmee, Fla. from Nov. 1 through 8, 2015.
« Back to News