San Diego Chef Crowned 2014 World Food Champion
Share:
Posted Nov 19, 2014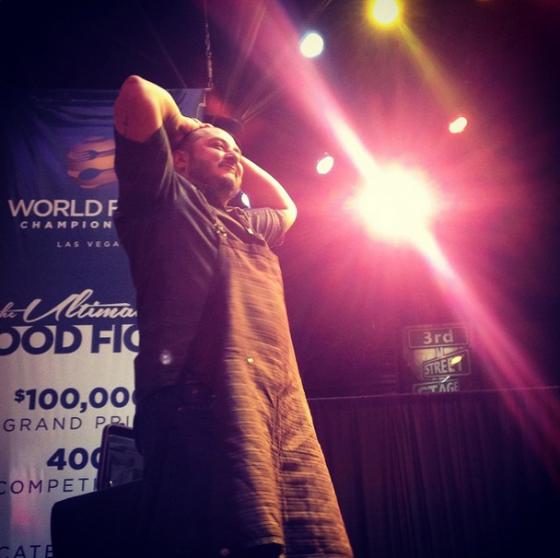 The smoke has cleared and the dust has settled! Ricardo Heredia has been named the 2014 World Food Champion, winning $100,000 and bragging rights as the best competition cook/chef that will last a year. Heredia, qualified for the Final Table by winning the Bacon World Championship - one of nine categories represented at the World Food Championships - besting a packed playing field of more than 400 competitors over the weeklong, tournament-style event. The World Food Championships took place in Downtown Las Vegas, Nov. 12-18, culminating in a Final Table best-in-show matchup between the nine category champions in front of a panel of discerning celeb foodies who ultimately named Chef Heredia the World Food Champion.
Heredia's final dish, "Bacon Tamal with Bacon Salsa Verde," was inspired by Mexican street-food and judged based on the World Food Championships' EAT™ Methodology – Execution, Appearance and Taste.
"I'm ecstatic. I can't believe that I won," said Heredia. "The key is not only your planning and proper execution, but it's about bringing your full A-game. If you hinder or hesitate one second, then you're second or third place. You're not number one."
Heredia presented his "Bacon Tamal with Salsa Verde" to a discerning panel of culinary celebrities and Las Vegan notables including: Louie Anderson, popular comedian and former host of "Family Feud"; Melissa Cookston, pitmaster for Yazoo's Delta Q and the winningest woman in competition barbecue; Emily Ellyn, chef and featured talent on "Next Food Network Star"; Kari Karch, Kenmore® Brand's executive chef; Sabina Kelley, international pin-up model and judge on Oxygen's "Best Ink"; Robin Leach, popular entertainment and celebrity reporter, former host of "Lifestyles of the Rich and Famous"; Simon Majumdar, best-selling author and notable Food Network celebrity; Larry Oliphant, co-founder of the World Food Championships; and Lachlan Sans, president at Le Cordon Bleu College of Culinary Arts Las Vegas.
"I think it's true what they say about the third time being the charm," said Mike McCloud, president of the World Food Championships. "This year's championship was absolutely the best ever. Food Sport has reached a new level, thanks to the passion, creativity and performance of 400 of the best culinary competitors we have ever seen."
Now $100,000 richer, Heredia plans to spend some time traveling to different countries and working on getting his own 501c3 started to serve his neighborhood youth.
Heredia is preceded by Dave Elliott of Olathe, Ks. (2013) and Robert Butler of Las Vegas (2012).
Major brand partners of the World Food Championships include: Alaska Seafood®, Bull Outdoor® Products, Kenmore® Brand, US Potato Board®, Red Robin®, Sandwich America, Taylor Farms, American Culinary Federation, the happy egg co.®, Sam's Club®, Humm Systems®, Southern Pride, Reser's Fine Foods®, Le Cordon Bleu, Cupcake Vineyards®, Wright® Brand Bacon, Chef's Roll, Challenge Butter, Gunter Wilhelm®, Downtown Las Vegas Events Center, Just a Pinch™, Hammer-Stahl Cutlery, GrillGrate, Southern Wine and Spirits of Nevada, Stark Boards and many more!
« Back to News