Lights, Camera, Sizzle!
Share:
Posted Nov 11, 2014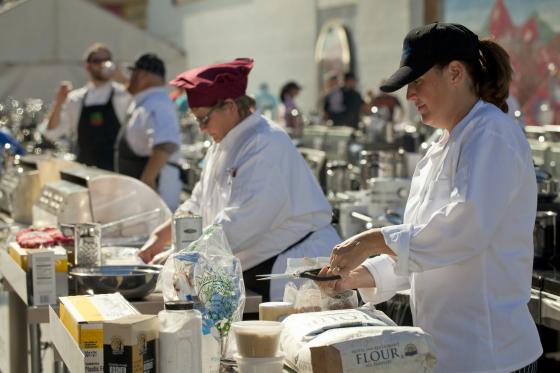 Fresh off its television debut this past summer, the World Food Championships is back in Downtown Las Vegas for its third competition and an even bigger television game plan.
From Nov 12-18th, producers of the WFC will be working with three production firms to produce four TV shows that are currently airing or are in development for multiple networks.
"This year every single competitor will have his or her opportunity for their 15 seconds of food fame," said Mike McCloud, president of the World Food Championships. "We have crews covering just about every aspect of the World Food Championships, from the category competitions, to the Chef's Challenge, to some of our VIP parties and more. And that doesn't even include the numerous national and international news crews that will be onsite to try to show the excitement of this unique food frenzy."
Capturing the whole competition process, "Project Cookoff" aims to depict the art of "food sport" from preparation to "start your fires" to the final turn-in – and all the drama in between. The outcome will be a three-episode reality feature that captures the energy and passion of contestants as they compete in real time against the clock, mother nature, and 400+ champions.
A new, more intimate pilot called "Beauties and the Feast" will follow three talented Chicago chefs as they coach and direct 9 Las Vegas restaurants in a VIP food challenge. By the end of the evening, one beauty will be crowned the party queen, but only after the crowd feasts on the results and casts their votes. The show is being captured Monday night during Champions for a Cause at the Inspire Theater. Tickets are still available, but all attendees have to sign TV waivers onsite.
Like the first two World Food Championships, organizers are throwing a World Chef Challenge again this year that features local Vegas chefs taking on celebrated chefs from all parts of the world in a skills and culinary throw down. But this year, the event will be filmed for a new chef program (untitled at press time). It is occurring in the Downtown Las Vegas Events Center, where the public can attend for free on Saturday, Nov 15 by bringing canned goods for a charity food drive.
And finally, Travel Channel's "BBQ Crawl," featuring Danielle Dimovski (Diva Q), will be onsite to document her World Food Championships competition experience. Additionally, several international production companies, including a Japanese travel television show, a Canadian production crew and a French media group will be staking their claim in Downtown Las Vegas for the World Food Championships.

Only in Las Vegas can food, fame and fortune be combined into one jackpot event. The 2014 World Food Championships will feature 400 of the world's best cooks and chefs, putting "joes" and "pros" on an equal playing field to battle it out for hundreds of thousands of dollars and the coveted title of the World Food Champion. Following a tournament-style format across nine iconic food categories — BBQ, chili, burger, sandwich, recipe, dessert, bacon, pasta and seafood — competitors will battle for their chance to claim the World Food Champion title.
To stay in the World Food Championships chatter, visit www.worldfoodchampionships.com, Facebook.com/WorldFoodChampionships or Twitter (@WorldFoodChamp).
« Back to News