World Food Championships Announce Celebrity Lineup
Share:
Posted Nov 11, 2014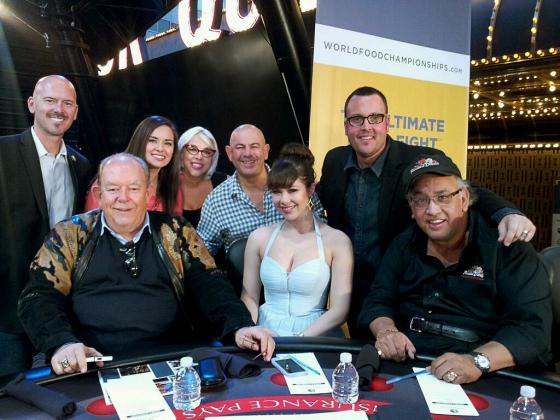 The World Food Championships is on its way back to Las Vegas for its third annual event on Nov. 12-18, bringing more than 400 competitors to compete in a tournament-style, live event cook-off for their share of the $300,000 prize purse. Of course, there can only be one winner. On Tuesday, Nov. 18, Downtown Las Vegas will turn their eyes to the 3rd Street Stage where Louie Anderson, Melissa Cookston, Emily Ellyn, Kari Karch, Sabina Kelly, Robin Leach, Simon Majumdar, Larry Oliphant, and Vic "Vegas" Moea will determine the 2014 World Food Champion.
At the Final Table, the nine category champions will face off against each other in the all-defining championship round where one person will walk away with the World Food Champion title and $100,000 jackpot. But first, they must get past the all-star panel of judges.
"We could not be more thrilled with our lineup of celebrity judges," said Mike McCloud, president of the World Food Championships. "The diverse background and palates of our judges will provide not only fantastic entertainment and commentary during our Final Table event, but will also provide each of our nine category champions with a fair and honest judgment of their carefully prepared dishes."
Louie Anderson – Anderson is one of the most versatile and successful comedians today. He first appeared on the "Tonight Show" with Johnny Carson in 1984 and has been seen in sitcoms like "Grace Under Fire," "Touched by an Angel" and "Chicago Hope." He is also the host of the hilarious "Comedy Showcases," the late-night series that follows "Saturday Night Live."
Melissa Cookston – Cookston is the winningest woman in competition barbecue, including two grand champion wins at the Memphis in May World BBQ Championship, securing her place as the only female World Champion. Cookston is the pitmaster for Yazoo's Delta Q competition team and is the owner of Memphis Barbecue Co.
Emily Ellyn – Ellyn travels the world doing cooking demos, working with brands and product endorsements, lecturing or hosting special events, and doing consulting work - all while developing her Retro Rad culinary TV career and finishing her Ph.D. in Food Service Education. Through it all, she's gained a loyal cult following. You've seen her on Food Network's "Food Network Star," "Cupcake Wars" and morning news shows across the country, as well as a cameo cartoon appearance on the "Simpsons!"
Kari Karch - Karch is the face and voice of the Kenmore® brand. As their chief content creator, Kari writes recipes and stars in Kenmore's culinary how-to videos. She is the administrator for Kenmore's social media outlets including Cookmore.com as well as the emcee and host for all Kenmore sponsored events.
Sabina Kelley - International pin-up model and fashion icon, Sabina Kelley, has graced dozens of magazine covers, major advertising campaigns, television shows, music videos, calendars and more. She appeared as a permanent celebrity judge on Oxygen TV's series "Best Ink," for three seasons in a row and hosted the online series "Best Ink Redemption." In July of 2014, Sabina joined the cast of Stratosphere's original production show PIN UP for six special performances.
Robin Leach – Currently, Leach is partnering in a new state of the art HD television studio production facility in Las Vegas where he makes numerous guest appearances on programs from the resort playground/gaming Mecca. In addition, his Total Vegas Television Company produces Vegas video vignettes for YouTube's LuxeVegas Channel and the daily Vegas Deluxe website at LasVegasSun.com.
Simon Majumdar - Majumdar is an author, food & travel writer and broadcaster. He has traveled to over seventy countries and every state in America following his quest to "Go Everywhere, Eat Everything." He has written two bestselling books cataloging his adventures, "Eat My Globe" (Simon & Schuster 2009) and "Eating For Britain" (Hachette 2010) and is currently working on his third book, "Fed, White & Blue" which will be published by Hudson St. Press in 2015.
Larry Oliphant – Co-founder of the World Food Championships and author of the E.A.T. methodology that is used throughout the competition, Oliphant is an avid home cook, competition consultant and food strategist for dozens of food corporations. He, along with CEO Mike McCloud, helped mastermind how the ultimate food competition would be structured in 2012 and has been customizing and judging chef challenges ever since.
Vic "Vegas" Moea - Vic Moea is a self-trained restaurant chef, who worked his way up the culinary ladder from dishwasher to Executive Chef at Las Vegas hotels such as companies as MGM Inc, Station Casinos, Binions, Sahara House of Lords and many local restaurants around the city in a 20 year span. Presently he is the Corporate Executive Chef for US. Foods Las Vegas division and southern Utah, as well is the owner of "The Art of Catering" by Vic Vegas and Vic's "New American cuisine-restaurant that opened in early 2013.
Only in Las Vegas can food, fame and fortune be combined into one jackpot event. The 2014 World Food Championships will feature almost world's best cooks and chefs, putting "joes" and "pros" on an equal playing field to battle it out for hundreds of thousands of dollars and the coveted title of the World Food Champion. Following a tournament-style format across nine iconic food categories — BBQ, chili, burger, sandwich, recipe, dessert, bacon, pasta and seafood — competitors will battle for their chance to claim the World Food Champion title.
To stay in the World Food Championships chatter, visit www.worldfoodchampionships.com, Facebook.com/WorldFoodChampionships or Twitter (@WorldFoodChamp).
« Back to News