Southern sandwich makers headed to Vegas
Share:
Posted Nov 9, 2014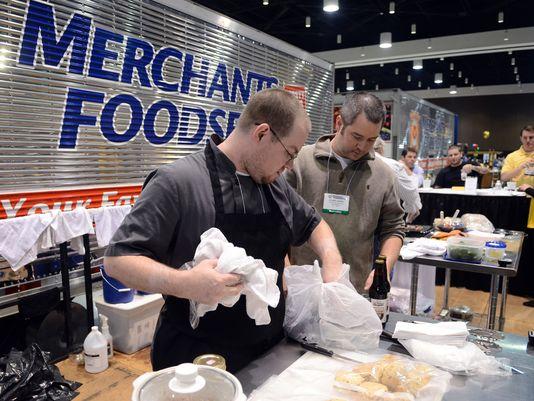 To win the Best Sandwich in the South Competition, Gates and Mann cooked up their Applewood-smoked Meatloaf Sandwich, featuring tomato bacon jam and Gruyere cheese on roasted corn Johnnycakes.
"We run a version of our smoked meatloaf sandwich at The Depot a lot, and then of course at Vicki's, we have the smoked meatloaf as a entree," Gates said. "It's always gone over well with guests, so we figured we'd give it a shot.
"You kind of equate meatloaf with Southern cuisine, and that's what we're all about. Actually, the judges liked it as much as we did."
The World Food Championships feature nine categories with 550 competitor spots. Gates and Mann will participate in the World Sandwich Championship category, which pits 50 chefs against each other for the title of World Sandwich Champion.
The first day of the World Sandwich Championship, which begins Friday, will see competitors engage in two rounds. In the first round, participants must make their own signature sandwiches, while in the second round chefs will have to show off their version of a classic kale, bacon and tomato sandwich.
As for what sandwich Gates and Mann will make for that first round, well, that's being kept on the downlow for right now.
"Since we have our own creative license on it, we're kind of being tight-lipped about that one," Gates said. "Not that anybody would copy us or anything, but we just want to surprise people with it."
Competitors who advance to the third round will be faced with the task of coming up with something involving an uncured ham.
First place in the World Sandwich Championship will net a $10,000 prize, while second place earns $5,000 and third place earns $2,500.
In addition, the first-place winners of each of the nine categories of the World Food Championships — which include the World Barbeque Championship and the World Burger Championship — will compete Nov. 18 in a Final Table event for the grand $100,000 prize.
"I've joked with Daniel that if we win that, it all has to be spent that night in Vegas, but I don't think he's too keen on the idea," Gates said. "But honestly, he's probably the hardest-working individual I've ever met, and I'm more excited about getting him out to Las Vegas more than anything because he's certainly earned it."
Mann said he has a range of emotions in preparing for his first trip to the so-called "Entertainment Capital of the World."
"I'm extremely excited and overwhelmed at the same time," he said. "I'm going to Las Vegas to compete against upwards of 50 people in a sandwich competition — something I never expected to be able to do. It's exciting."
While Mann is optimistic about the event, he said he certainly doesn't want to get overly confident about any possible outcomes.
"To be completely honest, we're going up against everybody from homemakers to other professional chefs to who knows," he said. "We have to go against the palates of the judges — there's a lot.
"But to be able to say that this restaurant from Hattiesburg, Mississippi, is in the World Food Championships, that's a big deal. There's just no telling what we'll see when we get there."
Win or lose, Gates said he and Mann are just looking forward to the experience.
"Obviously, we're going to try to put our best foot forward and do well," Gates said. "Worst case scenario, we'll get bounced early and get stuck in Vegas for four days, and we certainly won't be depressed about that."
http://www.hattiesburgamerican.com/story/news/local/hattiesburg/2014/11/07/world-food-championships/18676985/
« Back to News