Tickets Punched at Music City Cookoff
Share:
Posted Sep 25, 2014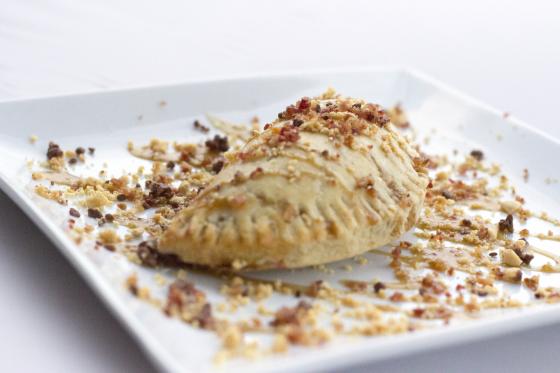 Bacon, bananas, whiskey, and yes, you guessed it, Goo Goo Clusters. That was the winning combination for Melissa Corbin at this month's Music City Cookoff that took place as part of the Taste of Tennessee Festival at the Tennessee State Fair. Corbin's risky combination of flavors paid off as her "Hunka Hunka Goo Goo-Love" earned he first place prize: a Golden Ticket to Vegas and a $1,000 cash prize.
Corbin, owner of Corbin in the Dell, LLC, a local food and social media consulting service, focuses on local flavors and local ingredients as her passion. Between now and November, she'll be testing as many desserts as possible until she has the recipe that will make her the 2014 World Food Champion.
Seafood was king in the other competition at the Music City Cookoff. Ken Hess of Hoss's BBQ & Catering and chef at the famed BBQ joint in Decatur, Ala., Big Bob Gibson Bar-B-Q, punched his ticket to Vegas with his palette-pleasing Seafood Paella. Hess' winning dish involved more than just rice and seafood, though. Hess used his homemade saffron tea, clam and mussel liquor, and shrimp and lobster broth to set his paella head of the rest and earning him top honors and a Golden Ticket.
Corbin and Hess both won a cash prize and qualification into the World Food Championships. Corbin will compete in the World Dessert Championship, while Hess will battle it out for the title of World Seafood Champion. If they are both lucky enough to be named the champion of their category, they will go head-to-head for $100,000 and the ultimate title of 2014 World Food Champion.
Additional qualifiers for the World Food Championships included Lynn Smith and Todd Beaird in Dessert, and Carlos Garcia and Jernard Wells in Seafood. Best of luck to all winning competitors as they travel on to Vegas in November.

View the photo gallery from the Music City Cookoff on Facebook
View the compete scores for the Music City Cookoff below:
| | | | | | |
| --- | --- | --- | --- | --- | --- |
| Competitor | Name of Recipe | Overall | Execution | Appearance | Taste |
| Ken Hess | Seafood Paella | 84.5 | 34 | 36 | 33 |
| Carlos Garcia | Shrimp & Grits Hushpuppies | 82.5 | 32 | 32 | 34 |
| Jernard Wells | Ultimate Seafood Gumbo | 82.5 | 33 | 33 | 33 |
| Mark Medlin | Lobster BLT | 80.875 | 33 | 32 | 32 |
| Danny Bua, Jr. | Seared Red Snapper w/Lobster & Israeli Couscous salad | 80.875 | 34 | 33 | 31 |
| Chris Johnson | Shrimp Avocado D'jour | 80 | 31 | 31 | 33 |
| Tina Cannon | Southern Style Cioppino | 80 | 32 | 32 | 32 |
| William Smith | Southern Shrimp & Grits w/Andouille Sausage Blue Crabmeat Gravy | 79.625 | 31 | 30 | 33 |
| Shane Nasby | Honey Jack Shrimp | 78.25 | 30 | 32 | 32 |
| Patricia Keltner | Lobster Pie | 77.875 | 31 | 32 | 31 |
| Christopher Futrell | Pan Seared Perch Crudo | 77.875 | 34 | 35 | 28 |
| | | | | | |
| | | | | | |
| | | | | | |
| | | | | | |
| --- | --- | --- | --- | --- | --- |
| Competitor | Name of Recipe | Overall | Execution | Appearance | Taste |
| Melissa Corbin | Hunka Hunka Goo Goo-Love | 86.25 | 35 | 35 | 34 |
| Lynn Smith | Goo Goo Bread Pudding | 83.375 | 33 | 32 | 34 |
| Todd Beaird | Goo Goo Golly Miss Molly | 83.375 | 34 | 33 | 33 |
| Joanna Carter | Goo Goo Brownie Pretzel Pie | 82.5 | 33 | 33 | 33 |
| Carole Smith | Goo Goo Cobbler | 81 | 33 | 29 | 33 |
| Patricia Keltner | Goo Goo Cluster Trifle | 74.125 | 31 | 32 | 28 |
| Paige Jones | Goo Goo Tennessee Whiskey Whoopie Pie | 72.875 | 31 | 32 | 27 |
| Mandee McNew | Goo Goo Berry Tart | 66.125 | 22 | 35 | 27 |
| Monchita Davis | Chocolate Raspberry Goo Goo Cluster Cobbler | 65.125 | 27 | 24 | 26 |
| Gary Baron | Goo Goo Mousse | 61.375 | 25 | 22 | 25 |
| | | | | | |
| | | | | | |
« Back to News