World Food Championships Announce the happy egg co. as a sponsor
Share:
Posted Sep 24, 2014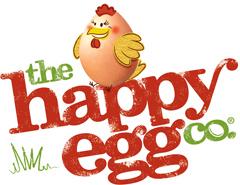 The World Food Championships today announced a partnership with the happy egg co­., a Free Range egg company that sets the gold standard for free to roam hens in the U.S. These high quality and humane eggs will stand out as the official egg of the World Food Championships and will be available in the pantry for use by hundreds of competing cooks and chefs. The 2014 World Food Championships will take place in Downtown Las Vegas, Nov. 12-18.
In the 2014 World Food Championships competition, free range eggs from the happy egg co. will also be a required ingredient for the structured round of the Bacon World Championship, which will have a brunch theme.
"Eggs are a 'must-have' ingredient in so many of our competitors' recipes," said Mike McCloud, president of the World Food Championships. "We are thrilled to have the happy egg co. joining us this year as they represent the top tier of humanely raised ingredients and we want the best, and brightest, yolks for those competing here."
"The World Food Championships is a great opportunity to showcase our free range eggs, with its passionate and skillful foodie audience," said Jenni Danby, marketing director at the happy egg co. "We are looking forward to the world-class recipes that will be turned in, as we continue to expand across the nation."
In addition to providing eggs for the official pantry, the happy egg co. will be hosting an online recipe contest that will give one lucky and skilled individual the opportunity to compete at the World Food Championships, and a year's supply of happy eggs from free to roam hens, "the Girls."
Only in Las Vegas can food, fame and fortune be combined into one jackpot event. The 2014 World Food Championships will feature almost 500 of the world's best cooks and chefs, putting "joes" and "pros" on an equal playing field to battle it out for hundreds of thousands of dollars and the coveted title of the World Food Champion. Following a tournament-style format across nine iconic food categories — BBQ, chili, burger, sandwich, recipe, dessert, bacon, pasta and seafood — competitors will battle for their chance to claim the World Food Champion title.
To stay in the World Food Championships chatter, visit www.worldfoodchampionships.com, Facebook.com/WorldFoodChampionships or Twitter (@WorldFoodChamp). You can also win your way to compete in Vegas by signing up today at Kenmore's cookmore.com.
For more information about the happy egg co. Free Range eggs, including where to find a store near you, visit thehappyeggco.com.
« Back to News