Orange County mom takes home top honors at Bull Burger Battle
Share:
Posted Aug 14, 2014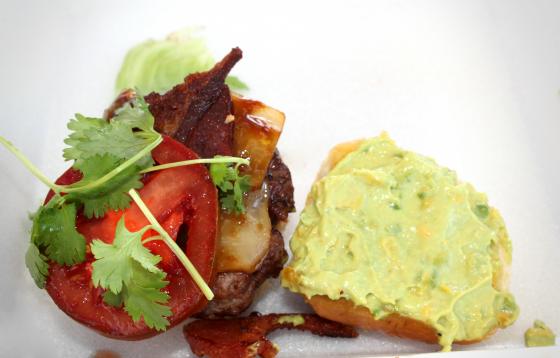 With just four seconds left on the clock, Kelly Lucas-Shippey barely turned her burgers in on time for the Bull Burger Battle in San Diego, presented by Bull Outdoor Products, Inc. But according to the judges, it was well worth the risk. Shippey's SoCal Blackstrap Sliders, featuring a tangy Blackstrap sauce, bacon and a little heat proved to be the competition favorite, affording Shippey the first place win. Shippey will now go on to compete in the World Burger Championship as part of Team Bull at the World Food Championships in Downtown Las Vegas, Nov. 12-18.
Kelly Lucas-Shippey, a chiropractor and mother, is no stranger to the competition-cooking field, having competed in roughly ten contests between 2011 and now. And if there's one thing for certain, she knows how to do well under pressure.
"My fire kept dying," said Shippey. "I had to keep adding kindling and restarting the fire… three times!" Shippey competed with, as she described, "a little tiny, nine by nine inch, revolutionary war replica" grill.
"I couldn't cook more than one thing at a time because it was so small! I could only cook the buns, and then I could only cook the burgers."
Inspired by a bacon wrapped and cream-cheese stuffed jalapeno appetizer made a by a co-worker, Shippey created a burger to encompass these favorite flavors, adding an avocado-lime mayonnaise, heirloom tomatoes and cilantro to top everything off.
Thanks to her first place win, Shippey not only earned at spot at the World Food Championships, but she also took home a brand new Bull Angus Grill – a welcomed replacement that she, alongside of her 14-year-old daughter, will be practicing on between now and November.

View the complete scores from the San Diego Bull Burger Battle below:
| | | | | | |
| --- | --- | --- | --- | --- | --- |
| Competitor | Name of Recipe | Overall | Execution | Appearance | Taste |
| Kelly Lucas-Shippey | SoCal Blackstrap Sliders | 84 | 31 | 28 | 35 |
| James Young | The Bourbon Bomb | 84 | 29 | 28 | 33 |
| Ramon Douglas | Sweet and Spicy Salut Burger | 83.3333 | 32 | 32 | 34 |
| Will Gilio | The BD Burger | 83.3333 | 32 | 33 | 32 |
| Tom Logsdon | The Original Dood Burger | 83.3333 | 32 | 32 | 32 |
| Brian Hines | LA Chica Sexy | 83 | 30 | 27 | 32 |
| David Powell | Pure Burger | 81.5 | 29 | 33 | 32 |
| Kara Arendsen | The Screamin' Italian | 80 | 30 | 31 | 31 |
| Pam Deem | Green Chile Three Cheese Sirloin Burger | 79.5 | 31 | 30 | 30 |
| Ron Otto | The California Jam | 79.3333 | 28 | 31 | 33 |
| Barry Peterson | The Shay Shay | 78.3333 | 30 | 32 | 29 |
| Rick McDonald | Sweet Thai Chili Burger | 76.6667 | 30 | 29 | 30 |
| Mark Masker | Wonton Slider | 75.6667 | 28 | 29 | 29 |
| Danny Dangoor | Mr. Simpleton | 75.5 | 29 | 31 | 28 |
| Sandra Cordero | The Cordero Lamb Burger | 73.3333 | 27 | 29 | 30 |
« Back to News