Big Bite Bacon Fest at the Queen Mary was a Delicious Bacony Time for All
Share:
Posted Aug 4, 2014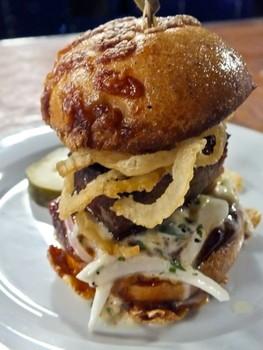 By: Edward Simon

Saturday, August 2, a sold-out crowd of FOB's (Fans of Bacon) converged on the Queen Mary in Long Beach for the Big Bite Bacon Fest. The event consisted of two parts, the Bacon Fest itself, where guests were able to taste unlimited samples of bacon dishes such as bacon-wrapped jalapenos, bacon wrapped hot dogs, bacon flavored ice cream sundaes and even sliced chocolate-covered bacon. There were also several breweries from the West Coast such as Lost Coast Brewery, Firestone-Walker, Deschutes, Stone and Saint Archer, serving up samples of their best craft beers.
As soon as the gates were opened, hungry guests set their sights on their first choice for a bacon dish. One of the many treats available were those from the Dia de Los Puercos Savage Chefs Grub Truck, who came over from East L.A. to treat the crowd to their version of the L.A. street hot dog. This dog, consisting of a delicious bacon-wrapped, deep fried hot dog served on a fresh-baked bolillo roll. Rick Garcia, owner of the truck, explained that " Our bolillos are fresh every morning. We support other small local businesses where I grew up in East L.A., so I get my bread from a bakery that has the weirdest name in the world, called Meatland".
Rick continued, "There's different uses for bacon. I like to use it to wrap a hot dog. The only item that's not pork on our menu is our beef hot dog. We wrap it in bacon and instead of putting it in a hot dog bun we use one of our bolillos. We dress it up just like an L.A. street dog and people have gone crazy over it". The hot dog was topped with chopped onion, mayo, mustard, ketchup and then topped with cotija cheese.
The other item that the Dia de los Puercos crew was serving was their Hog Pocket. Mike and Evan had waited in the long line to get them, but their excitement showed why. Both of them described the hog pocket to the Examiner, saying "This 'hog pocket is amazing!'. It's crispy, there's so much flavor, the peanut butter, the bacon, everything. The jelly…..I'm a big peanut butter fanatic. With the peanut butter being as warm and toasty as it is, that got me right there. And bacon, everybody loves bacon, who doesn't love bacon? And I'm not even a big fan of jelly, but this is amazing. The brown sugar that is on top of it, everything it's just that right mix of crispy, sweet, the tart from the jelly, it's phenomenal!".
Farrell's Ice Cream Parlors had many happy people walking away with their Bacon Infused Ice Cream Sundaes. Slater's 50/50 had a big grill going behind their tent, grilling up their signature cheeseburger with a fried egg on top. Nearby, Whole Foods Market was serving Bacon Gumbo, while across the way, Big Bubba's Bad BBQ was serving bacon-wrapped pork belly. Fresh chicharons were cooked and served at the Bacon Fest, while Aaron and Cory from Meats Inc. smoked up some delicious brown sugar bacon and Moinkballs.
BigMista's BBQ from Long Beach had a line all day for their signature item, 'pig candy'. Smoked bacon coated with brown sugar and cayenne, smoked again and then coated with some good stuff. They served it with their Hog Apple Beans. The pig candy was definitely a crowd favorite, winning the "People's Choice" Award at the Big Bite Bacon Fest. A few tents down, the Donut Bar from Fountain Valley had plenty of maple and bacon glazed donuts for everyone.
Guests were also able to enjoy some spirited rock from the stage with the Hawkbill Monsters, while DJ Dennis Owens spun tunes to keep the crowd dancing. The Legends Football League's Las Vegas Sin came down to demonstrate their pigskin skills as well as play some scrimmage for the challenge contest. Chef Rahm Fama visited with fans and signed copies of his new book 'Meat and Potatoes: Simple Recipes that Sizzle and Sear'.
Behind the scenes, the judges were sampling several dishes for the Big Bite Bacon Dish Awards. At 7p.m., the cast of ALT 98.7 FM's new morning show, the Woody Show, announced the results of the competition. In the Professional Division, Neil BigMista" Strawder and Rick Garcia of Dias de los Puercos tied for third place after tempting the judges with BigMista's Hog Apple Beans with Pig Candy and Dia de los Puerco's Hog Pockets. Dao Nguyen took second place for her delicious beef short rib with bacon.
As the excitement built, Chef Hugo Miranda, from El Segundo's Doubletree LAX East Grand Bar and Grille, took first place with his exceptional Pork Belly Slider. Chef Hugo will go on the compete in the prestigious World Food Championship in Las Vegas. Chef Hugo said, My thoughts for making the dish, was motivation to the point where all I have to do is to test it. So honestly, it was a recipe that was never created and I did it and tested it for a whole week. Everything worked together, believe it or not. It was amazing to my co-workers. my staff, to the guests, to everybody that I introduced it to. So I joined the competition in the Bacon Fest. I'm a local, I live right around here. people believed in me to the point where they said, 'you've got it, do it!'. I signed up and I did it!".
Chef Hugo described his dish, saying, "My dish was pretty much pork belly. I mean, I have a belly, the pig has a belly, let's enjoy it together! Pork belly, that meat is kind of fatty, tender, so it takes about four hours to cook. Prime time! I had some Dr. Pepper, I added this and this and 'MAGIC!'. I did it, I made my own brioche bun that had jalapeño cheddar in it from scratch. I made it fresh today, this morning. Then I did smoked barbecue bacon chipotle barbecue sauce from scratch. Then I reheated everything I had with bacon lard. Touched it up, finished it, bacon everything. That was my creation, honestly. Then I did a jalapeño chipotle cole slaw. It was spicy and sweet; that was my magic throughout the whole dish".
In the Amateur Division, Paul Burboa took the first place prize for his bacon soup. Paul explained to the Examiner, "I've been cooking most of my life in my kitchen. I used to cook with my grandmother growing up. I've always been an amateur, cooked just at home. I've never done anything professionally. My fiancee has always been trying to encourage me to try some competitions, so we decided to try this. And it worked out!".
Paul has gotten plenty of help from his fiancee. "I started out with a pound of bacon and saute that with onions to start. Once that is done, I added tomatoes, peppers, cumin, then add a little bit of hominy, corn and some enchilada flavoring and let that simmer overnight. I let it cool down and then remove the bacon fat from the top, otherwise its very greasy. It's kind of a two-day process. Then I heat it up, add the nice bacon chunks, some creme and some cotija cheese and top it off with sliced avocado for a nice presentation. I have my fiancee to thank for that. My fiancee has always stressed the presentation. She keeps reminding me, 'presentation, presentation!'".
The Big Bite Bacon Fest seemed to be an event that the crowd truly loved. AS the guests left, some to go home and some to the 'Rock the Queen' Tribute Band Concert on the Queen Mary, many could be heard saying how much they looked forward to another Big Bite Bacon Fest next year.
The Queen Mary
Big Bite Bacon Fest
www.bigbiteevents.com

http://www.examiner.com/article/big-bite-bacon-fest-at-the-queen-mary-was-a-delicious-bacony-time-for-all?cid=rss
« Back to News