WFC Announces First Super Regional in Scottsdale
Share:
Posted Jul 11, 2014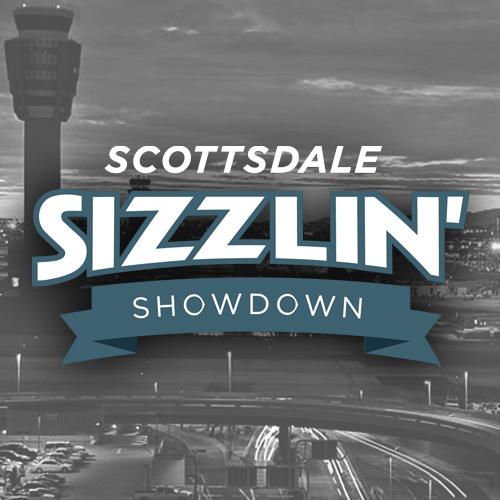 The World Food Championships announced today a new way for culinary champs to qualify for the largest and richest food competition in the world of Food Sport. For the first time in its three-year history, the event is partnering with Kenmore to host a Super Regional in the City of Scottsdale, where 10 competitors will earn their way into the 2014 WFC main event.
Slated for Oct. 25 and 26, the Scottsdale Sizzlin' Showdown will feature up to 60 competitors facing-off in one of three culinary competitions: Seafood, Cheese, and Sandwich. Similar to the championship in Las Vegas, contestants will be forced to compete against nature, a clock and a field of talented cooks from all walks of life.
"This is a very exciting moment for Food Sport," said Mike McCloud, president of the World Food Championshps. "Not only is Scottsdale ideally located for a last-chance qualifier into our main event, but it is nationally recognized for its incredible restaurants and culinary talent."
The Super Regional will occur at Scottsdale's WestWorld complex, and registration is open to home cooks, chefs and culinary professionals from anywhere in the world. There will be an online process to register at worldfoodchampionships.com. Judging for the Super Regional will mirror the event in Vegas, where competitors have to whip up their best dishes and pass a WFC proprietary judging process called EAT™, which evaluates entries based on Execution, Appearance and Taste.
"My taste buds are already tingling," said Kari Karch, Kenmore's executive chef and the host for the WFC Super Regionals. "I can't wait to see what culinary delights the competitors dream up in the desert."
Information will be released soon about other Super Regionals for the World Food Championships, which will feature a $100,000 grand prize. To catch a glimpse of the food frenzy, simply tune into the WFC's reality TV show, which begins airing on July 10 on A+E Networks' new FYI network. The show features "joes" and "pros" from the 2013 event as they battle it out for bragging rights and hundreds of thousands of dollars over six episodes.
Following a tournament-style format with almost 500 competitors, the 2014 World Food Championships will consist of nine food categories — BBQ, chili, burger, sandwich, recipe, dessert, bacon, pasta and seafood. To compete in the event, competitors have to win an automatic qualifying event or earn a spot through the Super Regionals.
To stay in the World Food Championships chatter, visit www.worldfoodchampionships.com, facebook.com/WorldFoodChampionships or Twitter (@WorldFoodChamp). You can also win your way to compete in Vegas by signing up today at Kenmore's cookmore.com.
About the Scottsdale Sizzlin' Showdown
The Scottsdale Sizzlin' Showdown is the last-chance Super Regional qualifying event for the 2014 World Food Championships. The event will be held Oct 25-26 at Scottsdale's WestWorld complex in conjunction with the Fourth Annual Bentley Scottsdale Polo Championships (www.thepoloparty.com). Sixty contestants will compete in three categories to win one of 10 spots in the Las Vegas main event. Registration will occur online at WFC's web site and is open to contestants from anywhere in the world. For more info, log on to www.worldfoodchampionships.com/scottsdale.
About Kenmore
The Kenmore Brand is an industry leader in delivering trusted performance in the home with smart and stylish appliance innovations that help consumers do things quicker, easier and better. Recognized as a top appliance brand for 100 years, the Kenmore Brand continues to give consumers more time, efficiency and better results for better living with industry-leading products across small and large appliance categories. For more information, log on to www.kenmore.com or www.facebook.com/kenmore.
About the World Food Championships
The World Food Championships features nearly 500 competitors seeking food fame and fortune in Las Vegas. The third annual event will invite the champions from the biggest and best food competitions around the world into a single high stakes culinary showdown for hundreds of thousands of dollars. Following a tournament-style format across multiple iconic food categories, including burger, sandwich, barbecue and more, the WFC will culminate with a Final Table faceoff where category champions brave potential elimination in front of a live audience and a discerning panel of culinary celebrities. For more information visit: worldfoodchampionships.com.
About WestWorld Of Scottsdale
WestWorld is a premier, nationally recognized, multi-use event facility located on 386 acres of pristine desert in the city of Scottsdale at the base of the McDowell Mountain range. WestWorld consists of 300,000 sq ft. of climate controlled flexible exhibit/event space, parking for over 9,000 vehicles, 400 RV spaces with power/water and a 10+ acre turf field for outdoor events. Also on site – Monterra, a 16,000 sq. ft. conference, special event and catering facility. The city of Scottsdale is home to internationally recognized five-diamond resort hotels, world-renowned culinary dining experiences, shopping, and a vast array of entertainment options.
« Back to News