World Food Championships TV Show Premieres July 10
Share:
Posted Jun 24, 2014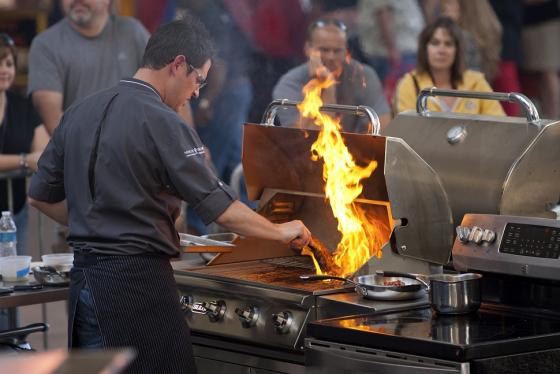 World Food Championships TV Show Premieres July 10
POSTED BY CHRIS CHAMBERLAIN ON
TUE, JUN 24, 2014

AT

8:10 AM
You may notice that we (well, I) have written a lot about the
World Food Championships
here on Bites. There are a couple of reasons for this.
First of all, I like to participate in food competitions, particularly ones that include barbecue, so I've attended and judged both of the first two WFCs. You can too! Second, the WFC is this November in Las Vegas, which is not a bad place to be, and hotels aren't that exorbitant Nov. 12-18. Thirdly, I continue to be impressed by the scale and organization of the event, considering almost the entire staff has to put it together from thousands of miles away.
That's right, the World Food Championships are based out of Nashville, where a small local advertising agency known as MMA Creative has taken their experience as the marketing arm of theKansas City Barbecue Society and multiplied it by many levels of complexity to create an event that crowns a champion cook from many different disciplines.
Under the leadership of president Mike McCloud, in addition to the event management and marketing, MMA also handles the production of an upcoming six-week television series coming to a new network that will share the fun and drama of the World Food Championships with the country. A&E is rebranding their Bio network as FYI on July 8. One of the first shows the new channel will feature is The World Food Championships, premiering on July 10.
Here's how the network describes the series:
Hosted in Las Vegas, The World Food Championships is one of the most ambitious and authentic food competitions held annually. This series follows talented home cooks and professional chefs from across America as they compete to create dishes mouth-wateringly creative enough to win their food category. From burgers, BBQ, sandwiches, bacon and family recipes — there is a winner for each competition, culminating in a grand finale with a shot at winning a $50,000 prize. Co-hosted by Jeffrey Saad, a chef, author and Chicago-based restaurant owner; and Tiffany Derry, a Dallas-based chef and "Top Chef" alum.
MMA and the WFC are also casting for another new show that centers around competitive cooking, so if you think you've got game and want to be on the big screen, check out the info below:
Now casting individuals or teams that have big personalities and the best food around. Get ready to test your creative culinary skills in everything from burgers to pasta — bacon to dessert!


Competitors will travel the country entering in food competitions in one of the most unique food docu-series yet.

ALL FOODIES SHOULD APPLY

Food truck owners, food bloggers, professional chefs, recent culinary school grads, backyard BBQ kings, cook-off champs and more!

SEND THE FOLLOWING INFO TO cookoffcompetitioncasting@gmail.com:

Name

Phone Number

Email Address

Occupation

Attach a photo of yourself

In what ways are you passionate about cooking? (Competitions, food blog, professional chef, etc.)

Why do you want to compete in food competitions across the country?

Would you want to compete alone or with a team? If with a team, who are your teammates?

I hope to see a Bitester become famous, and for chef Hal Holden-Bache to bring home the big bucks from this year's WFC!

http://www.nashvillescene.com/bites/archives/2014/06/24/world-food-championships-tv-show-premieres-july-10
« Back to News