Eat a Great Dinner, Help Chef Hal Holden-Bache Get to World Food Championships
Share:
Posted Jun 16, 2014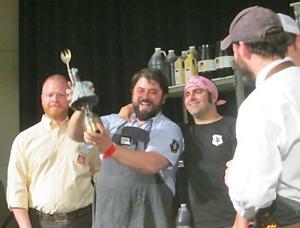 When Lockeland Table's Chef Hal Holden-Bache won this year's Iron Fork competition,
he was also awarded
an entry into the
World Food Championships in Las Vegas next November
. While his entry fee has been paid, there are still the expenses of travel and hotel for Holden-Bache and his sous, Danny "Boston" Bua. (
Not to mention gambling money
.)
To help raise money for the trip, but not gambling money, Chef Hal has planned a special dinner event for 5 p.m. this Sunday, June 22. The family-style meal will feature this year's Iron Fork secret ingredient, kale, plus the dish that won the title, Holden-Bache's Rack of Lamb with Kale Slaw.
Here's the whole planned menu, which sounds delicious:
Passed Bites
Crab and "Kaleing Me Softly" cakes with Old Bay mayo
Lemon and "Kale It Now" Arancini with tomato aioli
Roasted beet and Ricotta bruschetta with "If Looks Could Kale" chiffonade
Salad
WSF Tuscan "Kale and the Gang" Salad
Heirloom carrot, zucchini, radish, cheesy mustard dressing, toasted corn nuts
Entree
Nashville Scene Iron Fork Winning Dish:
Rack of lamb, fingerling, Benton's bacon, spring onion, kale hash
Kale & herb puree, raw kale pickled grapes & feta salad
Dessert
"Kale Moe Dee"
Cobbler, Peach Truck peaches
"LL Kale J" Gelato
Kandied kale
Please note this dinner will be open seating, so you diners may be seated with another couple. If you would like to sit with a larger group, please arrive together and Lockeland's staff will do our best to accommodate your party.
Tickets are $75 per person and are available at the event website.

http://www.nashvillescene.com/bites/archives/2014/06/16/eat-a-great-dinner-help-chef-hal-holden-bache-get-to-world-food-championships
« Back to News