"The World Food Championships" to air FYI Network on July 10
Share:
Posted May 29, 2014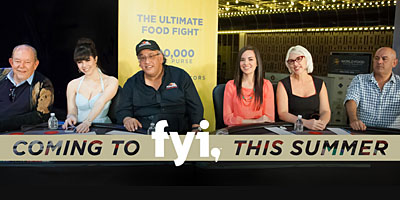 The lifestyle cable network, formerly Bio, readies for its July 8 launch date with first looks at series "Married at First Sight," "The Feed," "Tiny House Nation," "
The World Food Championships
" and more.
With its July 8 launch date fast approaching, A+E Networks is putting the finishing touches on Bio rebrand FYI. The new cable network is rolling out five original series within the first week -- and another two that month.

First up on FYI will be Married at First Sight. The 10-episode social experiment launches on July 8 at 9 p.m., with three couples agreeing to legally marry upon first meeting. The rest of premiere week includes renovation series Rowhouse Showdown (July 9, 9 p.m.) and design-focused Tiny House Nation (July 9, 10 p.m.), as well as culinary outings World Food Championships (July 10, 10 p.m.) and The Feed (July 12, 9 p.m.).


"World Food Championships" - 6 one-hour episodes
Hosted in Las Vegas, The World Food Championships is one of the most ambitious and authentic food competitions held annually. This series follows talented home cooks and professional chefs from across America as they compete to create dishes mouth-wateringly creative enough to win their food category. From burgers, BBQ, sandwiches, bacon and family recipes – there is a winner for each competition, culminating in a grand finale with a shot at winning a $50,000 prize. Co-hosted by Jeffrey Saad, a chef, author and Chicago-based restaurant owner; and Tiffany Derry, a Dallas-based chef and "Top Chef" alum. Produced for FYI by Sharp Entertainment. Executive Producers for FYI are Gena McCarthy and Toby Faulkner. Dan Adler, Jennifer O'Connell, Larry Hochberg and Matt Sharp are Executive Producers for Sharp Entertainment.
Excerpts from
http://www.hollywoodreporter.com/live-feed/a-e-unveils-fyi-rebrand-707175
« Back to News