A+E Unveils FYI Rebrand Art and Video, Sets Seven Originals for July Launch
Share:
Posted May 29, 2014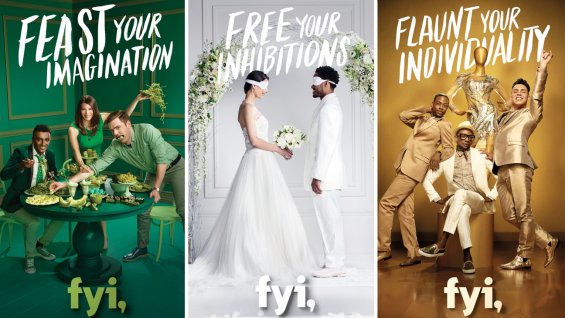 http://www.hollywoodreporter.com/live-feed/a-e-unveils-fyi-rebrand-707175
11:00 AM PDT 5/27/2014 by Michael O'Connell
The lifestyle cable network, formerly Bio, readies for its July 8 launch date with first looks at series "Married at First Sight," "The Feed," "Tiny House Nation" and more.
With its July 8 launch date fast approaching, A+E Networks is putting the finishing touches on Bio rebrand FYI. The new cable network is rolling out five original series within the first week -- and another two that month.
Ahead of the debut, The Hollywood Reporter has a first look at key art from five of the new shows and a promotional reel showing off the first series from the lifestyle network aimed and web-savvy viewers.
"Reflecting FYI's mission of inspiring personal creativity across all aspects of viewers' lives, the network will premiere with an authentic slate of series that embrace FYI's adventurous, personalized and non-prescriptive approach to programming," says FYI and LMN president Jana Bennett. "Viewers will see a taste of everything FYI has to offer with a range of stories and experiences that reflect how people actually live their lives today, not defined by just one passion or interest."
Key art for the new shows reveals a slew of personalized takes on the brand acronym -- originally described as "for your inspiration" or "for your innovation" -- including "feast your imagination," "free your inhibitions" and "flaunt your individuality."
First up on FYI will be Married at First Sight. The 10-episode social experiment launches on July 8 at 9 p.m., with three couples agreeing to legally marry upon first meeting. The rest of premiere week includes renovation series Rowhouse Showdown (July 9, 9 p.m.) and design-focused Tiny House Nation (July 9, 10 p.m.), as well as culinary outings
World Food Championships (July 10, 10 p.m.)
and The Feed (July 12, 9 p.m.).
The rest of July also includes B.O.R.N. to Style (July 15, 10 p.m.) and Epic Meal Empire (July 26, 10 p.m.), both of which received the network's biggest initial orders of a respective 14 and 16 episodes.
FYI's first year out of the gate will include an aggressive slate. The network has been beefing up a thus-far exclusively unscripted roster, recently adding cooking competition Midnight Feast and ordering several pilots.
Watch the first promotional reel for FYI below.
« Back to News