Eat your way across the state during BBQ Cook-Off season
Share:
Posted Mar 18, 2014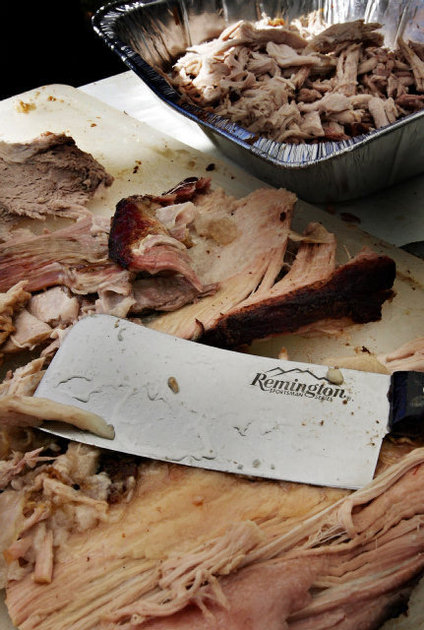 BY SUSAN ARDIS


The days are getting longer and warmer, for sure. And with that comes the restless feeling that I should take to the back roads of South Carolina and explore. And when I say "explore," I mean "look for some really good barbecue."
Luckily, beginning this weekend, I won't have to drive too far.
Friday and Saturday, to me, mark the official start to the barbecue cook-off season in South Carolina with two events: Smokin' at the Farmers Market Commissioners Cup BBQ Cook Off and Festival at the State Farmers Market in West Columbia and the South Carolina Barbecue Association Cookoff Competition in Walterboro.
Barbecue cook-offs generally work like this: Friday night is an Anything-Butt night where all sorts of items, other than pork, come off the smokers. I've sampled great tasting pizzas, chicken, shrimp (and grits) and vegetables during these evenings.
Saturday is what everyone waits for, the big event: Boston butts and pork ribs. Judging is usually done before noon and if you want to sample some of the best barbecue, you better come early. My dad and I have driven to one or two cook-offs just past a "normal" lunchtime (around 1 p.m.) and some of the teams have been picked clean. There's almost nothing worse than showing up and there's no 'Q!
Anyway, Smokin' is sanctioned by the Southern BBQ Network, a great group of guys and gals who taught me all about the barbecue judging process.
This will be the third year of competition. The winning team receives an invitation to participate in the World Food Championships in Las Vegas in November.
The SCBA event in Walterboro, Smoke in the 'Boro, is new and organized by Lake High, president of the SCBA, and hosted by The Colleton Center and Coastal Electric Co-op.
You can eat your way across the state this spring and summer by attending a barbecue cook-off competition. I've listed a few here for your planning purposes (and see an interactive map at thestate.com/living):
Got a cook-off coming up and want to be included in our listing? Email us at food@thestate.com
« Back to News