BBQ cook-off and festival crowns winner, runs out of barbeque
Share:
Posted Mar 22, 2014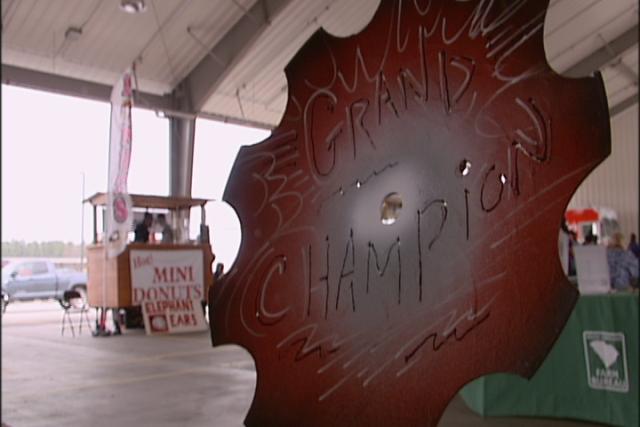 WEST COLUMBIA, SC (WIS) -
Over 40 teams vied to be named the state's best barbeque at the Third Annual Commissioners Cup BBQ Cook Off & Festival.
The South Carolina Department of Agriculture hosted the two-day competition, where teams took part in the "Anything Butt" contest featuring chicken wings, and the State Championship featuring Boston Butts and pork ribs.
The festival was so popular this year, they even ran out of barbeque early Saturday.
"They were on a mission to eat barbeque and they did and we ran out," said SC Department of Agriculture Commissioner Hugh Weathers. "So to the folks that were arriving late we're going to give them an apology and tell them to be ready for next year. They came hungry, they came ready for a good time and we finally just ended up saying don't worry with paying, go get some barbeque before it runs out. So everyone for the most part got some barbeque."
Weathers said they will add more barbeque to the tasting menu to prevent this from happening again next year.
This year's state title winner and grand champion went to Summerville's Dennis Jarrett of Pot Belly Cookers. Jarrett took home a $600 cash prize and received an automatic bid to the World Food Championship held in Las Vegas. Second overall went to Greenwood's Ronnie Bishop of On the Spot BBQ.
Despite running out of barbeque, festival goers had the opportunity to sample local produce and homemade goods featured every week at the state farmer's market.
"I think people like coming out to the farmers market, they know there's plenty of good family activities going on," Weathers said.
Here's the full list of winners:
Grand Champion (State title): Pot Belly Cookers – Dennis Jarrett, Summerville, SC, $600 prize
Reserve Champion: On the Spot BBQ – Ronnie Bishop, Greenwood, SC, $300 prize
Boston Butts:
1st Place – Blind Swine BBQ – Mike Sanders, Greenwood, SC, $1,000 prize
2nd Place – Razorbacks BBQ – Jason Peterson, Summerville, SC, $600 prize
3rd Place – Piggy Backs BBQ – Mitchell Sims, Olanta, SC, $300 prize
Pork Ribs:
1st Place – Hotlanta – Phillip Miles, Lake City, SC, $1,000 prize
2nd Place – Fire and Smoke Shak – Jack Fulton, Monks Corner, SC, $600 prize
3rd Place –Some-R-Swine - Seth Watari, Summerville, SC, $300 prize
Peoples' Choice: Hog-N-Around – Trey Hoey, Cayce, SC, $300 prize
Anything Butt: LowCountry Barbecue & Catering – Lou Hutto, Columbia, SC, $300 prize
Copyright 2014 WIS. All rights reserved.

http://www.live5news.com/story/25046878/bbq-cook-off-and-festival-crowns-winner-runs-out-of-barbeque
« Back to News