Nation's Top BBQ Pitmasters Compete at 5th Annual Suncoast BBQ & Blue Grass Bash
Share:
Posted Apr 9, 2014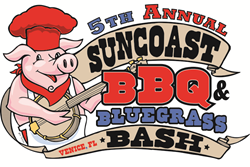 Venice,Florida (PRWEB)
On April 19th thousands will descend on Venice Municipal Airport for the 5th Annual Suncoast BBQ and Bluegrass Bash. The highly anticipated event is proud to host this years Florida Barbecue State Championship and will attract 60 world renowned BBQ Competitors to compete for a $15,000 purse and automatic inclusion to the Food Networks World Food Championship in Las Vegas, NV. The event also hosts a nationally recognized chili cook-off that the winner also receives a cash prize and entry to the World Food Championship. Were honored to host the FBA State Barbecue Championship this year and also to be one of only a few events in the country where both our BBQ and Chili winners get automatic entry to the World Food Championship, says Don Fisher, founder and organizer of the event.
Attendees will not only get a chance to sample the best in barbecue and chili, but also entries into a dessert bake-off, all while enjoying An Afternoon of Bluegrass. Slated to perform is the Grammy Nominated act, The Boxcars and top bluegrass chart toppers and IBMA award winners, Balsam Range. Bluegrass and BBQ are a natural fit, says Fisher, and as another first, both bands will close out the concert by playing together, that we are calling the Appalachian Reunion of Friends.
More than just great food and music, there are also a host of other events and activities. There is an American Cornhole Association Cornhole tournament, a kiss the pig contest and a Kids Park that features face painting, bouncy houses, rides, the Honey Bear hot air balloon and visits from friendly dogs of the Venice Police K-9 unit and Sarasota Sheriffs K-9 for kids.
There is also the Community Corner featuring educational exhibits from area civic and governmental groups and an Outdoor Living area where attendees can learn more about a variety of outdoor living activities and see exhibits about products. Plus, there are lots of fun festive food vendors, a variety of craft beer and quality event related vendors.
For those who want to enjoy the event a little early, The Suncoast BBQ and Blue Grass Bash will be holding a Sporting Clays competition on Friday April 18th at the Sarasota Gun Club followed by an event kick off party with food and entertainment where people will get a chance to meet the nations top BBQ Pit Masters competing in the event this year.
The public is encouraged to participate in our fun contests. To register please visithttp://www.SuncoastBBQbash.com/Applications.
For more information and details visit http://www.SuncoastBBQBash.com.
The Suncoast BBQ and Bluegrass Bash is a non-profit event to benefit the Suncoast Childrens Foundation.
Read the full story at http://www.prweb.com/releases/2014/04/prweb11749339.htm.
« Back to News