Chef Hal Holden-Bache of Lockeland Table Wins Iron Fork 2014
Share:
Posted Apr 17, 2014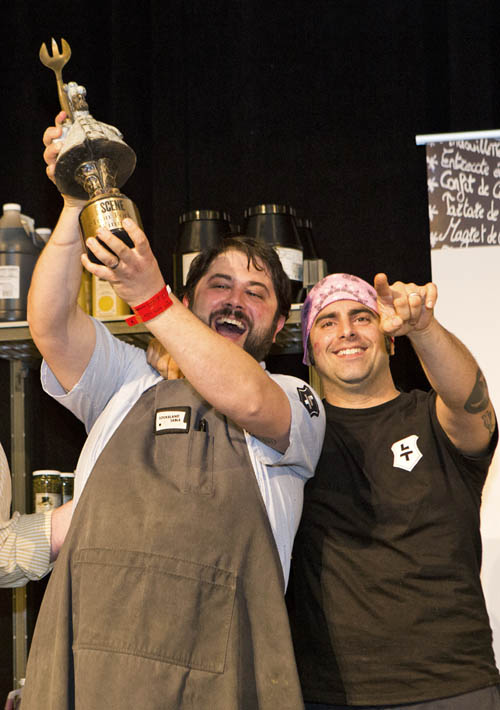 This year's Iron Fork battle was one of the most competitive in the seven-year history of the event. All the chefs are not only impressive on their own terms, they've attracted notice on a national level, sharing in the current wave of attention paid to Nashville as a rapidly ascendent food city.
Perhaps the least well-known beyond Nashville (where she has legions of loyal customers at Green Hills' Firefly Grille) is Kristen Gregory, and she recently won the season premiere of Chopped!
The other chef-competitors were Matt Bolus of The 404 Kitchen, Chris Carter and James Peisker of Porter Road Butcher, and Hal Holden-Bache of Lockeland Table. Bolus, Gregory and Holden-Bache each had sous chefs assisting on the team; Carter and Peisker didn't get a sous because they were competing as a duo.
Bites' own Chris Chamberlain was one of the judges, and he says scant points separated all four teams when the judges' scores were tabulated. And all four dishes were extraordinarily delicious, prepared with impeccable technique despite the chefs' challenges of cooking to beat the clock, not in a professional kitchen, but at makeshift stations set up inside the venue, the Commodore Ballroom in the Student Life Center at Vanderbilt University.
Then there's the matter of the secret ingredient. Every year the judges face a curveball: The event's presenting sponsor, US Foods, provides the bounty of produce to be used in the competition and selects a surprise ingredient that is announced just before cooking begins. This year it was kale, which is a gorgeous ingredient, but requires a deft touch to prevent it from being either bitter and fibrous on the one hand, or bitter and overcooked on the other.
I wasn't judging and wasn't privy to the deliberations, but since I was there as Bites' reporter, Chris let me share some samples from his plate. I think all four teams nailed it when it came to coaxing bright, fresh and enticing flavors out of kale.
In the end, the judges awarded the trophy to Holden-Bache and his sous chef, Danny Boston Bua, for New Zealand rack of lamb with potato-and-kale hash, a kale-and-pickled-grape salad, and kale verde.
In addition to the handsome bronze trophy and bragging rights, this year a last-minute honor was added. Mike McCloud, president of the World Food Championships in Las Vegas, awarded the winner an automatic berth at this year's championship, which takes places in Vegas in November.
And another set of kudos: The chefs each prepared an extra plate to be auctioned off silently, to benefit Second Harvest Food Bank of Middle Tennessee. Bidding on each plate started at $15, and Gregory's dish, seared lamb roulade stuffed with kale salsa verde and goat cheese, served with fingerling potatoes and green bean salad, drew a whopping $200 bid.
The rest of the party was also a lot of fun. More than 20 restaurants, plus a number of beverage purveyors, handed out samples to the hungry crowds. Some of Bites' favorites: duck hash with quail egg from Cafe Fundamental (which also offered delicate little almond croissants and miniature baguettes representing chef Jamie Watson's upcoming bakery on McGavock Pike, called Palmier); Jim 'n Nick's smoked pork sausage on a cracker with pimento cheese; pickled beet salad from chef Laura Wilson of the Grow Local Kitchen at the Nashville Farmers' Market; dim sum dumplings from Lucky Bamboo; pad Thai from Ginger Thai; mango ceviche from Boca Loca Cantina; and duck-fat caramels from Olive and Sinclair.
Below you can check out Bites' amateur photos of the dishes, plus description. (Coming soon to theScene's Facebook page: More photos of all the evening's highlights, taken by Scene photog Michael W. Bunch.)
The winning dish: New Zealand rack of lamb with potato-and-kale hash, a kale-and-pickled-grape salad, and kale verde, by Hal Holden-Bache of Lockeland Table
http://www.nashvillescene.com/bites/archives/2014/04/17/chef-hal-holden-bache-of-lockeland-table-wins-iron-fork-2014
« Back to News