Weeknight Dinner: Spicy Chicken l'Orange Burgers with Asian Slaw
Share:
Posted May 14, 2014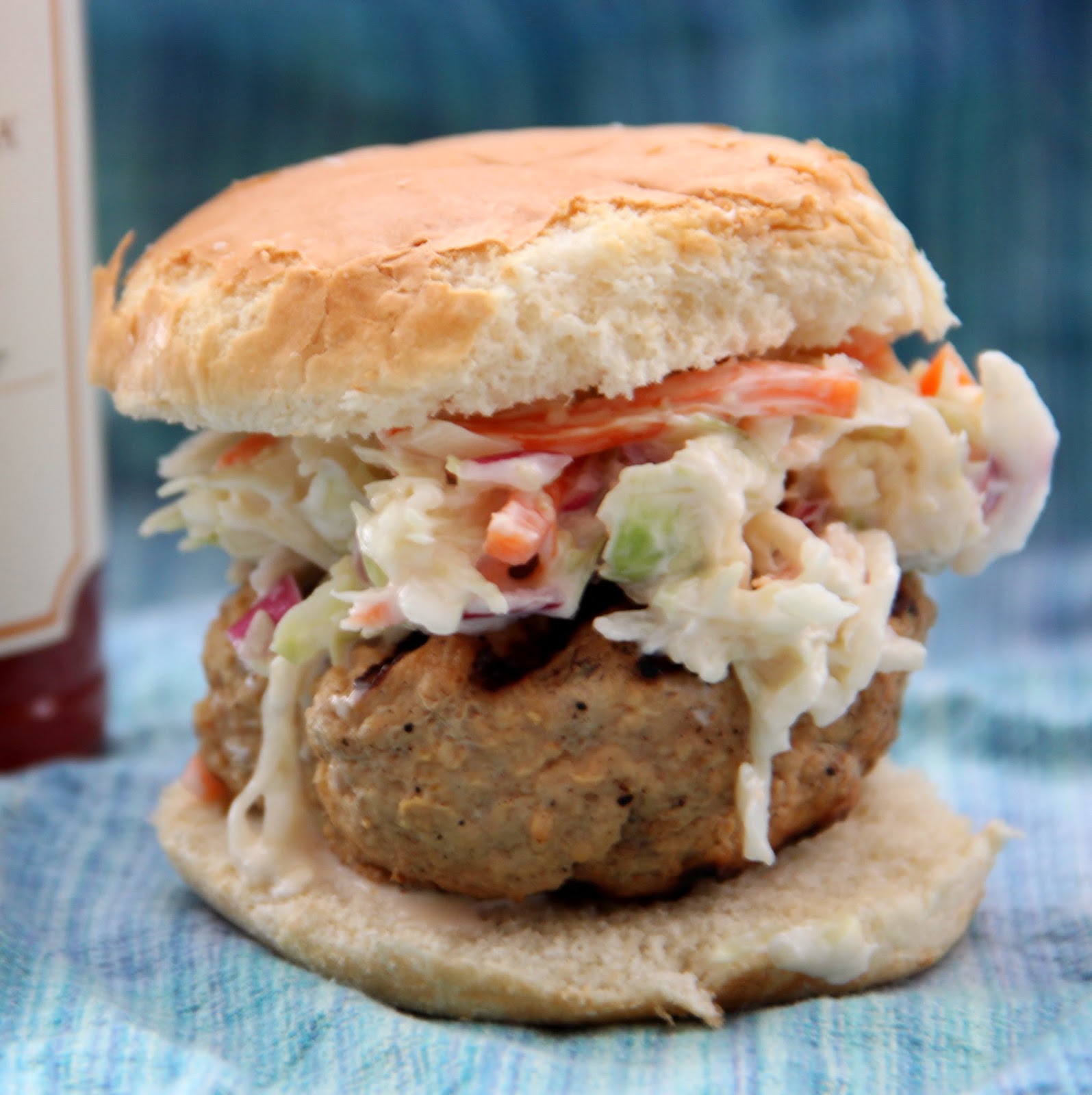 By: Dani
Time to get saucy! Yes, it's that time! Saucy Mama is having another recipe contest and I was thrilled when they picked me to be one of their 25 blogger participants. Especially because you could win $1,000. But even more than that, you gain entry into the World Food Championships which I hear from everyone was THE coolest cooking contest in the land last year.
So when the sauces came my way, I spent a few days deliberating what to make. Just a few though because the package was delivered and picked up by our super who forgot about it and we ran around looking for it for like 3 days. Finally found it and started tasting.
You can always count on John, whatever the contest, to pick something that's seriously out of the box. And that's this Orange Habanero wing sauce. It's citrus-y but spicy and had amazing flavor. So to please John we went with this sauce and made a burger (something else the hungry man cannot resist). The burgers were amazing and perfect for summer. Luckily, you can try them yourself as Saucy Mama is giving away a six pack of delicious sauce to one lucky reader!!! All you have to do is comment below about which sauce you want to try!

The contest will end Sunday, May 25th at 11:59 PM (by my computer's clock). To enter, write which sauce you'd be most interested in trying from the following: Orange Habanero Wing Sauce, Jamaican Jerk Wing Sauce, Honey BBQ Wing Sauce, Hot Wing Sauce, Four Leaf Balsamic Vinaigrette and Marinade and Honey Dijon Dressing.
Each of the below is one extra entry; for it to count, please write a comment stating which you did and what your user name is on that social media site (unless it is obvious):

Spicy Chicken l'Orange Burgers with Asian Slaw
Serves: 4
Burgers:
1 1/3 pounds ground chicken
1/3 cup panko breadcrumbs
1/4 cup Orange Habanero Sauce
3 cloves garlic, minced
2 teaspoons salt
1 teaspoon freshly cracked black pepper
1 tablespoon black sesame seeds
4 sesame seed buns
Slaw:
1 cabbage, thinly sliced
2 shallots, thinly sliced
4 tablespoons ginger, thinly sliced
1 carrot, thinly sliced
1 red pepper, thinly sliced
6 ounces greek yogurt
2 tablespoons rice vinegar
1 tablespoon Orange Habanero Sauce
2 tablespoons black sesame seeds
Burgers: Preheat the grill to medium-high heat. In a large bowl, combine chicken, breadcrumbs, Orange Habanero Sauce, and garlic cloves. Form into 4 burgers and season with salt and pepper and top with sesame seeds. Grill 6-8 minutes per side, until cooked through (white in the middle but very juicy). Place on sesame seed buns.
Slaw: Combine cabbage, shallots, sliced ginger, carrot, and red pepper in a large bowl. In a small bowl, mix greek yogurt, rice vinegar, toasted sesame oil, and Orange Habanero Sauce. Pour the dressing over the slaw and mix well. To use immediately, top with black sesame seeds. Evenly divide the slaw on top of each burger. Serve immediately. Or, slaw can be kept in the fridge for up to 1 day.
Until the next time my oven is on..
« Back to News