Winning BBQ Team from Tri-State Also Advancing to WORLD FOOD CHAMPIONSHIPS
Share:
Posted Mar 24, 2014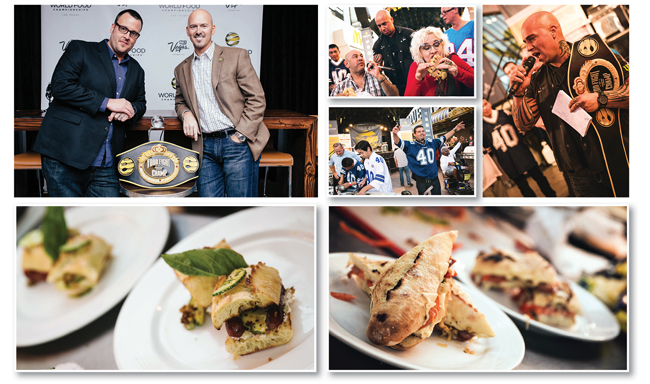 We just received word that the winning team from the Tri-State BBQ Festival will also advance to the World Food Championships in Las Vegas in November, 2014. The winning team will receive the "golden ticket" and will compete against some of the best competition cooking teams from around the world. The event will also be filmed for a 6 part series that will air on A&E Network after the event.
The World Food Championships were recently featured on ABC news (to watch the segment, click HERE - http://abcnews.go.com/Nightline/video/battle-best-barbeque-22595151
Here's some info from the World Food Championshps web site-
The road to the 2014 World Food Championships is officially open, and today the WFC announced that the event will be even bigger this year thanks to the addition of two new categories.
The field for the 2014 event will be expanded to nine categories with 550 competitor spots. Returning categories include: Barbecue, Chili, Sandwich, Burger, Dessert, Bacon and Recipe, while Pasta and Seafood have been added as the two new categories. As in years past, the Recipe category is based on a theme of food, and this year that theme will be Cheese.
In addition to making the nine categories public today, the World Food Championships is excited to extend the first competitor invitations to the Top 10 competitors from each category from 2013! If you were one of those finalists, be on the lookout for a registration email coming your way soon.
As for all other competitor slots, WFC will be awarding one spot at the Tri-State BBQ Festival in Dothan, Alabama to a lucky barbecue competition team. So if you haven't already, dig out those pots and pans and heat up those ovens! It's time to get cooking – See more at: http://worldfoodchampionships.com/news/300/wfc-expands-categories-for-2014#sthash.dhmZC0gR.dpuf
See more at: http://worldfoodchampionships.com/news/294/food-fight-on-fremont-street#sthash.dtdaJ8zZ.dpuf

http://tristatebbq.com/2014/03/24/world-food/
« Back to News