Festival Extends Coverage and Offerings
Share:
Posted Apr 29, 2014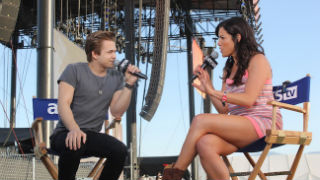 Hunter Hayes speaks with Ashley Eicher in front of the Mane Stage for AXS TV's expanded Countdown to Stagecoach coverage. (VT Photo)
REPORTING FROM INDIO, CALIF. — Empire Polo Club in Indio was filled with unique and interactive components for this year's Stagecoach festival, produced by Goldenvoice and held April 25-27. The festival expanded its reach far beyond the 63,000 fans in attendance.
The first year of AXS TV's Stagecoach coverage in 2013 was on the set in more than five million homes. This year, AXS TV added more artists to the programming and refined the 'countdown' portion to become a more important and interesting part of the show.
Each of the three nights of the festival had more than six hours of music.
Pieces of performances or full sets were broadcast from 24 artists, with Luke Bryan signing on for Sunday's broadcast on Friday.
"This is festival season, so it's hard to get hold of bands to get them to sign off because they're busy on the road, and some aren't even aware we're shooting until they're here," said AXS TV's VP Music Production & Programming Evan Haiman. The network, which also broadcast from Coachella, didn't even get the go-ahead for Pharrell's Saturday night Coachella sets until a few hours before he performed.
"I think people and the artists might see the broadcast on Friday and then think, 'Oh, this looks good and they're not going to ruin it. They're doing a very good job of documenting this for TV — Let's jump on board,'" Haiman added.
Lee Brice played to 63,000 fans on Sunday. AXS TV also broadcast his set, with last year's coverage shown in more than five million homes. (VT Photo)
Some artists have put their own twists on the coverage. Friday night's headliner Eric Church brought in his own director and had his set broadcast in black and white to bring a different look and feel to his performance.
AXS TV has a history of broadcasting live performances; however, it becomes a bit of a challenge with large festivals. There is a slight delay because the stages overlap and in order to edit down some of the opening artists' performances.
"We have to shift some of it with the timing, but we basically record it and put it up," said Haiman. "We don't change it or tweak it. The performance is what it is live."
He added that the performance coverage begins with 15-30 minutes of sets by some of the opening acts, with the time devoted to each artist growing as the night goes on. The headliners' sets are broadcast in full.
"Viewers want to sit through the whole set from Brantley Gilbert, Eric Church, and those artists," he said. "I'd be really pissed off if I wanted to watch Stagecoach and the TV cut out before the headliner sang my favorite song."
AXS TV used HD cameras that shoot at 24 frames per second. Coverage began with the a nightly produced segment 'Countdown to Stagecoach,' a half-hour program where host Ashley Eicher recaps the previous day's performances and does live interviews with artists and segments about some of the unique aspects of the festival.
The Budweiser Clydesdales entertained the crowd near the entrance for the third year in a row. (VT Photo)
Friday included a segment on what a Stagecoach pro brings to the concert each year, including beer and daisy dukes. Another segment talked about the RV life and camping at the festival.
"We try to pack as much into it as we can, and we get through that half-hour and go straight into the concert," said Haiman, who added that the preperformance coverage for all of AXS TV's festival programming has been refined. The countdown segment for the New Orleans Jazz Festival will include "Last Night with Savannah," where host Savannah Buffett will take viewers around New Orleans to experience what happens in the city when Jazz Fest ends each night.
"We're trying to get that atmosphere into our countdown coverage as well as throughout the night," he added.
One of the Countdown to Stagecoach segments focused on the BBQ competition that has taken place each year since the festival's inception in 2007.
BBQ Pit Master, Caterer and Competition Organizer Thom Emery said that he focused on making the competition more theatrical this year, adding a live, public judging of the 29 participating teams.
"Ultimately the people who are paying the bill for what we're doing are the people sitting at the benches eating BBQ, so a contest that happens back somewhere in a tent doesn't do anything for them," said Emery. "The teams were singing songs and doing their presentations — it was wild."
Each team paid a $300 fee (buying them 300, three-ounce cups) to participate in the competition and serve at Stagecoach. They could sell each three-ounce sample for $3, keeping money they brought in.
The winner of the IBCA competition, decided through a blind voting, qualifies for the World Food Championships in Las Vegas and the Kansas City Royal Championship, as well as receiving $1,000.
Oversized cowboy props provided photo ops for fans near the Half-Pint Hootenanny. (VT Photo)
Emery estimated that 10,000 samples would be distributed over the weekend, with many people splitting samples to be able to try unique BBQ items from multiple companies.
The BBQ area stays open "until the guys run out of food, usually," said Emery. "Or until Lynyrd Skynyrd comes on — then they all go to the concert."
The 2014 Stagecoach IBCA Grand Champion was Smokin' Mo's.
Muddy Girl Productions expanded its footprint at this year's festival. The company's Karen Rappaport organizes the Half-Pint Hootenanny each year. This iteration was held in the large 'Yuma' tent used for EDM at Coachella.
"We had a bigger space, which meant a bigger opportunity," said Rappaport. She split the tent into two sections, adding a Honky-Tonk Dance Hall. The space was inspired by old country music dance halls and featured live bands.
"People always danced at Stagecoach, but now they don't have to do it outside on the dirt," she said.
The Half-Pint Hootenanny brought back Jessie Danielson and her Party Animal Petting Zoo, and added a new presenting partner.
"Thanks to a very significant donation from Goldenvoice to the Girl Scouts & Boy Scouts, we now have the 'Half-Pint Hootenanny presented by Girl Scouts & Boy Scouts of America," said Rappaport, adding that Girl Scout employees worked in the Hootenanny, manning activities such as face painting.
Rappaport also made the space around the tent more interactive, adding live painting on teepees that were left over from Coachella, and creating oversize cowboy props and other photo ops.
A Staff Pro Select employee braves his suit in the hot desert weather at Coachella. SPS workers also manned the artist compound at Stagecoach. (Photo by Staff Pro)
Though they were a bit too big to be included in the petting zoo, the Budweiser Clydesdales also made an appearance at Stagecoach, with a large Budweiser wagon drawn by eight 2,000-pound Clydesdales. The horses make an appearance at many events that Budweiser sponsors throughout the year, staying at local equestrian centers or fairplexes, as well as traveling with portable stalls.
"We get so much free advertisement and promotion from bringing the horses out, but it's also a good-will thing," said Clydesdale Handler Zach Uding. "Think about how you feel when you're with these horses: you feel happy, you feel good, and you feel like you want to go enjoy a cold Budweiser."
The horses have added to the excitement at Stagecoach for the last three years, even being named one of AXS' 'best attractions.'
Even security got in on the trend of increasing interaction, with Staff Pro recommitting to its guest services training in addition to its crowd management training.
"Even when you walk into the festival, Staff Pro employees are greeting and welcoming people through the parking lots," said VP Thushan Rajapaska. "I really believe in these things."
He said that the Staff Pro employees are there to enhance the fan experience and help create magical moments, all while keeping festivalgoers safe. The company launched an elite group called Staff Pro Select, who are specialized security personnel decked out in black suits. SPS employees were stationed at the artist compounds at Coachella and Stagecoach.
"Staff Pro is really the front line of the experience for these audiences," added Rajapaska. "Our job is to make sure we uphold the expectations and values of Goldenvoice and AEG."
Dates for Coachella and Stagecoach 2015 have yet to be announced. AXS TV's coverage of New Orleans Jazz Fest runs May 1-4.
http://www.venuestoday.com/news/detail/stagecoach-axs-0429-2014
« Back to News