If Your Burger Is the Boss or Your 'Tater Salad is Tops, Vegas Could Be in Your Future
Share:
Posted May 19, 2014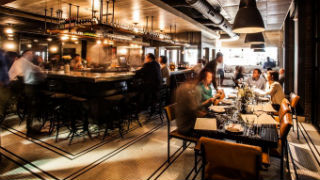 when Chef Hal Holden-Bache won this year's Iron Fork competition
, he also received another little lagniappe of a prize. Make that a big lagniappe, because
World Food Championships
organizer Mike McCloud happened to be in attendance at the event and spontaneously offered Holden-Bache an entry into the World Chef Challenge at the WFC in November in Las Vegas.
Holden-Bache will compete against other notable chefs from around the country for the chance to win some serious scratch; last year's winner took home $5,000 and a Southern Pride commercial smoker. (That smoker is pretty tough to fit in the overhead compartment.) If the format is the same as the last two years, Holden-Bache will compete in a round of hand skills (start practicing your potato tourne technique, Hal!) and then several rounds of cooking, which culminate in an ultimate dish evaluated by celebrity judges.
If mere mortals like us would like to be a part of the World Food Championships, there are plenty of opportunities. Two that are coming up soon don't even require you to cook anything under pressure situations, just submit a recipe. The first is the Kenmore Burger Challenge. Get cracking because you only have until midnight on May 20 to send them your recipe for the most bodacious burger. A panel of judges will consider all the entries and select four winners who will gain entry into the Burger Division of the World Food Championships. Kenmore is even kicking in $500 and a free trip to the competition for the grand prize winner. Start grinding, Bitesters!
For less carni-centric chefs, Reser's Potato Salad is searching for America's best recipe for that picnic staple. You've got until July 16 to get that one in, and they'll choose 20 semifinalists. These lucky 20 will be winnowed down by a vote of Reser's Facebook fans and will all win a trip and entry in the World Food Championships' Potato Salad division. The ultimate winner gets 10 grand, so that's not small potatoes!
As another nice touch, Reser's will donate on case of their potato salad for every recipe entered to food banks and hunger organizations in the name of the eventual winner. So put your thinking caps on and dig your old recipes out of that box of index cards. Let's see a Nashville winner!

http://www.nashvillescene.com/bites/archives/2014/05/19/if-your-burger-is-the-boss-or-your-tater-salad-is-tops-vegas-could-be-in-your-future
« Back to News