Competitor Registration is Now Open
Share:
Posted Apr 10, 2014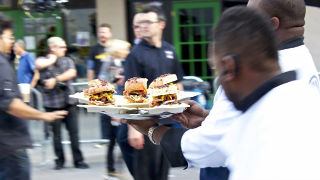 Registration is now open!
If you've already won an AQ, be on the lookout for a registration email coming your way! If you think you should have received a registration email, drop a line to competitor@worldfoodchampionships.com. We can't wait to see you in November!
The World Food Championships is returning to Downtown Las Vegas for its third annual high stakes competition. Mark your calendars, secure travel plans and set the countdown clock. November will be here before you know it and we know you want to be there (not to mention, we wanna see ya)! Stay tuned for ticket information, and special hotel discounts for competitors and attendees.
Coming soon to a computer near you…#FoodChamp Challenge
So, you want to be the next World Food Champion? You've got to earn your way to the playing field.
Last year, we introduced our very own online recipe contest series – #FoodChamp Challenge – and guess what! It's baaaccckk! So if there's not an Automatic Qualifying event near you, or you just want another chance at securing that golden ticket, the opportunity for food fame and fortune sits at your fingertips! Grab your favorite recipe (category appropriate) and hit submit to present your best case to the World Food Championships' panel of judges and you just may earn your spot in Las Vegas.
The #FoodChamp Challenge series, in partnership with Kenmore, will be hosted on cookmore.com. The fun begins on May 1, so stay tuned for more information!
WFC Featured on ABC Nightline
In February, the World Food Championships hit the national airwaves via ABC Nightline. For those that were onsite last November, the segment was a great walk down memory lane. For those who missed it, it left much to salivate over in anticipation for the third annual showdown.
In case you missed it, or just want to relive the experience again, view the segment here.
Introducing… TWO new categories!
That's right. In 2014, we're adding not one, but TWO new categories. Ladies and gentlemen, please welcome Seafood and Pasta to the World Food Championships' field! Think you've got the know-how to make an enviable salmon croquette or have the knack for making pasta the star of the plate? Now's your chance! Check out the first wave of category Automatic Qualifying events here.
Champions' Corner
Congratulations to each of the champions who have won an Automatic Qualifying event in March! We are looking forward to seeing you bring everything to the table in November! Haven't qualified yet? Check out the upcoming AQs below:
UPCOMING EVENTS
BARBECUE
Smokin' in Mesquite BBQ Challenge 4/26/14
Sam's Club National BBQ Tour Region 4 Finals 4/26/14
BBQ & Goat Cook-off 4/25/14
Germanfest BBQ Cook-off 4/25/14
Terrell Heritage Jubilee 4/25/14
Central TX Roughneck BBQ 4/4/14
Montgomery County Fair 4/11/14
Lil Earl's Hometown Throwdown 4/11/14
Stagecoach BBQ Championship 4/24/14
Smoke At The Lodge 4/4/14
Smokin on the Big Creek 4/4/14
CHILI
Michigan State Chili Cookoff 4/26/14
Perris Valley Chili Cookoff 4/5/14
Rotary Club of Thousand Oaks Regional 4/26/14
Texas Ladies State 4/12/14
For a complete list of AQ events, visit: worldfoodchampionships.com/news/302/wfc-announces-first-round-of-2014-qualifying-events
« Back to News