Philipsburg barbecue finishes in the top 8 at prestigious Las Vegas cooking event
Share:
Posted Dec 16, 2013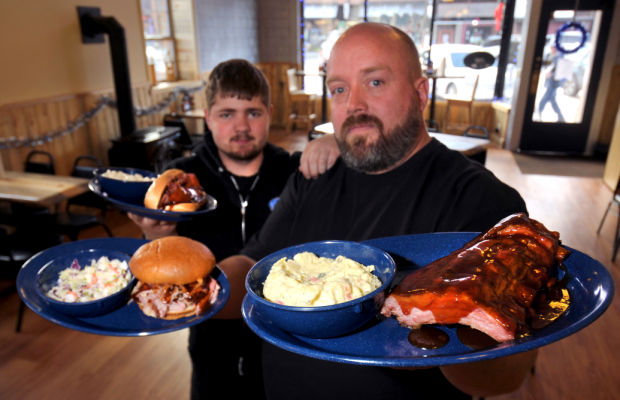 PHILIPSBURG – It's called "the ultimate food fight," and you'd be hard-pressed to imagine a scene farther from the essence of uptown P-Burg.
In early November, with Food Network cameras cranking, Brent Schreyer and his UpNSmokin Barbecue team found themselves under one of glitziest and glitteriest features of Las Vegas.
The overhead Visa Vision at the west end of Fremont Street – 12 million LED lamps illuminating the world's largest electric sign that stretches the length of five football fields over the street – is the lead attribute of Sin City's Fremont Street Experience.
The World Food Championships, in their second year, draw the world's best from qualifying competitions to cook in seven categories. Besides barbecue there are contests over four days in chili, burgers, desserts, sandwiches, bacon, recipes, as well as a chef challenge. The overall winner on Sunday is named the World Food Champion.
*****
But it was just another palate-pleasing palette for Schreyer, wife Candi, and their friend Chris Patterson from Idaho.
They set up the UpNSmokin tent and proceeded to outcook all but seven of the 80 biggest names in the barbecue world – from Kansas City and Texas; from Memphis, California and as far away as South Africa. Eighth place? In a field like that?
"At first I was just kind of in disbelief," said Schreyer, whose team also claimed 21st in pulled pork.
"I knew the field that we were up against. I mean, they're the best barbecuers in the world. I know a lot of them real well from traveling around to these competitions."
There were the likes of Lee Ann Whippen from Wood Chicks BBQers in Virginia, who has competed on Barbecue Pitmasters on TV, and the top three teams in the legendary Kansas City Barbecue Association.
"And then there was the guy from Philipsburg, Montana," Schreyer said.
He's gotten used to it by now.
"I go to these big events and I'm always that guy that doesn't quite … They all look at you like, what the hell is he doing here?" Schreyer said.
The elite are full-time competitors, traveling to 30 to 50 events a year.
"So the guys like me, who just do it between six and 20 times, they don't take us too serious because to them we're just part-timers," Schreyer said. "But they just don't realize the reason we're doing it so seldom is we've got stores, we've got businesses to run."
Indeed, the top eight teams in Vegas included only one other barbecue joint operator. To Schreyer that means: "There's only one restaurant in the United States that has better ribs than us."
Schreyer still lives in Stevensville and commutes to "the 'Burg" each morning, of late in a tiny, 46-mpg Chevy Spark that's custom painted with distinctive orange flames and "UpNSmokin BBQ House" on the sides.
*****
Schreyer, 45, is from a barbecuing family in Minnesota but became enamored with the serious side of the art about nine years ago through his wife's uncle.
Brent Walton of QN4U in Clovis, Calif., was in Stevensville for the barbecue competition at the annual Creamery Picnic.
"He let me help trim his chicken," Schreyer recalls. "I think he let me trim the stuff he wasn't going to use, just to keep me occupied and out of his way."
But Schreyer saw the amount of time and effort champion barbecuers put into their craft – awake for 24 hours cooking brisket, 12 to 18 hours for pork, or six to eight hours for ribs.
"I just got bit by the bug," he said.
Schreyer soon entered into competitive barbecuing on his own, often smoking head-to-head with Walton, even as they freely shared barbecue secrets.
The Stevensville Creamery Picnic is designated the Montana state championship and served as the qualifying event for the World Food Championships. Schreyer has won the last four best-in-show awards there, and for the past two years has headed the committee that puts on the barbecue judging.
The competitions led to catering on the side, then vending, even as he and Candi held down full-time jobs – he at a glass shop in Missoula, she as surgical coordinator at Missoula Pediatric Dentistry.
Brett was looking for something new when they were doing the tourist thing in Philipsburg two Labor Days ago and were drawn to a vacant storefront on Main Street. A few weeks later, he was up and smokin' full time, with Candi his part-time bookkeeper.
His first location on West Broadway opened in October 2012. It was tiny, with room for three four-chair tables. There were times last winter, he said, when the snowmobile, ice fishing and ski crowds from nearby Discovery Basin lined out the door and onto the street waiting for ribs and brisket. Traffic during tourist season this summer was, in Schreyer's word, "nuts."
By then he was already in the process of moving uptown.
Shirley Beck, co-owner of the town's famous Sweet Palace and Sapphire Gallery, had a plan to turn a dark but historic 1910 building on East Broadway into a barbecue shop. It had started as a soda fountain and ice cream shop, later serving as the Gallery Café for many years and, most recently, the Philipsburg Café.
It took 10 months and a total makeover, including five attractive windows cut into the east brick wall, but Schreyer and his "pitmaster-in-training" – 21-year-old Kyle White, who has lived all his life in Philipsburg – opened for business Oct. 1 in one of the more attractive spaces in the ever-evolving old mining town.
The sheetrock ceiling was removed to reveal, another four feet up, the original ornate tin ceiling, which Beck extended the full depth of the building. Schreyer's kitchen alone, with a new 12-foot, fully automated oven hood, is roughly the size of his whole shop down the street.
"We wanted it remodeled hard enough to where people that have been in here didn't realize they'd been in here before," Schreyer said.
"Shirley took care of all the interior design, as far as the actual hands-on construction. She'd run everything by me, but the woman just has a vision. She planned it in her mind, she knew exactly what this place would look like before we were into it. As soon as it was done, it was exactly what I wanted."
*****
Still, he doesn't see UpNSmokin upstaging Beck's candy store. In his travels around the U.S. and Canada, he often finds that people don't know where Philipsburg, Montana, is until he mentions the Sweet Palace. That's when the light clicks on.
Mike Milodragovich, a Missoula attorney who spends a lot of time at a cabin near Philipsburg, is one of UpNSmokin's most loyal customers.
"I've been to places like the Rendezvous and Corky's in Memphis, the Salt Lick outside Austin (Texas) and Dixie's in Bellevue (Washington), just to name a few," Milodragovich said. "The first time I tried Brett's ribs I was hooked."
Milodragovich speaks of the synergy between the new barbecue establishment and the Philipsburg Brewing Co. just down the street, a relationship he says has reenergized the Philipsburg business district.
*****
The brewery opened in October 2012, almost simultaneously with Schreyer's first opening, and the two welcome customers carrying the other's wares in a town with no open container law.
"Brett has brought his constituency and so has the brewery," Milodragovich notes. "Craft beer and BBQ are a natural pairing. Neither constituency was represented before."
His shuffle up the street this year cut drastically into Schreyer's typical competition schedule. UpNSmokin's catering business remains hopping. Last week alone he was in Missoula for a Wal-Mart Christmas party and in Helena for a dinner at a group home.
Come 2014 he plans to return to the competition circuit, pointing to the Creamery Picnic competition in early August and a shot at a fifth straight Montana barbecue title. The Food Network will air the barbecue finals from Las Vegas in May.
If the barbecue gods keep smiling, the UpNSmokin crew will be back in the midst of the Fremont Street Experience next fall.
Judges at that level are exacting in their search for the best blend of taste, tenderness and appearance. If the meat falls off the bone, Schreyer said, it's overdone. If it's even a bit too difficult to pull off the bone, it's underdone.
"I'd say probably nine out of 10 competitions we go to we'll be just a hair to the overcooked side," Montana's barbecue king said. "It's so hard to hit that perfect line. But we hit it that weekend in Vegas."

http://missoulian.com/lifestyles/hometowns/philipsburg-barbecue-finishes-in-the-top-at-prestigious-las-vegas/article_46274ea4-65dc-11e3-84d0-0019bb2963f4.html
« Back to News