Wright® Brand Bacon Selected as New Bacon World Championship Title Sponsor at World Food Championships
Share:
Posted Jul 18, 2013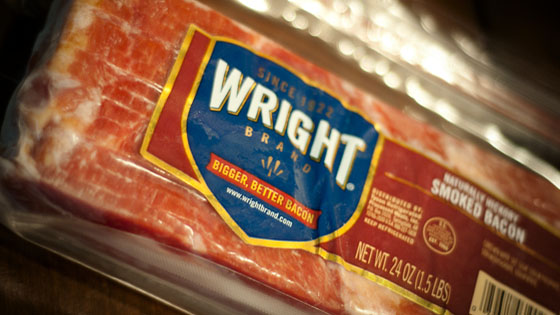 The World Food Championships announced today a partnership with Wright® Brand Bacon, which has been selected to be the title sponsor for the new Bacon World Championship competition taking place over the weekend of Nov. 7-10, 2013 in Las Vegas as part of the annual World Food Championships.
The World Food Championships annually brings together champions from the world's biggest and best food competitions and online recipe contests into a single food competition to battle for culinary fame and a piece of the $300,000 prize purse. This year, the World Food Championships will be a tournament-style competition, to include several competitive categories culminating with the Final Table competition, where the champions from each of seven categories will face off before a celebrity panel in their quest to become the 2013 World Food Champion.
"Bacon is an iconic comfort food that's become a trendy add-on to all kinds of meals in recent years," said Mike McCloud, President/CEO of Trybe Targeting, the company producing the four-day event. "As the bigger, better bacon, Wright® Brand Bacon reflects the superior standards expected from partners of the World Food Championships. We're thrilled to have them on board with the World Food Championships and to help us launch our new competition category dedicated specifically to bacon."
As title sponsor, Wright® Brand Bacon will be awarding the winning foodie rights to the ultimate in culinary pop culture titles, Bacon World Champion, along with $25,000 in total category prize purse. Additionally, Wright® Brand Bacon will be featured in the pantries of all category competitions, and served exclusively at the Ultimate Bacon Experience, a bacon-centric grazing event that will occur during the World Food Championships on Saturday, Nov. 9.
"The Wright® Brand Bacon and World Food Championships partnership will place a global spotlight on one of the most unifying themes of our time: our love of bacon," said Bob Harris, Sr. Product Manager for Wright® Brand Bacon. "This November, Las Vegas will host bacondom's very best and brightest in their pursuit of the ultimate title of Bacon World Champion. As the bigger, better bacon, we are proud to support and celebrate these bacon visionaries in their delicious quest."
In addition to the Bacon World Championship, the 2013 World Food Championships categories will feature classic American cuisine including: barbecue, chili, burger, sandwich, dessert and recipe categories.
For more information about the Ultimate Bacon Experience and to purchase tickets, visit: www.worldfoodchampionships.com/tickets
For more information about events, opportunities or competitions at the World Food Championships, visit worldfoodchampionships.com and dive into the #FoodChamp chatter on Facebook.com/WorldFoodChampionships and Twitter (@WorldFoodChamp).
« Back to News