Anna Maria chef wins national pie contest for third time
Share:
Posted Jun 24, 2013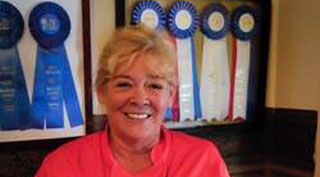 Published: Monday, June 24, 2013 at 6:45 p.m.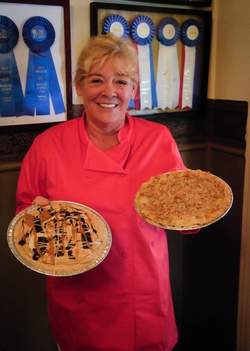 STAFF PHOTO / RACHEL S. O'HARA
Here is Andrea Spring's recipe for how to become the three-time winner in the professional division of the American Pie Council/Crisco National Pie Championships.
• Start with a mother who hated to cook. "As soon as my mother saw I could make dinner, she was all about it."
• Mix well with multiple restaurant jobs in which women were often not allowed near a searing grill or a flaming range. "I'm a chef, I just evolved into a pastry chef because it was needed."
• Add a dash of rivalry. "A food critic named Beach Bistro best restaurant and said ours had the best pies and I thought, 'If she's going to say that, I'm going to make it true.' "
• Season with cunning and intelligence. "I use a tremendous amount of strategy. People are too easily influenced by chocolate."
• Garnish liberally with ambition. "I live to compete."
Spring, co-owner of the Sign of the Mermaid Restaurant on Anna Maria Island, recently returned triumphant once again from the national pie championship in Orlando with a handful of ribbons to add to the ones framed throughout her restaurant, housed in an eclectic 100-year-old structure in sight of the Gulf of Mexico on Anna Maria Island's north end.
In a hot pink double-breasted chef's coat, tendrils of blonde hair curling from the kitchen's heat, surrounded by a scurrying staff — including her daughters, Kelly, 25, and Serena, 23 — preparing for a Friday night onslaught, she displays this year's winners, one in each hand.
On the right, the "Best of Show": Peanut Butter Cracker Pie, her variation on a recipe from a 1960s Georgia Peanut Board cookbook — a baked meringue containing saltines, peanuts and a creamy nut filling, to which she added chocolate chips, Ritz crackers and a whipped cream garnish.
On the left, the "Innovation" winner: Coconut Cashew Apricot Pie, topped with fried crust crumbles.
She gives the second more credit than the first.
"Now that's an intelligent pie," Spring says. "A lot of thought went into the flavors. The peanut butter, it's just a whole lot of sweet."
These blue-ribbon entries join their predecessors like, to name just two, Chocolate Expresso Explosion (chocolate cream with a chocolate cookie crust and chocolate truffle bottom) and Hula Hula Pineapple Cream with a fried crust.
A love for contests
This year, watching the disappointment of her fellow competitors who, over the years, have become friends, Spring thought about retiring from the circuit.
But who is she kidding?
Even before she entered her first pie contest and won with a meringue-topped Key Lime Pie that is still a best seller at the restaurant ("Yes meringue is problematic, but it's traditional; you use the egg yolks in the filling and no housewife was going to throw away the whites,"), she was hooked.
But you'd be misguided if you surmised that Spring was born with a floured thumb. As a child, the first pie she made was an utter failure.
"It was pumpkin and I put on a top crust," she says, laughing. "My mother kept asking, 'Why is this thing never getting done?' "
By the time she had filtered through a dozen restaurant jobs — starting with the Golden Apple Dinner Theatre, and moving on through L'Auberge de Bon Vivant, Tiolina's, the Bradenton City Club and the Beach Bistro — her days of flops were far behind.
After winning her first blue ribbon in a barbecue contest in 2007, she began to scour the Internet for potential competitions. For a while she entered at least one a month: The California Raisin Bread contest. The Build a Better Burger contest. The Discover Duck contest. (Last year she won that one — and a $5,000 prize — with her recipe for praline-crusted duck on a skewer basted with hoisin-apple sauce).
No, she has never tried a Spam competition but she's certainly willing.
"I love Spam when it's cooked right and I have all kinds of recipes for it," she says.
Confidence
In this year's APC/Crisco challenge she entered "only" seven pies, down from her previous high of 16.
The wins earned her another $5,000, but she is far more excited by the unexpected "Best in Show" bonus prize — a "golden ticket," entry to the World Food Championships in Las Vegas in November.
Spring, who has twice unsuccessfully applied to be on the Food Network's "Chopped," is already plotting her strategy, a variation on a dessert trend she is reluctant to disclose in case someone else steals her thunder.
She finishes an explanation of the long, challenging judging and elimination process she will face by saying, "And then one person — me — will come out of that."
Me?
"I know it sounds arrogant," adds Spring, who is anything but, "but I don't mean it that way. I just never doubt myself. You can't."
If Spring wins in Las Vegas, she could make upwards of $75,000. But while that would be nice — she's separating from her husband of 20 years, Ed, the Sign of the Mermaid's head chef, and planning to move to Key West — that's not the point.
She'll just as readily enter a contest with no prize money at all and little prestige, like the one she plans to compete in on her vacation to Key West. It will require that she carefully tuck a bubble-wrapped crust in her luggage and find a hotel with a kitchenette to whip up the refrigerated filling she has in mind.
That's nothing really.
For the contest in Orlando, she rented a resort suite with a full kitchen and worked from 7:30 p.m. to 4:30 a.m. to have her entries ready for registration at 8 a.m. When your restaurant goes through more than 30 pies a week, this is not unusual duty.
There are some instances, however, where Spring does draw the line.
"I don't do wedding cakes," she says. "That's the most important day of someone's life and if you mess it up . . . I can't do that to someone."
Or fruit pies.
"When I pick a pie to enter, it's got to cut perfectly and go on a plate properly. Fruit pies are a disaster."
And lest you think that eating the results of her labors might prove to be the same, let it be known that in less than two months, Spring has lost some 30 pounds.
In truth, pie is the least of her temptations.
"I do taste them, of course, but I don't think I've ever eaten a whole piece of pie since I was a kid," Spring says.
"Every once in a while, I do eat a whole piece of cake though. I love cake."
« Back to News