Holter Claims Second Consecutive World Sandwich Title At WFC
Share:
Posted Nov 20, 2023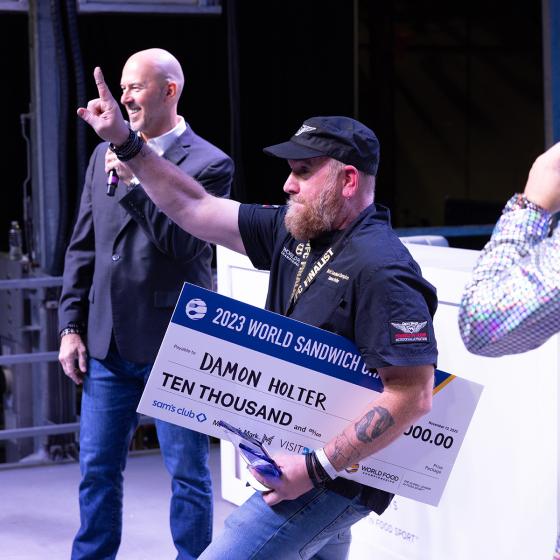 In a stunning display of culinary prowess, Damon Holter has once again emerged as the champion at the prestigious World Sandwich Championships held this year in Dallas, Texas. This victory marks Holter's second consecutive win at the World Food Championships, having previously secured the title in 2022.
Holter, known for his innovative approach to traditional sandwich-making, wowed the judges and audience with his unique creations that blend classic techniques with modern twists. His victory in Dallas cements his reputation as one of the world's most creative and skilled sandwich chefs and places him in the final competition to compete for $150,000.
Holter embarked on a journey of perfecting flavor when he started handcrafting original BBQ sauce in the back of a meat market in Hudson, WI, in 2009. He turned that passion into a business that now exports his once homemade BBQ sauce worldwide with a company called Croix Valley. Since 2009, he has also been competing in Food Sport, perfecting his recipes for competition.
"This win is more than just a personal achievement; it's a testament to the endless possibilities within the art of sandwich-making," said Damon Holter. "I am thrilled and honored to have my creations recognized at such a prestigious level for the second year in a row."
The World Sandwich Championships is a highlight of the World Food Championships, a renowned culinary competition that attracts chefs and food enthusiasts from around the globe. Contestants are encouraged to push the boundaries of traditional sandwich recipes and present visually stunning and delicious dishes.
"Damon Holter's back-to-back victories at the World Food Championships are a remarkable feat," said Mike McCloud, President and CEO of the World Food Championships. "His ability to innovate within a well-loved culinary category is impressive, and we are excited to see how his influence shapes future trends in sandwich-making."
Damon Holter (middle) with sous chefs Kelly Trumpold (left) and Lu Holter (right).
Holter's winning sandwich, a Mediterranean Chicken Kafta Sandwich that started with a scratch-made Harissa-seasoned Pita Bread, impressed the judges with its balance of flavors, textures, and presentation. It was a hit among the judges and captured the audience's imagination, who observed a masterclass in sandwich creation.
Following his latest triumph, Holter plans to continue his culinary journey, exploring new recipes and techniques, as he prepares for the Final Table challenge, which will be held in May in Bentonville, Arkansa. He is also committed to sharing his passion and knowledge through various cooking demonstrations and workshops.
The twelve winning champions at WFC 2023 included:
• World Barbecue Championship – Al Lino (Rio Smoke) from Texas
• World Bacon Championship – Jean Paul Lavallee (The Bacon Whisperer) from Mississippi
• World Burger Championship – Richard Joannes (Team Burger France) from France
• World Chef Championship – Robert Rose (Vin Alegro) from California
• World Dessert Championship – Bethany Boedicker (Whisky Business) from Texas
• World Live Fire Championship – Lee Hickel (Team Airforce) from Texas
• World Mixology Championship – George Kaiho from Texas
• World Rice & Noodle Championship – Dan Reighn (Team Purple Reign) from California
• World Sandwich Championship – Damon Holter (Team Croix Valley) from Minnesota
• World Seafood Championship – John McFadden (Team McFadden) from Australia
• World Soup Championship – Randall Lockhart (Team Coast Guard) from Maryland
• World Vegetarian Championship – Pascal Aussignac (Club Gascon London) from London


About WFC
The World Food Championships (WFC) is owned by WFC Holdings, a collaboration of investors including IMG. The event is the highest stakes Food Sport competition in the world. This multi-day, live event culinary competition showcases some of the world's best chefs, teams and cooks who compete for food, fame and fortune in 12 categories (Bacon, Barbecue, Burger, Chef, Cocktail, Dessert, Live Fire, Rice/Noodle, Sandwich, Seafood, Soup and Vegetarian). Each year as Food Sport kicks off in January, thousands of cook teams try to earn their way into WFC by winning a Golden Ticket at an official qualifier. With a prize purse of almost $500,000, the event attracts talented cooks from almost 40 countries and every state in America. WFC's main event has been featured in dozens of tv shows and awarded more than $3 million in prize money since its inception in 2012.

About IMG
IMG is a global leader in sports, events and media. It is a leader in rights management, multi-channel content production and distribution, consultancy and fan engagement; owns, produces and commercially represents hundreds of live events and experiences; and manages licensing programs for the world's best-known brands and trademarks. IMG is a subsidiary of Endeavor, a global sports and entertainment company.
« Back to News