Aussie McFadden Reels In A Second Consecutive World Seafood Championship
Share:
Posted Nov 16, 2023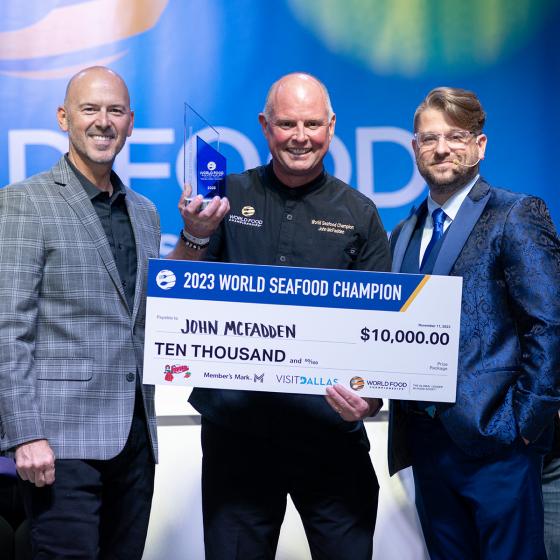 In a spectacular culinary showdown at Fair Park in Dallas, Texas last week, John McFadden from Sydney, NSW, Australia, demonstrated his culinary prowess by defending his World Seafood Championship crown for the second consecutive year at the prestigious World Food Championships. McFadden's culinary journey, marked by innovation and a deep appreciation for seafood, has not only elevated his personal standing in the culinary world but also brought recognition to Australia's vibrant culinary scene.
The World Food Championships, a global celebration of culinary excellence, attracts top chefs and culinary artists from around the world to compete in various categories. The World Seafood Championship is one of the most hotly contested segments, demanding creativity, skill, and a deep understanding of diverse seafood varieties. John McFadden's victory in this challenging category for the second year in a row is a testament to his exceptional talent and dedication to his craft.
Hailing from the picturesque coastal city of Sydney, McFadden has always been inspired by the bountiful offerings of the sea. His culinary journey began in the local fish markets, where he developed a profound respect for the variety and quality of seafood available. This passion eventually led him to the World Food Championships, where he made a name for himself with his innovative approach to preparing and presenting seafood.
For this year's competition, McFadden showcased his signature "Paprika Lobster Fondue, with Scallops & Caviar Emulsion," combining traditional techniques with modern flair. His winning dish in the finals used molecular gastronomy to fuse Australian and Texan flavors in a "Salmon, Crab & Lemon Mosaic." Judges were impressed not only by the exquisite flavors but also by the meticulous attention to detail in the presentation of the dish.
"I wanted to create a dish that not only highlighted the incredible seafood from Australia but also paid homage to the flavors and culinary traditions of Texas," McFadden explained after his victory. "It's an honor to represent Australia on the global stage and showcase the diversity and quality of our seafood."
McFadden faced tough competition from renowned chefs worldwide, each vying for the coveted title. However, his ability to balance bold flavors with a refined touch set him apart. The panel of judges, composed of industry experts and culinary connoisseurs, praised McFadden's dish for its creativity, execution, and the seamless integration of diverse elements.
The victory has not only solidified McFadden's status as a culinary maestro but has also brought attention to the burgeoning culinary scene in Australia. The country, known for its unique and diverse food culture, is gaining recognition as a hub for innovative chefs pushing the boundaries of culinary artistry.
As McFadden celebrates his back-to-back triumphs, he remains grateful for the support he has received from the Australian culinary community and his fans. "This win is not just for me but for everyone who has been a part of my journey," he remarked, emphasizing the collaborative spirit that defines the culinary world.
John McFadden's success at the World Food Championships is remarkable. In 2022, he wont the seafood title and went on to win the event's signature finale, the Final Table, in Bentonville, Arkansas. That netted him a $100,000 grand prize and the title of World Food Champion, which has never been won twice by a single team during the event's decade-long history.
McFadden has now returned to Australia, where he will begin prepping for WFC's next Final Table. Scheduled for May of 2024, the event's Grand Prize will now earn the ultimate champion an additional $150,000 on top of the $10,000 prize purse that was won in each category.
The twelve winning champions at WFC 2023 included:
• World Barbecue Championship – Al Lino (Rio Smoke) from Texas
• World Bacon Championship – Jean Paul Lavallee (The Bacon Whisperer) from Mississippi
• World Burger Championship – Richard Joannes (Team Burger France) from France
• World Chef Championship – Robert Rose (Vin Alegro) from California
• World Dessert Championship – Bethany Boedicker (Whisky Business) from Texas
• World Live Fire Championship – Lee Hickel (Team Airforce) from Texas
• World Mixology Championship – George Kaiho from Texas
• World Rice & Noodle Championship – Dan Reighn (Team Purple Reign) from California
• World Sandwich Championship – Damon Holter (Team Croix Valley) from Minnesota
• World Seafood Championship – John McFadden (Team McFadden) from Australia
• World Soup Championship – Randall Lockhart (Team Coast Guard) from Maryland
• World Vegetarian Championship – Pascal Aussignac (Club Gascon London) from London


About WFC
The World Food Championships (WFC) is owned by WFC Holdings, a collaboration of investors including IMG. The event is the highest stakes Food Sport competition in the world. This multi-day, live event culinary competition showcases some of the world's best chefs, teams and cooks who compete for food, fame and fortune in 12 categories (Bacon, Barbecue, Burger, Chef, Cocktail, Dessert, Live Fire, Rice/Noodle, Sandwich, Seafood, Soup and Vegetarian). Each year as Food Sport kicks off in January, thousands of cook teams try to earn their way into WFC by winning a Golden Ticket at an official qualifier. With a prize purse of almost $500,000, the event attracts talented cooks from almost 40 countries and every state in America. WFC's main event has been featured in dozens of tv shows and awarded more than $3 million in prize money since its inception in 2012.

About IMG
IMG is a global leader in sports, events and media. It is a leader in rights management, multi-channel content production and distribution, consultancy and fan engagement; owns, produces and commercially represents hundreds of live events and experiences; and manages licensing programs for the world's best-known brands and trademarks. IMG is a subsidiary of Endeavor, a global sports and entertainment company.
« Back to News