Metro and Edward Don & Company team up to create efficient workspaces in Food Sport's largest kitchen
Share:
Posted Aug 24, 2023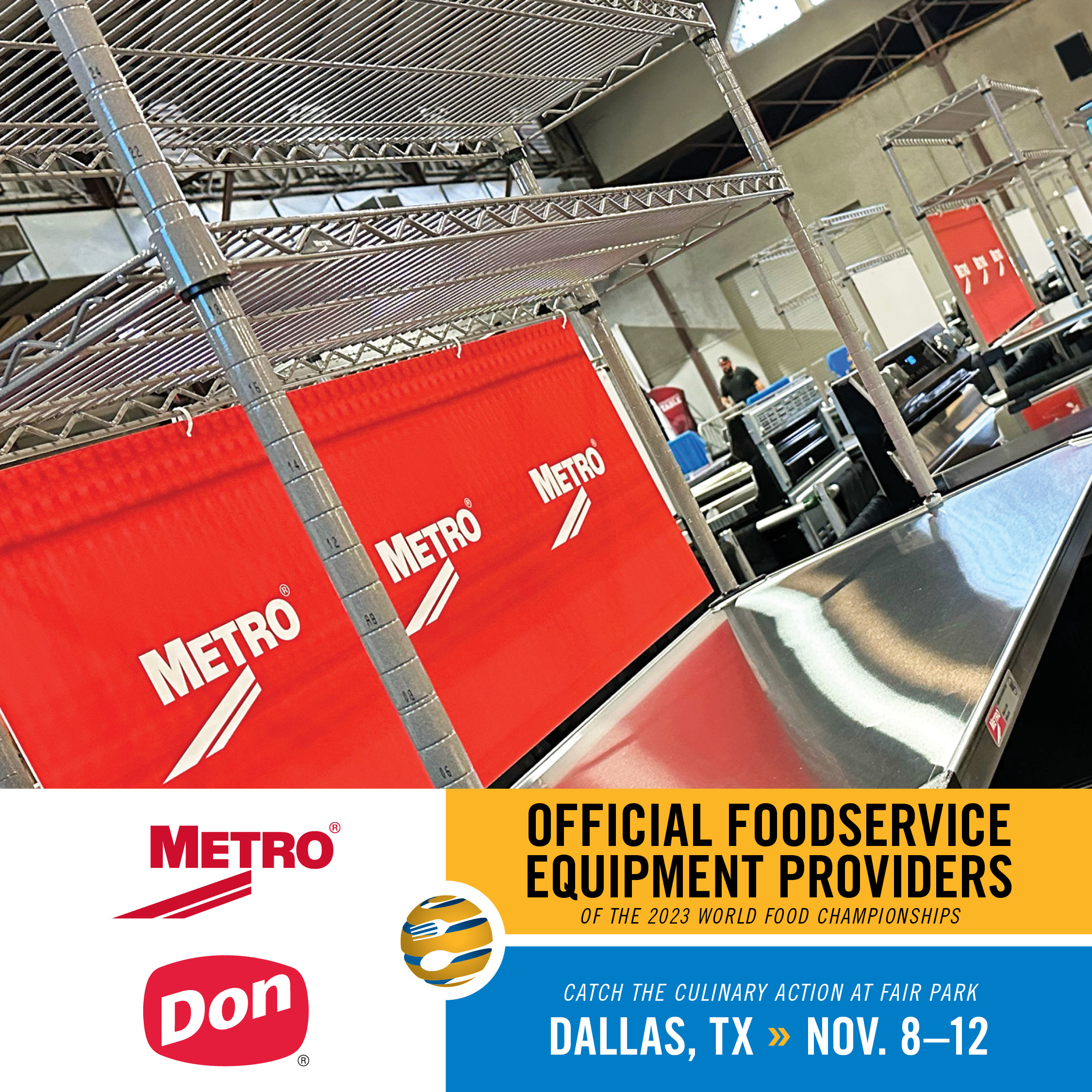 For over 90 years, the mission at Metro® has been to make the world more organized, efficient and productive. For the last two years, that mission has benefitted hundreds of professional chefs, home cooks and competition teams inside the World Food Championships' (WFC) Kitchen Arena.
Back for a third year, Metro®, in partnership with DON, continues to build upon its commitment to maximize workspace and give competitors the tools they need to be successful in Food Sport's largest kitchen.
"Metro® is synonymous with efficiency," said Mike McCloud, COO of WFC. "This competition is tough. Time is limited, space is limited. Every second counts. Metro® products, when used properly, can give our competitive teams the precious seconds and minutes they need to deliver their award-winning dishes on time in perfect condition."
This year, Metro® is partnering with DON, a leading distributor of foodservice equipment and supplies, to provide an even more professional experience in WFC's Kitchen Arena. All 40 workstations will be stocked with DON supplies, including gloves, aluminum foil, wax paper and clear wrap. DON will also provide a common area filled with smallwares for teams who have forgotten an item.
Additionally, DON will supply bar essentials that will be utilized by WFC's competitors in WFC's newest category – Cocktail.
"Metro is dedicated to giving these talented cooks their best chance for success," said AJ Zambetti, Director of Creative & Brand Communications at InterMetro Industries. "We learned a lot last year about how these competitors work in tight quarters. Ample and efficient workspace is key."
Once again, all cook stations in WFC's Kitchen Arena will be outfitted with a Metro® PrepMate Prep Station as well as the additional workcenter introduced last year. New for this year, Metro® will provide a "Rack and Roll" pan rack in all kitchens. Competitors will find these racks useful in holding anything from rising dough to cooling cupcakes to chopped vegetables – all stowed safely out of the way.
Click here to learn more about "What's cookin'" this year in Kitchen Arena.
Stay tuned for more championship announcements about the upcoming Main Event, which is set to be held again inside the iconic Centennial Hall at Fair Park in Dallas, Nov. 8 -12.
Stay up-to-date on all culinary competition news, by following the World Food Championships on Twitter (@WorldFoodChamp), Facebook and Instagram (@WorldFoodChampionships).
About World Food Championships

The World Food Championships (WFC) is the highest stakes Food Sport competition in the world. This multi-day, live event culinary competition showcases some of the world's best cooks who compete for food, fame and fortune in 12 categories (Bacon, Barbecue, Burger, Chef, Cocktail, Dessert, Live Fire, Rice/Noodle, Sandwich, Seafood, Soup and Vegetarian). Each year as Food Sport kicks off in January, thousands of cook teams try to earn their way into WFC by winning a Golden Ticket at an official qualifier. Almost 40 countries and every state in America have been represented at WFC's main event since its inception in 2012.
About Metro®
At Metro®, our mission is to make the world more organized, efficient, and productive. We do this by providing the world's most imaginative space and productivity solutions. Born from the creation of the industry standard for wire shelving, our product breadth has evolved into a vast array of product categories including polymer shelving, heated cabinets, high-density shelving, wall storage systems and more. We differentiate our products by the features that we build in. Be it adjustability, corrosion resistance, energy efficient insulation, modularity, maneuverability, ergonomics, or durability, our products provide unrivaled performance and value backed by a service commitment that puts our customers first. Complementing our products, we provide industry leading process expertise for optimizing space, workflow, and productivity. We are Metro. We put space to work.
About Edward Don & Company
Owned and operated by the Don family since 1921, Edward Don & Company is the world's leading distributor of foodservice equipment and supplies. Headquartered in Woodridge, IL, the company is the chosen supplier to all types of foodservice businesses including independent restaurants, national chains, health care, hospitality, country clubs, schools and universities, government institutions and foodservice management. DON, with approximately 1,250 employees, operates a nationwide distribution network supported by seven full-service distribution centers – in Chicago, Philadelphia, Atlanta, Miami, Dallas, Los Angeles and Seattle – and operates its own transportation fleet. DON serves national and multi-unit account programs with flexible, customized solutions that meet the needs of both the corporate office and the individual units. DON's Foodservice Equipment Division offers full service kitchen design, equipment purchasing and installation. For more information, please visitwww.don.com.
« Back to News