WFC, IMG announce collaboration with agency 21 (a21)
Share:
Posted Aug 1, 2023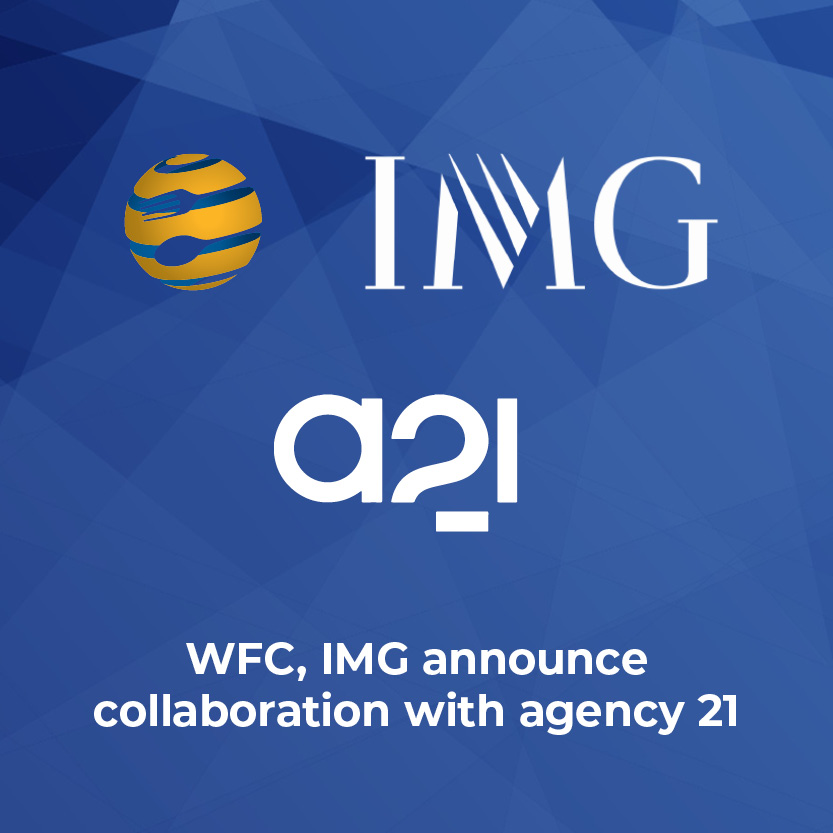 (NEW YORK) — World Food Championships (WFC) and its global expansion partner IMG announced today a strategic collaboration with a21, an experiential marketing firm that specializes in culinary event operations and management.
With offices in Miami, NY, and London, a21 is known for nationally acclaimed events like Food Network South Beach & NYC Wine & Food Festivals, Pebble Beach Food & Wine, Atlanta Food & Wine Festival, Cochon555's Heritage Fire Tour, Whiskies of the World Tour, Seattle Art Fair, Art Market San Francisco, and Art on Paper New York City. As the agency of record for WFC, a21 will bring a wealth of event and culinary production experience, as well as an extensive network of resources for existing partners — while providing guidance and leadership for expansion to the WFC team.
"We believe the partnership with IMG and World Food Championships is a logical strategic alignment as the agency continues its expansion across the globe," says Brett Friedman, Founder & CEO of a21. "We have an extensive history working in the Dallas market due to our partnership with Chefs For Farmers and this is an ideal market to spearhead the WFC growth internationally. With the joint efforts of our collective teams, we are investing in the future of WFC and believe it is well positioned for the global stage."
Described as the cooking version of March Madness, WFC annually tracks more than 15,000 cooks in over 800 cooking competitions to qualify for the annual event. 300 official teams are invited to compete across 12 food categories over five days of intense Food Sport in Dallas, Texas. The 12 category winners then compete at a customized Final Table for a $300,000 prize purse and to become the next World Food Champion. Since its debut in 2012, WFC has amassed a large worldwide following, providing a one-of-a-kind culinary experience at its events, as well as numerous live and made-for-TV shows. This year's qualifiers have seen a 25 per cent increase in international participation, ahead of the 2023 competition, which takes place November 8-12 at the iconic Fair Park in Dallas.
In addition to popularizing competitive cooking, the WFC platform has had an undeniable impact on the food industry, facilitating the creation of more than 10,000 new dishes and supporting communities via partnerships with various local non-profits and charities, such as North Texas Foodbank and Dallas College.


About World Food Championships
The World Food Championships (WFC) is the highest stakes Food Sport competition in the world. This multi-day, live event culinary competition showcases some of the world's best cooks who compete for food, fame and fortune in 12 categories (Bacon, Barbecue, Burger, Chef, Cocktail, Dessert, Live Fire, Rice/Noodle, Sandwich, Seafood, Soup and Vegetarian). Each year as Food Sport kicks off in January, thousands of cook teams try to earn their way into WFC by winning a Golden Ticket at an official qualifier. Almost 40 countries and every state in America have been represented at WFC's main event since its inception in 2012.
About IMG
IMG is a global leader in sports, fashion, events and media. The company manages some of the world's greatest athletes and fashion icons; owns and operates hundreds of live events annually; and is a leading independent producer and distributor of sports and entertainment media. IMG also specializes in licensing, sports training and league development. IMG is a subsidiary of Endeavor, a global sports and entertainment company
About a21
a21, formerly known as Agency 21 Consulting, is a full-service experiential marketing agency, specializing in event operations, production, corporate sales, and brand activations for live experiences. Founded in 2006, the agency's corporate offices are in Miami, New York, and London with satellite personnel in Atlanta, Houston, Dallas, Denver, and Monterey. a21's portfolio includes internationally recognized events and festivals in South Florida and throughout the US: Food Network South Beach & New York City Wine and Food Festivals, Sunfest, Palm Beach Wine & Food Festival, Pebble Beach Food & Wine, Atlanta Food & Wine Festival, Chefs Making Waves, Chefs For Farmers, Heritage Fire and Whiskies of the World National Tours, AMP's suite of Art Fairs, the newly acquired International Wine & Spirits Competition, and more.
« Back to News