IMG AND WORLD FOOD CHAMPIONSHIPS ANNOUNCE STRATEGIC PARTNERSHIP
Share:
Posted Jul 18, 2023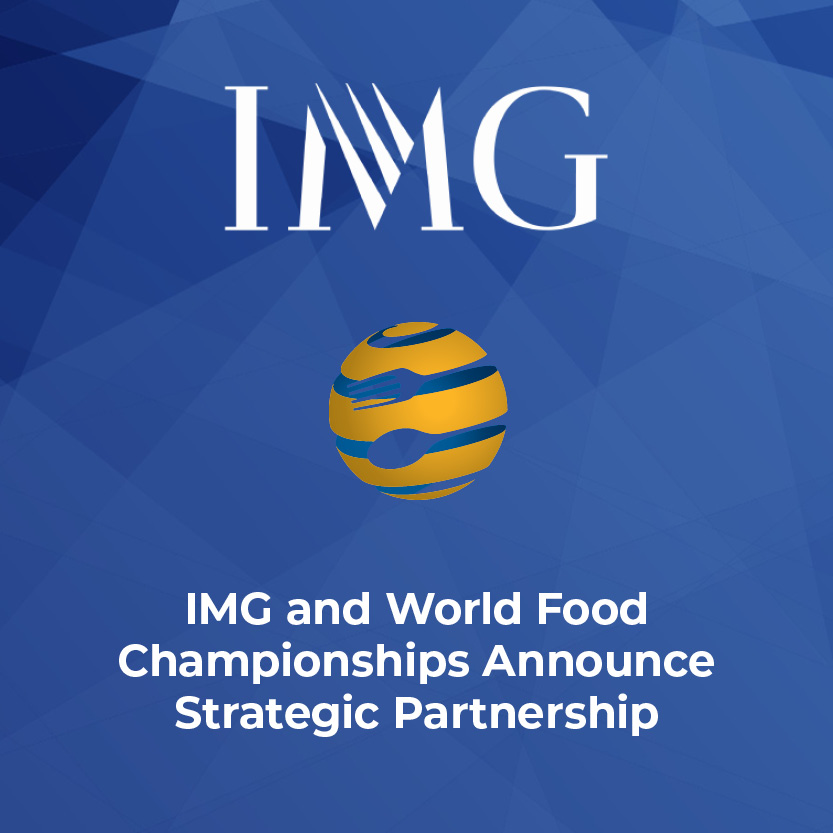 NEW YORK (July 18, 2023): The world's largest Food Sport competition, the World Food Championships (WFC), announced today a strategic partnership with IMG, a global leader in events, media, and entertainment. IMG is now a significant minority partner in WFC and will focus on accelerating the competition's growth and international strategy.
Described as the cooking version of March Madness, WFC annually tracks more than 15,000 cooks in over 800 cooking competitions to qualify for the annual event. Over 300 official teams are invited to compete across 12 food categories over five days of intense Food Sport in Dallas, Texas. The 12 category winners then compete at a customized Final Table for a $300,000 prize purse and to become the next World Food Champion. Now in its 11th year, WFC has become a food destination for rising stars and celebrity chefs, including "Famous Dave" Anderson, Myron Mixon, Moe Cason, Katie Dixon, Chris Lilly, Jay Ducote, Emily Ellyn, Marcel Vigneron, Kent Rathbun, Erica Roby, Sunny Lynn, Eric Gephart, and many more.
IMG will leverage its expertise in developing global cultural experiences such as Taste Festivals, Frieze art fairs, New York Fashion Week: The Shows, and Vivid Food at Vivid Sydney, to expand WFC's global footprint. The two companies will initially focus on increasing international participation and exposure via media deals, as well as elevating the fan experience at the competitions, with a view to eventually launching new WFC-branded events for key culinary destinations across the globe.
"By partnering with a global powerhouse like IMG, we now have the ability to launch exciting Food Sport attractions on a global stage," commented Mike McCloud, the founder of World Food Championships. "Together, we look forward to showcasing the talent, passion, and creativity of our culinary champions, while also creating new culinary experiences for those who celebrate, enjoy, and appreciate elevated yet unpretentious food."
Stephanie Calape, Managing Director of Culinary Events at IMG, added: "World Food Championships is a dynamic, enthralling competition series that has proven its ability to captivate audiences around the world and unearth some of today's most exciting new culinary talents.
"We believe this is the perfect time to elevate WFC into a global series that celebrates talent and culinary creations from different regions and communities," Calape added. "We are delighted to partner with WFC and look forward to helping them unleash their vast potential."
Since its debut in 2012, WFC has amassed a large worldwide following, providing a one-of-a-kind culinary experience at its events, as well as numerous live and made-for-TV shows. This year's qualifiers have seen a 25 per cent increase in international participation, ahead of the 2023 competition, which takes place November 8-12 at the iconic Fair Park in Dallas.
In addition to popularizing competitive cooking, the WFC platform has had an undeniable impact on the food industry, facilitating the creation of more than 10,000 new dishes and supporting communities via partnerships with various local non-profits and charities, such as North Texas Foodbank and Dallas College.
###
About World Food Championships
The World Food Championships (WFC) is the highest stakes Food Sport competition in the world. This multi-day, live event culinary competition showcases some of the world's best cooks who compete for food, fame and fortune in 12 categories (Bacon, Barbecue, Burger, Chef, Cocktail, Dessert, Live Fire, Rice/Noodle, Sandwich, Seafood, Soup and Vegetarian). Each year as Food Sport kicks off in January, thousands of cook teams try to earn their way into WFC by winning a Golden Ticket at an official qualifier. Almost 40 countries and every state in America have been represented at WFC's main event since its inception in 2012.
About IMG
IMG is a global leader in sports, fashion, events and media. The company manages some of the world's greatest athletes and fashion icons; owns and operates hundreds of live events annually; and is a leading independent producer and distributor of sports and entertainment media. IMG also specializes in licensing, sports training and league development. IMG is a subsidiary of Endeavor, a global sports and entertainment company
Media Contact:
IMG
Jo Robertson
+44(0)7392088227
« Back to News