Final Table Q&A - Peter Armendáriz
Share:
Posted May 11, 2023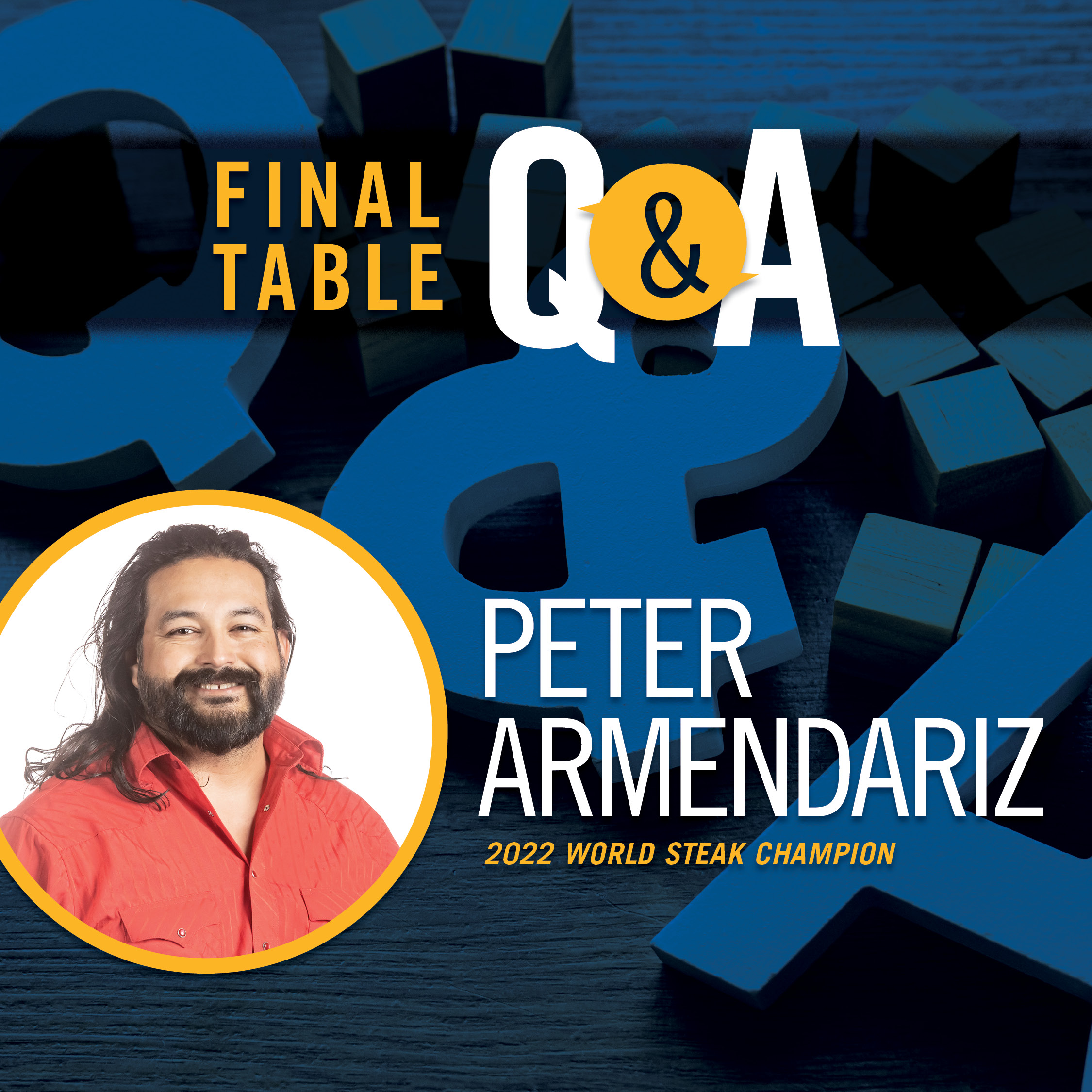 Name: Peter Armendáriz
Competition Team
Title: World Steak Champion
Hometown: Rowena, Texas
Currently Resides: Texas
Q: When did you first start cooking/develop a love of cooking?
A: I didn't really start cooking until I joined Boy Scouts at 11 and had to cook for ourselves. I would say the love of cooking started as far back as I can remember. We were always bbqing for family gatherings out at the lake or park with my Dad and Uncles. So being with friends and family gathered around a fire has been at the forefront. The other would be because of those old PBS shows when cartoons weren't showing such as Justin Wilson's (I Gar-on-tee!) Louisiana Cookin', Martin Yan's "Yan can Cook" and a few others. Watching masters at work was and is like art to me.
Q: What or who is your inspiration?
A: Biggest inspirations to me are my Grandmother's, Mom, Dad, Uncles and other family members putting out food that brings back great memories. I tell you, no one can whip up a meal faster than my Grandmothers used to when they had to feed an army of kids like it was nothing. The friends I've met along the way and others who love and live for seeing the enjoyment people get when eating their creations. These are my inspirations.
Q: What do you like about competing in cooking contest?
A: Honestly, I think it is the notion of competition in general. I grew up playing sports so it's about the relationships being built through the long hours, heat, hard work, challenges, common adversaries and drive to be the best. I love to compete against the best because that's one of the best ways to learn and get better. I hate to lose and love to win but I also love seeing my friends succeed at the same time. The friendships I have made have been some of the best parts of it all.
Q: What was the name of the dish that you won your category with?
A: Cowboy Caribean Wagyu Sirloin with Lump Crab Cakes
Q: Tell us a little about that dish
A: Two products we had to use were the inspiration of it all. Hassell Cattle provided the Wagyu sirloins and Bolner's Fiesta brought in their Mango Habanero rub and that was the base of it all. I grew up in West Central Texas, so we ate plenty of sirloins and I wanted to give the judges something that had a little bit of who I was. Because of the mango habanero seasoning I couldn't get the tropics out of my head and built the recipes around it. Seasoned up that steak and finished it off with a fresh mango ginger peach glaze paired with a Caribbean influenced lump crab cake, three cheese scalloped potatoes and marinated cucumber salad. My goal was to hit them with as much flavor and tenderness as I could. Thankfully my team and I pulled it off with less than a second to spare and the judges agreed.
Q: What is the biggest challenge you faced at WFC?
A: Time and weather have no mercy.
Q: How many times have you competed at WFC?
A: This was my second year.
Q: What would a win at WFC's Final Table mean to you?
A: That all the hardwork and overcoming different obstacles have started to pay off. Nothing in life worth doing usually doesn't come without its own set of challenges. To be able to compete and win against best would amazing. The icing on the cake is sharing the experience with my teammates and those closest to me.
Q: Anything else about yourself you'd like to share?
A: Food, traveling, exploring and the great outdoors have always been passions of mine. The other has been film and tv. I've been fortunate enough to perform alongside some of todays' biggest A-listers in different tv shows and movies. I've shot multiple commercial and print campaigns for some of the most recognizable brands in the world. When I'm not competing that's what I love to do. I may have grown up in a small town but there is always something to learn and skies are endless.
« Back to News