Final Table Q&A - Damon Holter
Share:
Posted May 4, 2023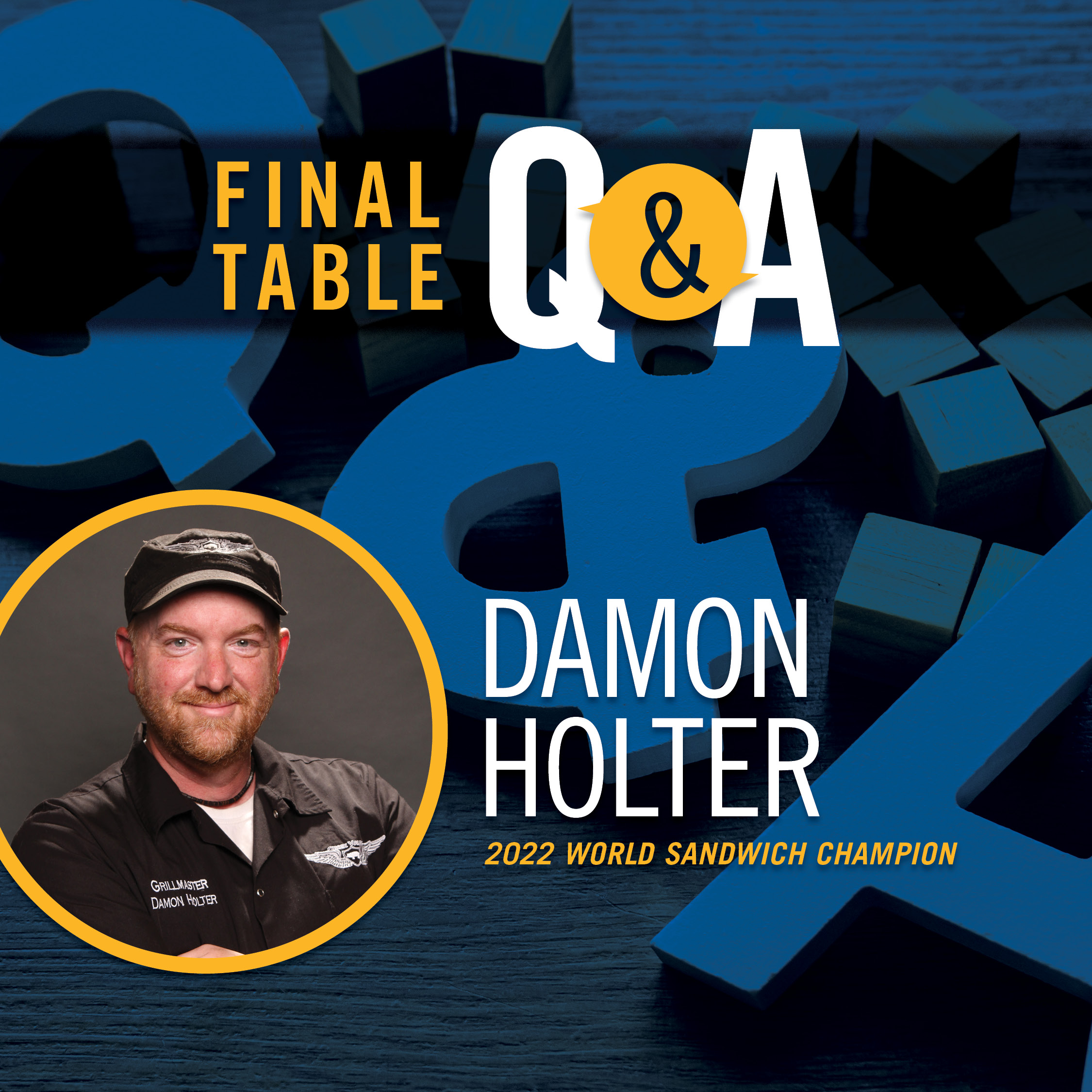 Name: Damon Holter
Competition Team
Title: World Sandwich Champion
Hometown: Afton, MN
Current Residence: Hudson, WI
Q: When did you first start cooking/develop a love of cooking?
A: I started cooking at an early age, learning to cook with my mother. I recall summers at home from school, reading through cookbooks and making entire meals for my family when I was in my early teens. My love of cooking is essentially rooted deeply in family traditions, memories and experiences I had as a child.
Q: What or who is your inspiration?
A: I think that in broad strokes, I am inspired by other cooks, cultures, types of cuisine and unfamiliar food and ingredients that I don't have much experience with. I am not one to cook the same thing over and over again, rather I enjoy exploring flavors and techniques that allow me to grow. It's really the desire to learn and develop around food that inspires me most.
Q: What do you like about competing in a cooking contest?
A: I've always been a competitive person and I sure enjoy the accolades that come with doing well in competition, but what I enjoy the most is having competitive platforms that reward creativity and allow me to occasionally push boundaries and norms. I also really enjoy analyzing processes and developing strategies that surround competitive cooking, whether that be from plating and presentation to trying to identify what appeals to the judging audience, creating innovative flavor combinations, and embracing techniques for executing dishes in a timed environment.
Q: What was the name of the dish that you won your category with?
A: Ultimate Bison Gyro
Q: Tell us a little about that dish
A: Tasked with creating the perfect Greek Gyro sandwich in the allotted time, I created sliced Gyro meat by pressure cooking Bison Flat Iron steaks with my Greek Seasoning to infuse flavor, then sliced it on an antique hand-powered meat slicer. As the base for the Gyro, the meat was paired with elevated versions of traditional ingredients, such as scratch-made Garlic Dill Tzatziki, Crispy Fried Onions, Toasted, Seasoned Pita Bread, Greek Seasoned Tomato Bruschetta, Graviera Cheese and a whole lot of precision!
Q: What is the biggest challenge you faced at WFC?
A: The most memorable challenge I faced at WFC was my first year ever in Vegas. Being new to the competition and coming from a BBQ background, I wanted to cook my dish on a charcoal grill, which wasn't part of the supplied equipment. I bought a charcoal grill, assembled it in my hotel room and wheeled it though the casino lobby to kitchen arena. It was quite a feat to pull off cooking on a charcoal grill on Fremont Street, but I got the job done. That also immediately led to a written rule change for the following years that did not allow you to bring or use other grills except for those provided, but it sure was interesting!
Q: How many times have you competed at WFC?
A: 9
Q: What would a win at WFC's Final Table mean to you?
A: I tell everyone I know in competition cooking that WFC is the absolute pinnacle of food sport each year. It's the one contest I would not miss and it means a great deal to me. To have worked for 9 years to get to this point, the final round is the most important competition I have been in. I've got nothing to prove to anyone, but myself on this one!
Q: Anything else about yourself you'd like to share?
A: I'd just like to encourage anyone who thinks WFC is intimidating or beyond their skill set to reimagine what they are capable of and give it a try. WFC celebrates food, creativity and skill and the final judgment relies solely upon the dish you present to the judges. I've seen backyard grillers, seasoned chefs and home cooks of all ages excel in this competition and I would love to see more people find out how much food sport has to offer.
« Back to News