Final Table Q&A - Bethany Boedicker
Share:
Posted May 1, 2023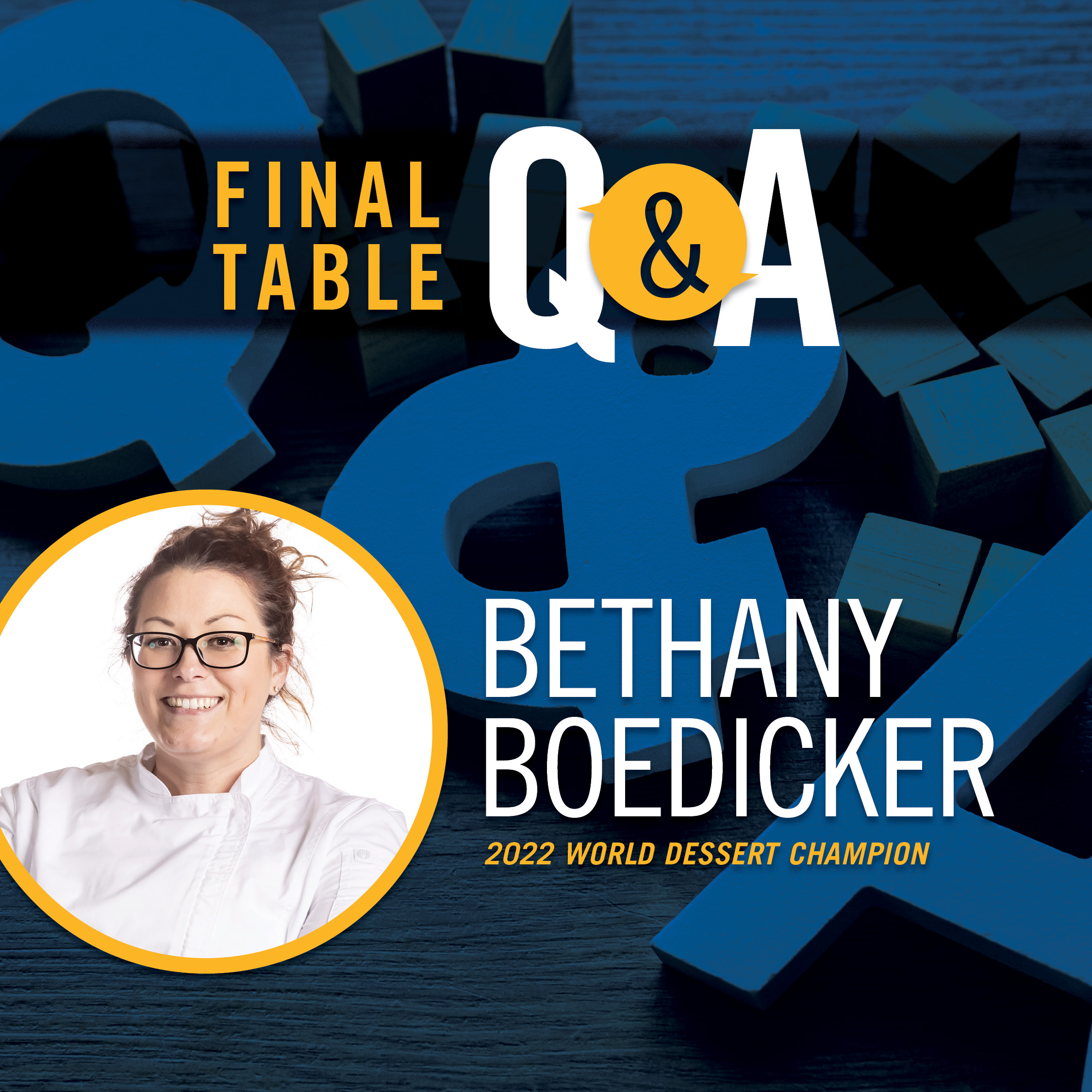 Name: Bethany Boedicker
Pro Chef
Title: World Dessert Champion
Hometown: Lima, Ohio
Currently resides: Galveston, Texas
Q: When did you first start cooking/develop a love of cooking?
A: I developed a love of cooking and baking as a child. I would watch Great Chefs of the World everyday after school.
Q: What or who is your inspiration?
A: I would have to say my inspiration started out with grandmothers. Some of my fondest memories were dinners and holidays with them cooking. While I still appreciate those memories I am inspired now by chefs like Christina Tosi and Dominique Ansel.
Q: What do you like about competing in cooking contests?
A: What I like most about competing is recipe development and testing. It is a challenge to come up with new flavors and techniques to meet the time challenge.
Q: What was the name of the dish that you won your category with?
A: Chocolate Raspberry Hibiscus Cake
Q: Tell us a little about that dish
A: My dish included a chocolate cake base, raspberry hibiscus jam, freeze dried raspberry chocolate shards, and raspberry jam infused chocolate ganache. It was topped with a raspberry streaked swiss meringue. I infused Jelly Queens Raspberry Jam throughout my cake.
Q: What is the biggest challenge you faced at WFC?
A: My biggest challenge was deciding what to make and how I can execute a dessert within a two hour time frame. Baking is usually a step by step process and chilling is required for a lot of recipes which we don't have a lot of time or equipment for.
Q: How many times have you competed at WFC?
A: I have competed two times at WFC.
Q: What would a win at WFC's Final Table mean to you?
A: A win for me would be dream fulfilling. I have been saving my money to open my own bake shop and this money would be more than enough to fulfill that dream.
« Back to News