Final Table Q&A - Dan Reighn
Share:
Posted Apr 27, 2023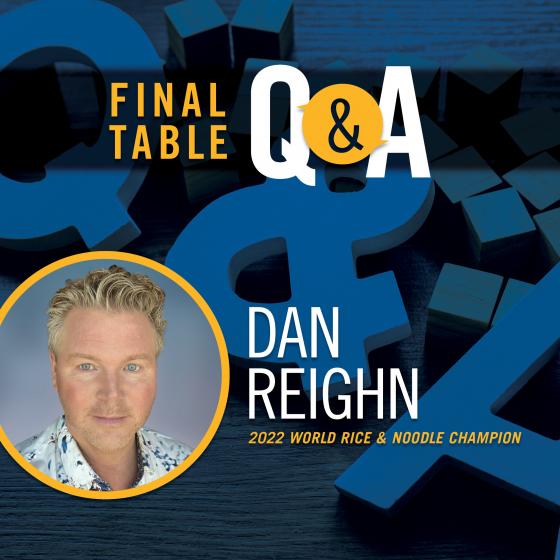 This former gladiator experienced multiple 'firsts' at November's Main Event: First time competing at WFC. First time competing with his opening round sous chef. First Rice & Noodle Champion! Meet today's featured finalist from San Jose, CA – Dan Reighn.
Name: Dan Reighn
Homecook
Title: World Rice & Noodle Champion
Hometown: Pacific Grove, CA
Currently resides: San Jose, CA
Q: When did you first start cooking/develop a love of cooking?
A: I loved cooking from a young age. I would always offer to cook dinner for my entire family when I was just 10 years old.
Q: What or who is your inspiration?
A: Martha Stewart, Ina Garten, and Nigella Lawson are my three inspirations.
Q: What do you like about competing in a cooking contest?
A: Love making new friends and rooting each other to win. Doesn't hurt to win!
Q: What was the name of the dish that you won your category with?
A: Crispy Risotto Cakes Eggs Benedict
Q: Tell us a little about that dish
A: Took a twist on a classic using a crispy risotto cake made with locally grown mushrooms from West Texas placed a veal patty with a potato lattice net on top to mimic a silver dome placed over a fancy entree at a restaurant.
Q: What is the biggest challenge you faced at WFC?
A: My sous chef, Wendy Brodie's flight got canceled the night before the opening round. One of my sponsors, James Smith from Chateau Wright Winery, stepped in valiantly and we placed third in the opening round having never cooked with James before.
Q: How many times have you competed at WFC?
A: It was our first time.
Q: What would a win at WFC's Final Table mean to you?
A: A win at the WFC Final Table would mean everything to us. It will help open doors for my team at Reighn World Entertainment as we are working on a farm to table docuseries called Bringing it to the Table, giving a much needed voice to the farmer. It will help provide us with a platform to continue our mission to help our farmers.
Q: Anything else about yourself you'd like to share?
A: I worked as a gladiator at Caesar to help pay for my college tuition at UC Berkeley.
« Back to News