Final Table Q&A - Rocky Julianelle
Share:
Posted Apr 24, 2023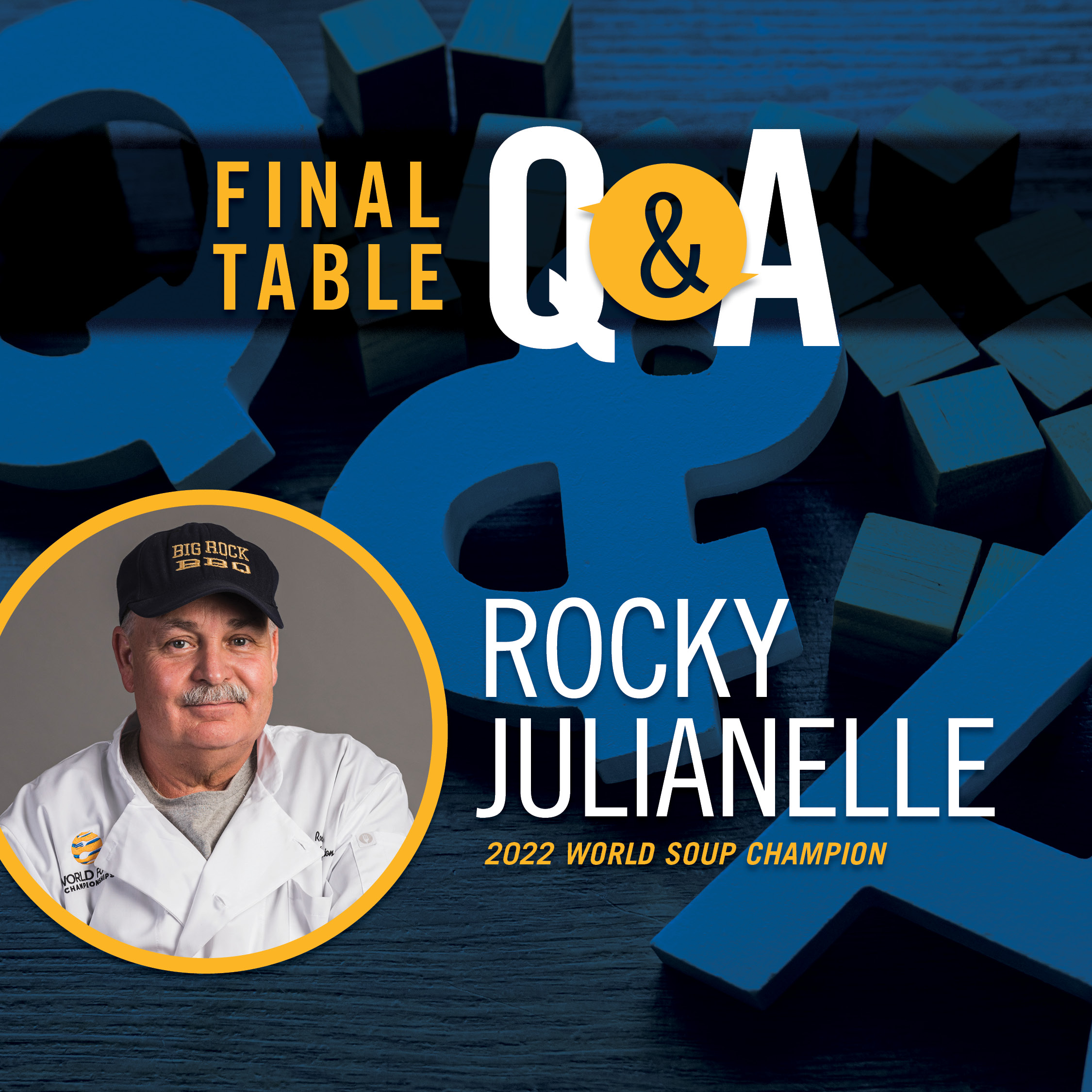 Name: Rocky Julianelle
Competition Team
Hometown: East Haven, CT
Creativivity runs deep in this two-time Category Champion. Meet today's featured finalist from East Haven, CT – Rocky Julianelle
Q: When did you first start cooking/develop a love of cooking?
A: Very young age I was barely a teenager and I was cooking at home and in restaurants
Q: What or who is your inspiration?
A: I must say it's family and friends I enjoy cooking, getting together and having them enjoy what I have created and sharing the time we spend together
Q: What do you like about competing in a cooking contest?
A: I'm very competitive and I enjoy the creative part of competing. Along with the challenges, I enjoy developing ideas, dishes, techniques and having them received well by the judges
Q: What was the name of the dish that you won your category with?
A: Tomato Velvet Bisque with Jumbo Lump Crab Meat and a Three Cheese Grilled Cheese Sandwich
Q: Tell us a little about that dish
A: Although this dish sounds simple it is far from simple. There is a lot of technique to get the bisque packed with flavor and having such a luxurious texture. The crab meat Tower assembly of this dish is also critical for the eating experience. The crab meat is not just tossed in, it is a separate component within the dish elevating this humble soup to a masterpiece. The same attention to detail was paid to the grilled cheese sandwich. Using three types of cheese … that part is a secret, LOL.
Q: What is the biggest challenge you faced at WFC?
A: The clock is always a big factor. Trying to execute perfectly, not missing any steps and of course doing everything as planned in practice within a tight time frame is always a challenge
Q: How many times have you competed at WFC?
A: I've been since 2016 which would make it 6 years. 2023 will be my 7th year
Q: What would a win at WFC's Final Table mean to you?
A: It would mean everything at this point. After competing over the years this would be final confirmation that all of the hard work, planning, practicing and sacrifice has paid off. Winning $100,000 is pretty good motivation as well!
Q: Anything else about yourself you'd like to share?
A: I was raised as a young child in a family of professional cooks and chefs. I've been around great food and I have learned a lot of technique in fundamentals over the years. If you didn't know me then you probably wouldn't know that I'm also a landscape painter. Being an artist and having an eye for detail, I believe, is also an advantage when it comes to cooking in competition
« Back to News