Final Table Q&As - John McFadden
Share:
Posted Apr 17, 2023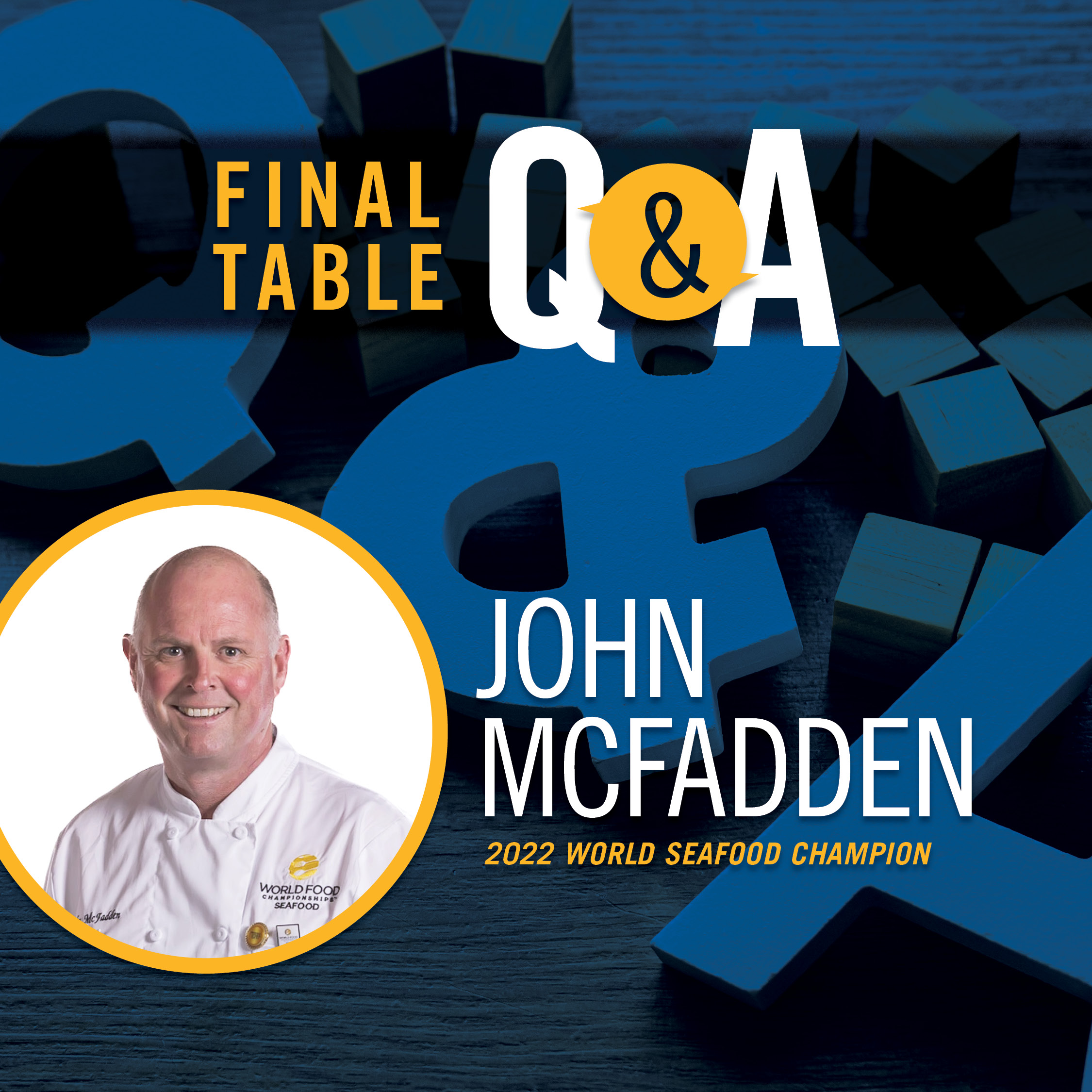 Name: John McFadden
Pro Chef
Title: 2022 World Seafood Champion

Q: Where are you from: Central Coast, NSW, Australia
A: Where do you live now: Northern Beaches, Sydney. Australia
Q: When did you first start cooking/develop a love of cooking?
A: From the age of 12. I loved the idea of food & travel. We used to invite my parents' friends over for dinner & ask for them to pay $5 to $10 each and I would cook for groups of 12-15. It helped buy the produce and get me navigating my way around a kitchen.
Q: What or who is your inspiration?
A: My wife, Karen, is the person who inspires me the most. She supports and encourages everyone to be their best and is the backbone of our family. Her selfless and unconditional love for family inspires me to push myself to be the best I can.
Q: What do you like about competing in cooking contests?
A: I enjoy pushing myself in the kitchen, love the camaraderie and sharing ideas.
Q: What was the name of the dish that you won your category with?
A: Confit salmon, baby beets, pickled cucumber & Caspy Caviar
Q: Tell us a little about that dish
A: Wester ross salmon confit in olive oil, garlic, lemon & thyme, bringing a delicate silky texture to the protein. Partnered with earthy baby beets & pickled cucumber to balance the palate. Finished with a touch of Japanese/squid ink mayonnaise and Caspy Caviar. Garnished with red vein sorrel and nasturtiums adding lemon & mustard flavors to elevate the dish. Delivering complexity in mouth feel, texture & flavor.
Q: What is the biggest challenge you faced at WFC?
A: Coming over from Australia and becoming familiar with the surroundings, produce and the difference with weights/temperature of measures.
Q: How many times have you competed at WFC?
A: Once
Q: What would a win at WFC's Final Table mean to you?
A: A little boy's dream from the country coming true. It would certainly be a "lifetime" career achievement to be recognised on the world stage. Especially coming over from Australia. As a husband and dad it's important to me to inspire my family day to day. You can achieve anything in life if you're prepared to do the work! I want to spread my passion and enthusiasm I have for food and people and all I do. It's about generosity and it comes from the heart.
Q: Anything else about yourself you'd like to share?
A: Just to say a huge congratulations to all the other competitors who have made it to the Final Table. Pretty amazing achievement.
« Back to News