Final Table Q&As - Sterling Smith
Share:
Posted Apr 13, 2023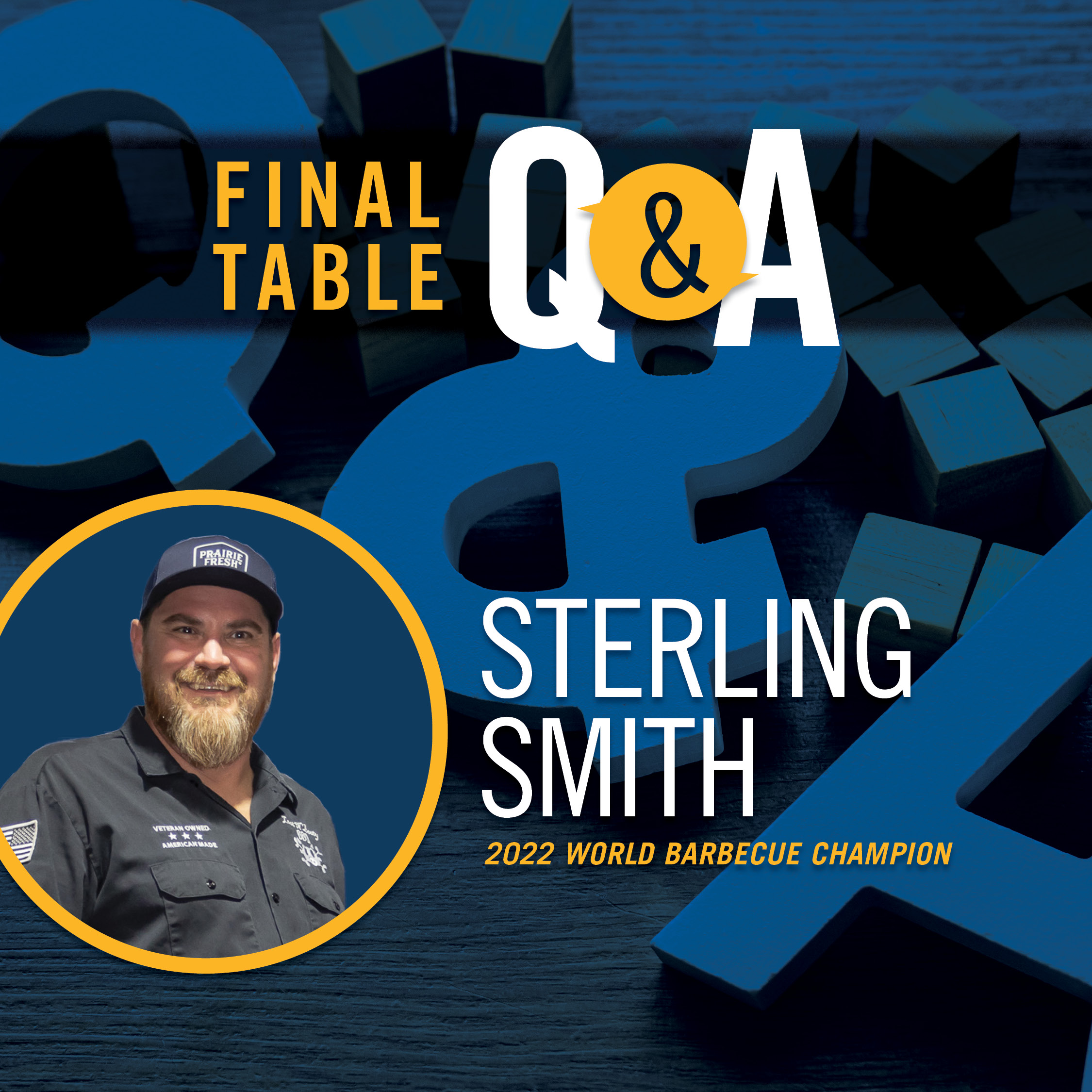 Name: Sterling Smith
Competition Team
Title: 2022 World Barbecue Champion
Q: Where are you from?
A: Columbus, GA
Q: Where do you live now?
A: Scottsdale, AZ
Q: When did you first start cooking/develop a love of cooking?
A: Around 10 cooking with my Mom in the kitchen
Q: What or who is your inspiration?
A: To be the best!
Q: What do you like about competing in cooking contest?
A: The people, the excitement at awards, the passion and love I get to put into my food.
Q: What was the name of the dish that you won your category with?
A: Que Que Platter
Q: Tell us a little about that dish.
A: This dish was inspired by my time in the US Navy and being stationed in Pearl Harbor, HI. With the Charmain's Reserve brisket, I made 4 sampler dishes. A crab and brisket fried rice topped with a quail egg and sesame oil drizzle, Teriyaki burnt end and pineapple skewer with toasted sesame seeds, an overstuffed brisket egg roll with smoked mango sweet chili sauce and a brisket, garlic and shiitake mushroom gyoza with China-lina sauce and wasabi aioli.
Q: What is the biggest challenge you faced at WFC?
A: This past year the biggest challenge was weather related. Being in the BBQ area we had pretty good storms but we adapted and overcame.
Q: How many times have you competed at WFC?
A: 3
Q: What would a win at WFC's Final Table mean to you?
A: It would mean everything I have been doing for the last 15 plus years has been for a cause, a meaning something bigger than a BBQ competition. It would mean the world to me!
Q: Anything else about yourself you'd like to share?
A: I am excited and proud to represent the BBQ category in the finals and hope to show that us Pitmasters can cook with the best cooks in the world.
« Back to News