WFC EARNS TOP 10 EVENT AWARD AGAIN
Share:
Posted Mar 31, 2023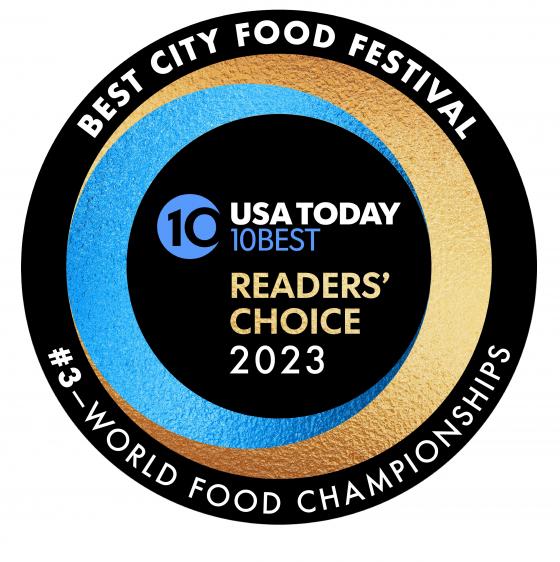 The World Food Championships (WFC) was just named one of the Top 10 food festivals in the country by event experts at USA Today. As the only official Food Sport event represented in the Top 10 list, WFC also won honors as the only Texas-based event in the City Food Festivals category.
The nominations came from a panel of festival and travel experts that include Dynie Sanderson, creator of NapaFoodGalTravels; Marla Cimini, award-winning travel writer; Melanie Reffes; seasoned travel journalist; Shana Clarke, New York City based freelance writer; and Catherine Smith, Readers' Choice Awards Production Manager and Social Media Director for USA TODAY 10Best.
The nominations were available to view on the 10Best Readers' Choice Award contest page at 10Best.com, where anyone had the opportunity to cast a digital vote.
"As one of the youngest festival winners on this prestigious list, all of us at WFC are extremely proud and excited about this honor," said Mike McCloud, President and CEO of WFC. "This award is a huge milestone for our event and the City of Dallas, as well as a testament to the growing fan base behind Food Sport."
This marks the second time that WFC has made the USA Today Top 10 list, having earned a nomination and third place finish after the 2019 debut in Dallas. Last year's nominated event was WFC's 10th anniversary and third event year in Dallas (excluding 2020, which was canceled due to COVID). The five-day culinary competition features high levels of passion and energy from over 300 international cook teams, all seeking the title of World Food Champion and a $100,000 grand prize. Built around the competition are 'foodie' experiences designed to engage the public and provide a 'taste' of all the incredible dishes produced over the course of the competition.
"We want to thank everyone who voted for WFC in this process, especially the citizens of Dallas; the passionate competitors, many of whom have been competing since WFC's inception; the foodies who serve as our judges and volunteers; and certainly our partners sponsors from around the world," McCloud stated.
Building on this momentum, WFC is already at work on a full slate of events for its 11th Annual Main Event, which is scheduled for Nov. 8-12 at Dallas's iconic Fair Park.
To stay up to date on all WFC news, follow the World Food Championships on Twitter (@WorldFoodChamp), Facebook and Instagram (@WorldFoodChampionships) for more Food Sport updates.
About World Food Championships
The World Food Championships (WFC) is the highest stakes food competition in the world. This multi-day, live event culinary competition showcases some of the world's best cooks who compete for food, fame and fortune in 12 categories (Bacon, Barbecue, Burger, Chef, Cocktail, Dessert, Live Fire, Rice/Noodle, Sandwich, Seafood, Soup and Vegetarian). Each year as Food Sport kicks off in January, teams have to earn their way into WFC by winning a Golden Ticket at a previous competition. Almost 40 countries and every state in America have been represented at WFC's main event since 2012.
WFC's judging process requires certification in the proprietary E.A.T.™ methodology. Click here to learn more about getting certified online or in person.
« Back to News