Gotham ExPANding Sponsorship into a 7th Year!
Share:
Posted Feb 21, 2023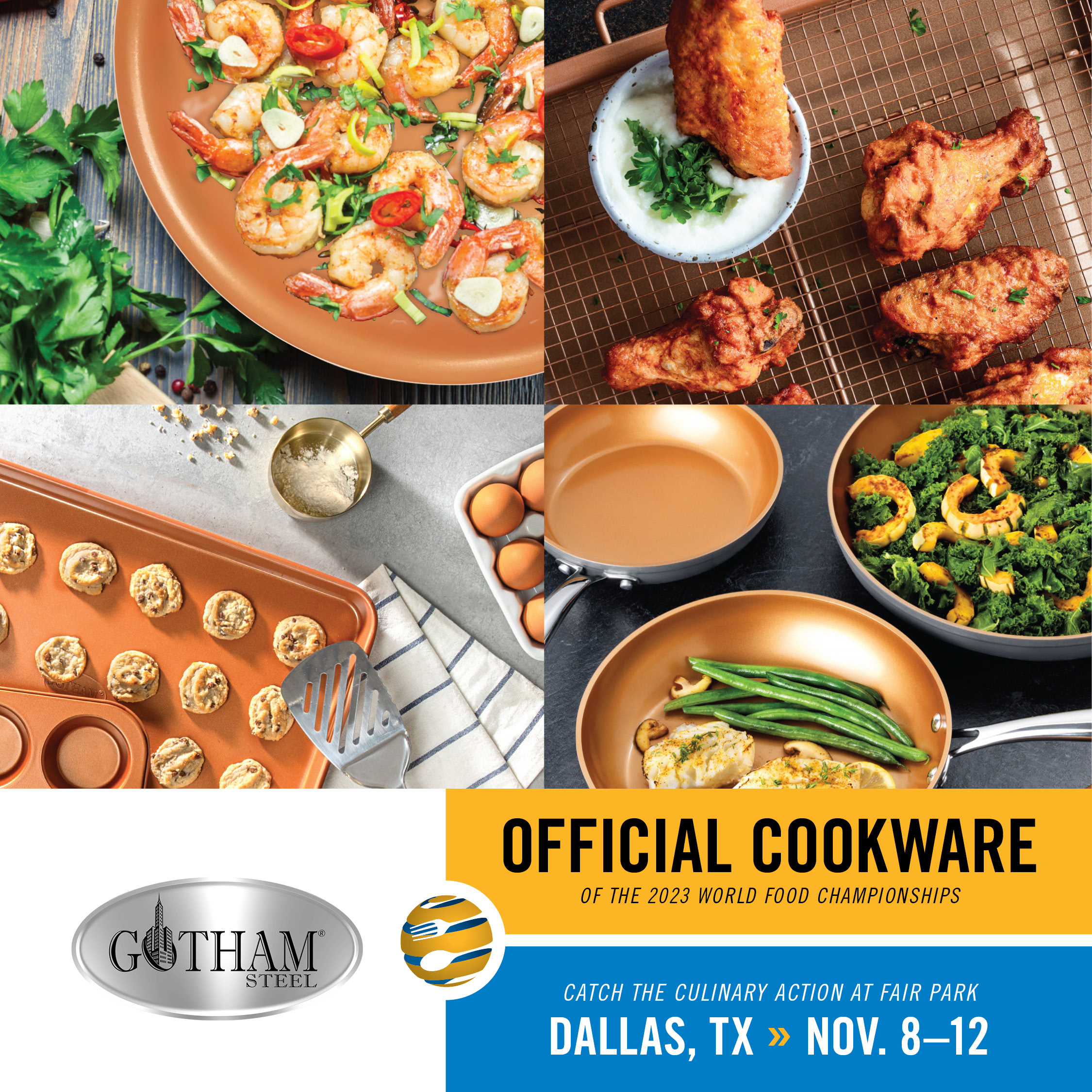 Gotham™ Steel is no stranger to Food Sport. For the past six years, Gotham has supplied Kitchen Arena with top quality cookware to help Food Champs boil, bake, sautee or flambé their way to Food Fame and Fortune at the World Food Championships (WFC).
As WFC's 2023 Official Cookware, Gotham™ Steel will once again provide valuable tools to the 300 plus chefs, home cooks and pro teams who will gather in Dallas, Texas, Nov. 8 - 12 – all vying for the title of World Food Champion.
"Gotham has been one of the most popular brands at WFC," said Mike McCloud, President and CEO of WFC. "Food Champs everywhere truly appreciate their commitment and passion to Food Sport and the entire culinary industry. We are thrilled to continue this partnership."
During its six consecutive years of serving as a WFC sponsor, Gotham™ Steel has created a loyal following from competition cooks. Its non-stick products will not only be easily available for all competitors, but also to attendees as Gotham™ Steel will feature educational cooking demonstrations and giveaways throughout WFC's five-day foodie festival.
"We are so excited to continue our partnership with WFC to further assist talented cooks in their culinary journey," said Marvin Levy from Gotham™ Steel. "We can't wait to see what dishes WFC's talented field of Food Sport competitors serve up using our products at this year's tournament in Dallas."
Stay tuned for more partnership announcements for the upcoming WFC 2023 Main Event, which will feature dozens of past category champions and teams from all over the world.
To stay up to date on all WFC news, follow the World Food Championships on Twitter (@WorldFoodChamp), Facebook and Instagram (@WorldFoodChampionships) for more Food Sport updates.
About World Food Championships
The World Food Championships (WFC) is the highest stakes food competition in the world. This multi-day, live event culinary competition showcases some of the world's best cooks who compete for food, fame and fortune in 12 categories (Bacon, Barbecue, Burger, Chef, Cocktail, Dessert, Live Fire, Rice/Noodle, Sandwich, Seafood, Soup and Vegetarian). Each year as Food Sport kicks off in January, teams have to earn their way into WFC by winning a Golden Ticket at a previous competition. Almost 40 countries and every state in America have been represented at WFC's main event since 2012.
« Back to News