WFC Extends Dallas Partnership for Its 11th Annual Main Event
Share:
Posted Feb 17, 2023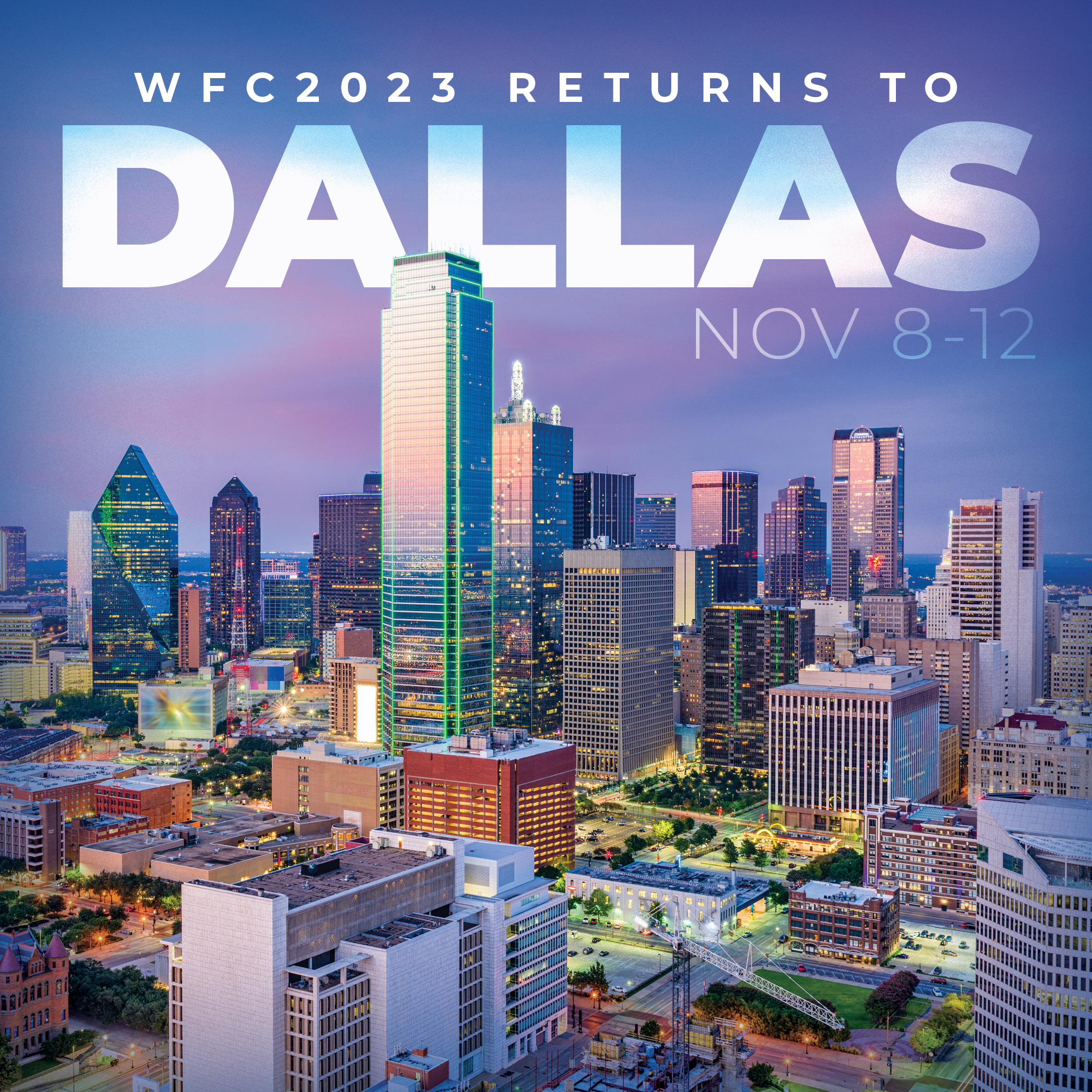 After completing a three-year agreement with Visit Dallas to bring Food Sport to the Lone Star State, officials with the World Food Championships (WFC) announced today that it is extending its host city relationship to include 2023 as well. The decision comes weeks after reviewing other host city proposals and conducting numerous key conversations on how to build on the success of WFC's past three years in Dallas.
"This was a thorough and thoughtful analysis of our current and future goals for WFC and how Dallas can help us meet those goals in many ways," commented Mike McCloud, President/CEO of WFC. "We had some tremendous opportunities put in front of us by alternative locations. But at the end of our deliberations, it made most sense for us to stay in Dallas for now and continue building out our consumer programming with some key partners in Texas."
The 11th Annual WFC is scheduled to occur Nov 8-12th, and it will once again occur at the iconic Fair Park complex where Centennial Hall is transformed into the world's largest Kitchen Arena. This year's event will include 12 official categories of competition, including two hot trends like Live Fire and Cocktails.
"Dallas is excited to continue our hosting partnership with the World Food Championships, and we are always excited to roll out the red carpet for Food Champs that travel here from around the world," said Monica Paul, Executive Director of the Dallas Sports Commission. "When it comes to competitive cuisine, Dallas' status as a national food destination is second to none. Celebrity chefs such as Dean Fearing, Stephan Pyles, Nikky Phinyawatana and a variety of others are keeping the restaurant and entertainment scene evolving and attractive year round."
McCloud pointed out that this partnership brings the opportunity to introduce the 5 million people in the Dallas metro area to the fun and action-packed world of Food Sport. Dallas, which was recently named one of the Top Food Cities in America, has an impressive and growing culinary scene. In addition, Texas represents one of the top three competing states in WFC history. With more than 200 contestants over the past three years, Texas residents have always shown great culinary talent and performance at WFC as evidenced by the 2021 victory by Arlington-based Preston Nguyen — who is now being featured on Fox Network's "Next Level Chef."
In addition to those aspects, McCloud noted a few key factors that played into the host city's benefits:
Dallas is one of the top five media markets in the nation

Dallas is centrally located in America and has two major airports that allow direct travel access from almost anywhere, including international destinations

Dallas has developed a strong reputation as America's start-up city for food concepts
"We have seen great growth throughout Food Sport over the past three years during our Dallas partnership," added McCloud. "Our strategic partners like Dallas College, the Hotel Association of North Texas, Texas Beef and the Texas Restaurant Association are all planning events and experiences that will bolster WFC's reach and awareness."
Over the course of the event's history, WFC has awarded more than $3 million in cash and prizes, garnered more than 7 billion media impressions and connected 200+ food brands with food fans, food bloggers and food contestants. In short, the WFC platform has given birth to "Food Sport" by providing a level playing field, a fair judging system, innovative culinary programming, ambassador opportunities, TV visibility and a process that allows talented culinary teams to gain the respect they deserve.
The 10th Anniversary of WFC in Dallas was a huge success, with more than 40 states and 10 countries represented. The first Australian chef claimed the Seafood title, and now all 10 of the event's category champions are preparing for the Final Table challenge in Bentonville, Arkansas. That culmination, which features a $100,000 grand prize, is scheduled for May 19-21.
To stay up to date on all WFC news, follow the World Food Championships on Twitter (@WorldFoodChamp), Facebook and Instagram (@WorldFoodChampionships) for more Food Sport updates.
About World Food Championships
The World Food Championships (WFC) is the highest stakes food competition in the world. This multi-day, live event culinary competition showcases some of the world's best cooks who compete for food, fame and fortune in 12 categories (Bacon, Barbecue, Burger, Chef, Cocktail, Dessert, Live Fire, Rice/Noodle, Sandwich, Seafood, Soup and Vegetarian). Each year as Food Sport kicks off in January, teams have to earn their way into WFC by winning a Golden Ticket at a previous competition. Almost 40 countries and every state in America have been represented at WFC's main event since 2012.
WFC's judging process requires certification in the proprietary E.A.T.™ methodology. Click here to learn more about getting certified online or in person.
« Back to News