Food Sport's Largest Qualifier Is Back!
Share:
Posted Feb 15, 2023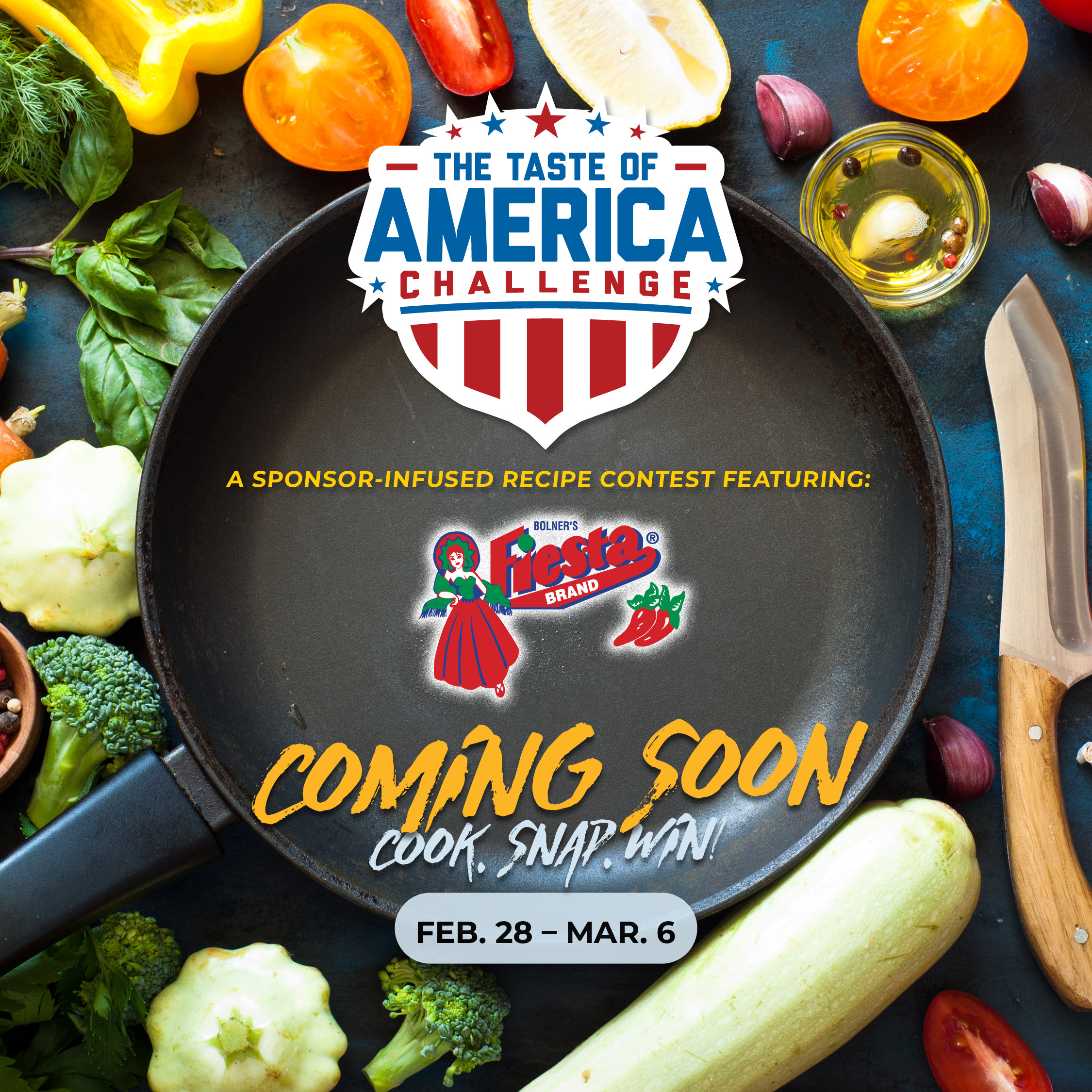 Taste of America, World Food Championships' (WFC) largest online recipe contest, will be offering up numerous opportunities for qualification and free entry into 2023's Main Event. Who better to kick off this popular online recipe contest than longtime Food Sport supporter, Bolner's Fiesta Products, Inc.!
Bolner's Fiesta Products, Inc., who is returning for their sixth year as a WFC Sponsor, is hosting the very first Taste of America of the 2023 Season. Original recipe creations will be accepted February 28th through March 6, 2023.
As WFC President and CEO Mike McCloud explained, Taste of America not only infuses WFC's Main Event with a talented mix of homecooks, professional chefs and competitive teams from all across the United States, it also provides an invaluable tool for food brands who may not have the budget to hire recipe developers to showcase their product.
"Taste of America is a great tool for innovative food companies looking to create user-generated content and increase product visibility at the same time," McCloud said. "It is essentially their very own R&D lab in a real-world setting."
The Bolner's Fiesta Products challenge kicks off February 28th and will feature the company's Lime Pepper seasoning as the required ingredient. Recipes must be submitted by 11:59 pm CST March 6, 2023. Using WFC's E.A.T™ Methodology, three recipe creators will win qualification and free entry into the 2023 World Food Championships.
Bolner's is offering a complimentary jar of Lime Pepper seasoning for all contestants of this contest. For more information and Official Rules, go to: worldfoodchampionships.com/2023-taste-of-america
To stay up-to-date as new contests are added in the Taste of America Series as well as all things Food Sport, follow the World Food Championships on Twitter (@WorldFoodChamp), Facebook and Instagram (@WorldFoodChampionships).
For more information about how your brand can be a Taste of America contest host, email JB@WorldFoodChampionships.com
About World Food Championships:
The World Food Championships (WFC) is the highest stakes food competition in the world. This multi-day, live event culinary competition showcases some of the world's best cooks who compete for food, fame and fortune in 12 categories (Bacon, Barbecue, Burger, Chef, Cocktail, Dessert, Live Fire, Rice/Noodle, Sandwich, Seafood, Soup and Vegetarian). Each year as Food Sport kicks off in January, teams have to earn their way into WFC by winning a Golden Ticket at a previous competition. Almost 40 countries and every state in America have been represented at WFC's main event, which has awarded more than $2.5 million in cash to rising culinary talent since 2012.
« Back to News