Metro Announces Expanded Role for WFC's 10th Anniversary
Share:
Posted Jun 28, 2022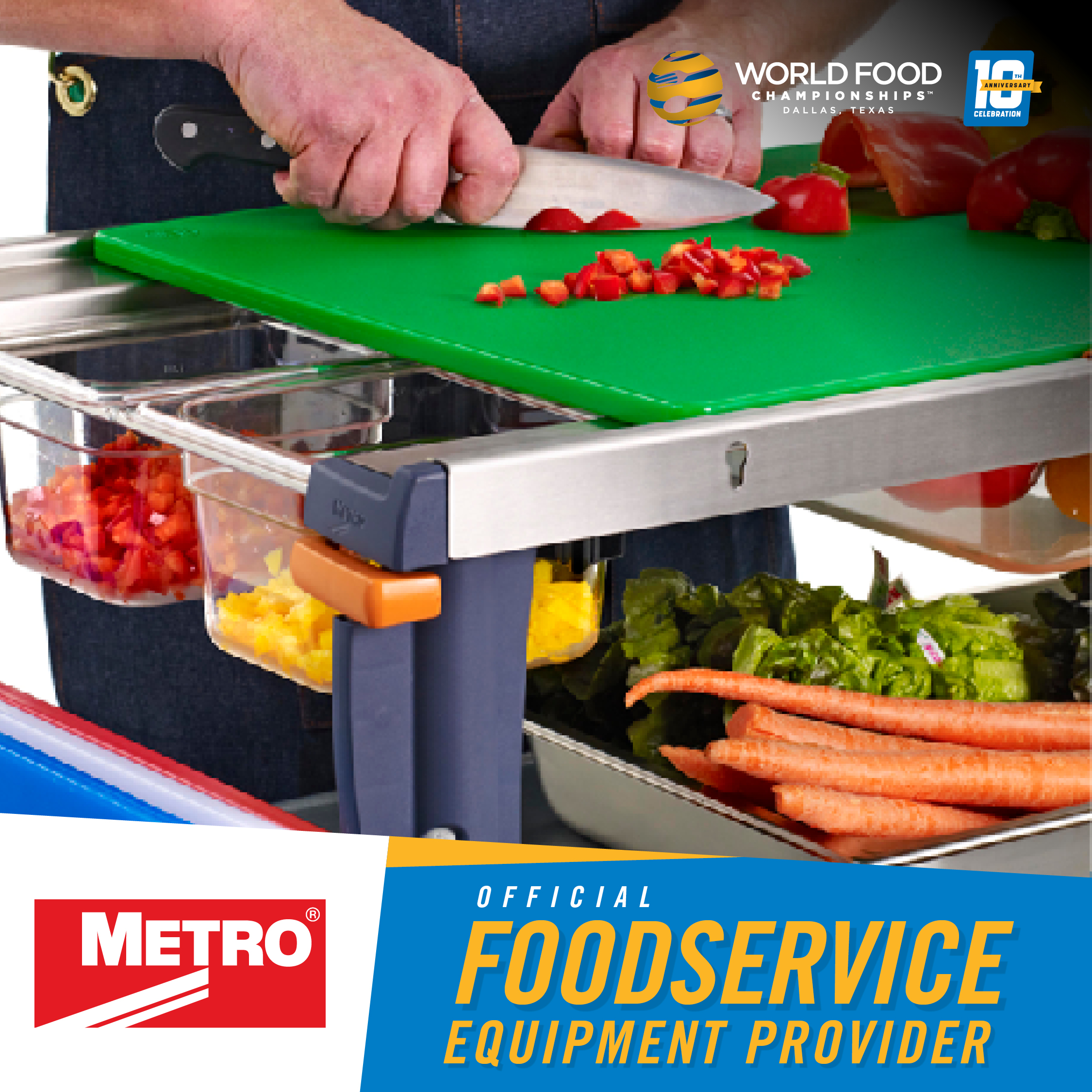 Following a successful partnership in 2021, the World Food Championships (WFC) announced today the return of food service equipment provider, Metro, for its 10th Anniversary in Dallas this November 9 - 13.
Metro once again will play a pivotal role in the tournament as a key equipment provider. This partnership ensures an extra level of efficiency for competitors as they battle it out at the Ultimate Food Fight. WFC competitors know how critical efficiency can be in food sport, as they are often racing against the clock while creating complex dishes with unique infusions.
"When it comes to optimizing a chef's workspace for efficient workflow, Metro is the absolute leader," said Mike McCloud, President and CEO of WFC. "We are delighted to have them onboard again at WFC and providing state-of-the-art equipment for our chef teams."
Once again, all cook stations in WFC's Kitchen Arena will be outfitted with a Metro PrepMate Prep Station. PrepMate is an ideal workstation designed to eliminate space constraints and increase overall productivity. Chop, slide, clean, store or serve in a small space. Also, tall or short, you can get comfortable and be more productive in seconds easy height adjustment. During competition, cook's can wheel their prepped items wherever they need them, saving them precious time.
New for this year, Metro will outfit each kitchen station with even more valuable work space by providing two additional workcenters. When used together, these spaces will provide contestants with 7' of additional stainless steel work space along with (2) 48" long overhead shelves.
"Metro is dedicated to giving these talented cooks their best chance for success," said AJ Zambetti, Director of Creative & Brand Communications at InterMetro Industries. "We learned a lot last year about how these competitors work in tight quarters. Ample and efficient workspace is key."
In addition to being front and center in Food Sport's largest kitchen, Metro continues to play a big role behind the scenes by providing essential 'back of house' drying and transport racks that will allow WFC to quickly reset Kitchen Arena between competitions.
Stay tuned for more championship announcements about the upcoming Main Event, which is set to be held again inside the iconic Centennial Hall at Fair Park in Dallas, Nov. 9 -13. Ticketing options for the food fest will be announced August 2. If you'd like to be one of the first to be notified when tickets go on sale, click here.
In the meantime, stay up-to-date on all culinary competition news, by following the World Food Championships on Twitter (@WorldFoodChamp), Facebook and Instagram (@WorldFoodChampionships).
« Back to News