Stampede of Flavor Expected in WFC Sandwich Championship
Share:
Posted Jun 23, 2022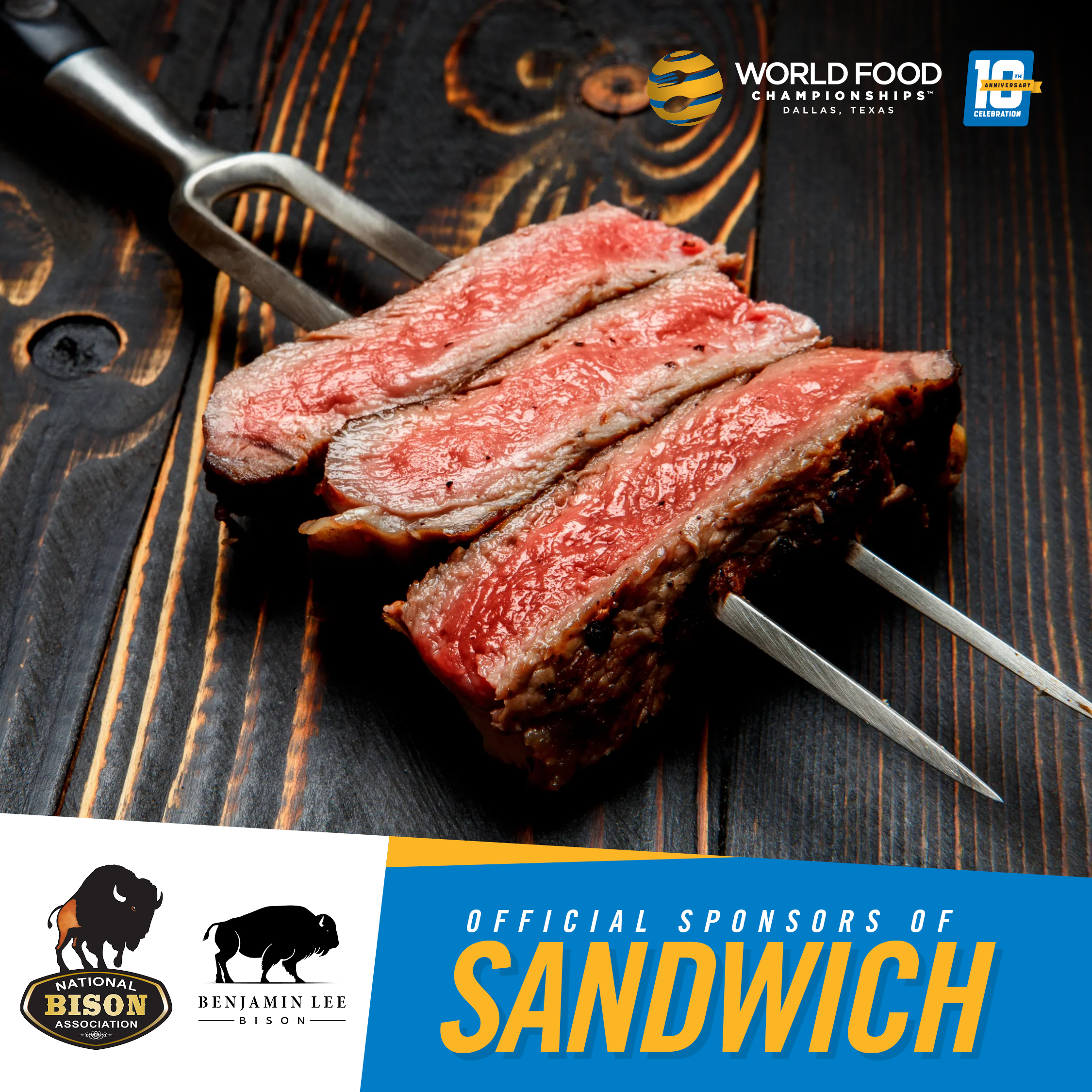 When most people think of Bison as a food option, they think of burgers. This November, however, that connotation will be put to the test as 30 of the world's best food champions will incorporate this beef alternative into their signature sandwich recipes for a chance at the largest prize purse in Food Sport.
The National Bison Association (NBA), in coordination with Benjamin Lee Bison, was just named the Presenting Sponsor of the World Sandwich Championship, which will occur as one of the ten categories of competition at the 10th Annual World Food Championships from November 9 - 13 in Dallas.
NBA is a non-profit association of producers, processors, marketers and bison enthusiasts whose mission is to bring together stakeholders to celebrate the heritage of American bison, to educate, and to create a sustainable future for the bison industry.
"Bison is a lower-fat, higher protein, heart-healthy protein choice for today's health and environmentally conscious consumer," commented Jim Matheson, NBA Executive Director. "We are extremely excited to be a presenting sponsor at this year's WFC and look forward to all the creative and delicious recipes that the champions will produce with bison."
The National Bison Association and producers like Benjamin Lee Bison work tirelessly at restoring this magnificent animal to its historic landscape across North America. Incorporating bison into every day meals is right in line with that objective. After all, the more people choose bison in their local retail store, or on a restaurant menu, the more incentive farmers and ranchers have to build their herds, Matheson added.
Benjamin Lee Bison — a family owned and operated, sustainable ranch in Sayre, Okla., — specializes in the raising of American Bison that is 100% natural, pasture raised, hormone-free and humanely raised.
"Bison is naturally delicious with an elevated flavor that comes from the prairies and grassland they forage on, which is what makes it a favorite among chefs, foodies, families, and home cooks alike," said Austin Puckett, Owner & Operator, Benjamin Lee Bison
As the leader in food sport, WFC continues to push the culinary boundaries of competitive cooking. The addition of The National Bison Association and Benjamin Lee is just another example of this, said WFC President and CEO Mike McCloud.
"This competition is all about celebrating cooks and giving them exciting challenges to prove their extraordinary skill set," said McCloud. "Working with great partners like NBA and Benjamin Lee helps us deliver a world-class experience not only for our competition teams, but also for the foodies who want to enjoy the amazing flavors of our fest."
Stay tuned for more championship announcements about the upcoming Main Event, which is set to be held again inside the iconic Centennial Hall at Fair Park in Dallas, Nov. 9 -13. Ticketing options for the food fest will be announced August 1. If you'd like to be one of the first to be notified when tickets go on sale, click here.
In the meantime, stay up-to-date on all culinary competition news, by following the World Food Championships on Twitter (@WorldFoodChamp), Facebook and Instagram (@WorldFoodChampionships).
« Back to News