Key Dates Locked In For WFC's Tenth Anniversary
Share:
Posted May 6, 2022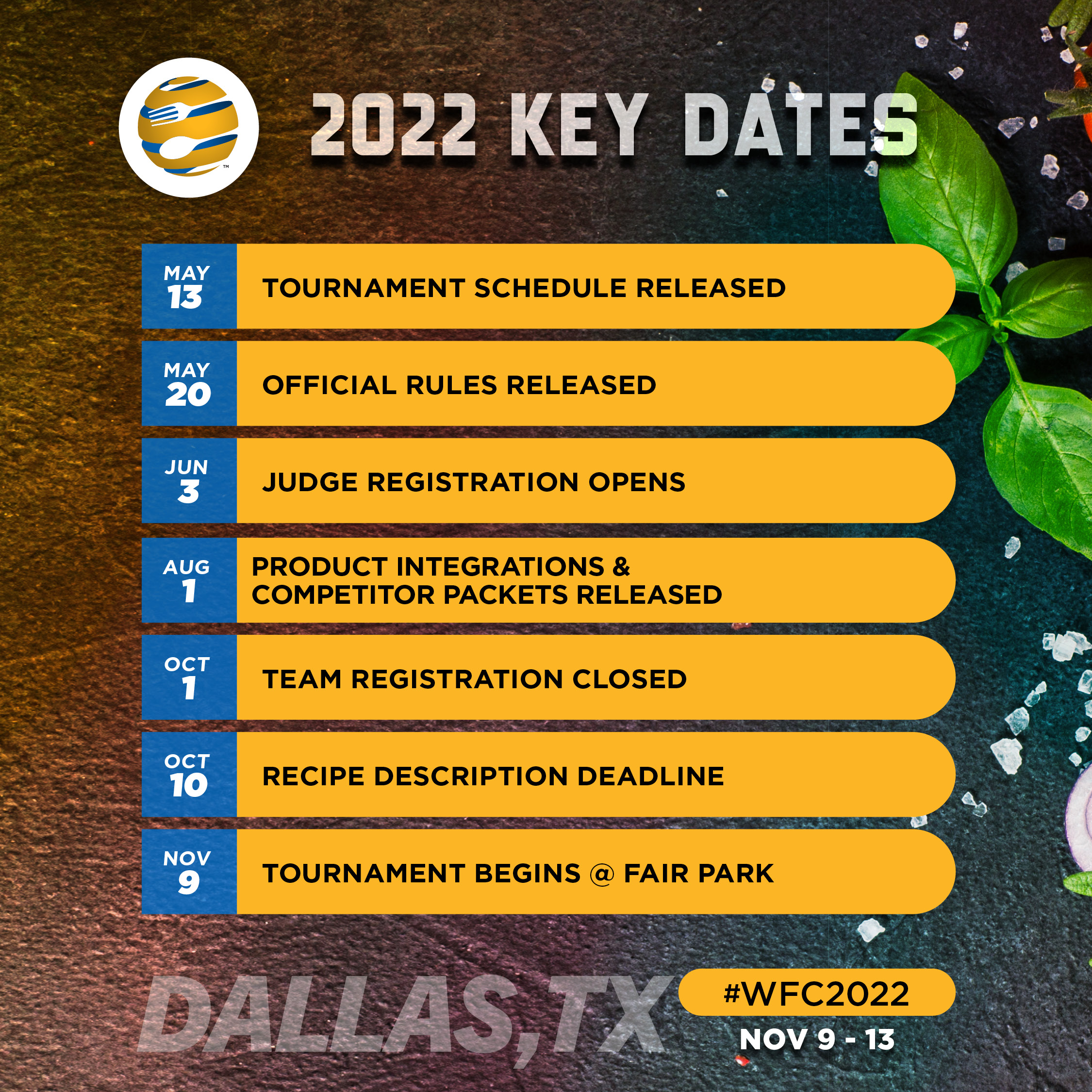 Organizers of the World Food Championships (WFC) announced today that they have finalized and secured the dates for its Tenth Anniversary event. The first competition in the ten-category, single-elimination opening round will begin at 10 a.m. Wednesday, November 9, 2022. Participants who attended the 2021 event, will be familiar with the set-up and venue as it will occur once again in Centennial Hall at Fair Park, Dallas.
"We are beyond excited about our Tenth Anniversary," commented Mike McCloud, President / CEO of WFC. "This is a special year for us and we want to make it extra special for our competitors, judges, sponsors and everyone who comes out to participate. We've had to adjust the release date of a few bits of key information, but we are on track for the best WFC ever."
McCloud went on to say the official dates for WFC 2022 are November 9-13, 2022. Unlike last year which had the opening rounds starting on Friday, this year's opening rounds will begin on Wednesday as it has in all previous years.
"We tried something different last year. But, ultimately, we think the primary tournament format from previous years works better for this event," McCloud said. "Strategically, we still plan on trying new things. Like our first "Best of the Fest" component to connect our Food Champs in a unique way with foodies and consumers who want to see what Food Sport is all about."
Other new changes that have previously been announced have also been reaffirmed:
The addition of two new categories – Vegetarian and Rice/Noodles, which replace the Recipe and Chef categories

The elimination of the "Structured" round, which will allow competitors to focus 100 percent of their time (all two hours) and energy on their most dynamic and creative "Signature" dish possible for the event's E.A.T.™-certified judges.

The X-Factor, which was introduced in 2021, will now be expanded to include competitors six through ten in the Finals for each category. The first five positions of the opening round will be secured by the E.A.T. scores only.

The reduction of the maximum number of contestants per category from 40 to 30, making invitations to the milestone event even tougher to obtain. (However, as a 10th Anniversary special, ANY TEAM that has finished in a Top 10 spot throughout WFC's history is automatically qualified to compete in this year's event once they register and pay entry fees.)
"There is MUCH more news to share as we get closer to November," McCloud promised. "Our 10th Anniversary is going to be special in so many ways that it's hard to explain right now. But suffice it to say, that I have never been more excited about our future and what the WFC platform will be able to do for Food Champions going forward. For anyone who's been on the sidelines for awhile, this is the year to get back in on the action!"
For more information, mark the following key dates on your calendar and stay up-to-date on all culinary competition news by following the World Food Championships on Twitter (@WorldFoodChamp), Facebook and Instagram (@WorldFoodChampionships).
« Back to News